Originally posted by saniya9919
I loved this performance.
Thanks a lot Vinayaji .
I love this performanc too Saaniya... I specially like the verses... the way she sings "tere bin main kya mere bin tu kya, ek duuje bin hum akele..." I was listening to the original a few days ago, and this part especially sounds exactly like Lataji's...
Goodafternoon/evening to you Deepak. Thanks for responding for the pictures
Originally posted by X-rebel

Good morning Saniya, Deepak, Vinayaji, Govindrao, Sudha, Inocent_devil.

Vinayaji thanks a lot for the pics, i liked the closeups the most.

Innocent_Devil welcome to fan club of the next legend.
Amogh, thanks... I agree, I like the closeups best too. I like the "pensive" looking one. I had posted one earlier from the same song, where Nihira was laughing - I love this one.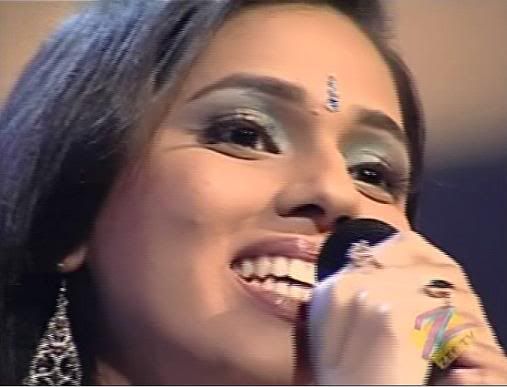 Originally posted by Sudha_rn
Good morning Amogh, Saniya, Deepak, Vinayaji & other friends.
Vinayaji, thanks a lot for the pics
.But after this performance Nihira got yellow with Hemu..
Thanks Sudha... Yeah, I do remember Nihira and Hema getting yellow after SLB's episode.
Gosh, those days of public voting were a nightmare !!!!!!!!
A big welcome to Nihira Fan Club - innocent-devil, MrsMallu Date


Edited by shesthebest - 23 May 2006 at 7:32am