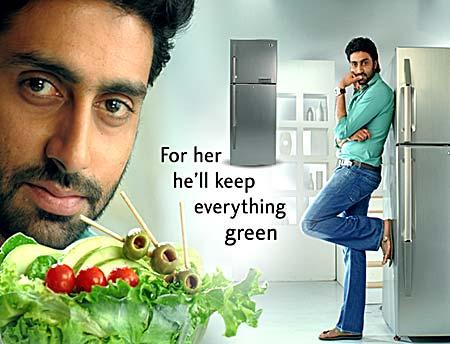 Be it Aishwarya Rai trying to whistle in the Coca Cola ad, Shah Rukh Khan trying to woo a firang in the Compaq ad, or Saif Ali Khan and Rani Mukerji exclaiming superlatives about their performances, actors are taking to endorsements in a big way.
Ad man Pradeep Sarkar (who directed Parineeta) recently shot back-to-back commercials with Shah Rukh Khan (for Compaq) and Abhishek Bachchan (for LG).
The director gives us the behind the scenes dope on the ads. Over to him:
"Shah Rukh has being in the industry for long and has done innumerable ads. He knows exactly what to do. So from Abhishek, you get freshness. And he's cool, which was required for the LG commercial.
Shah Rukh has spunk, and that was required for the Hewlett Packard product.
Shah Rukh does exactly what is needed for the ad while Abhishek gives us a range from which we can select.
Because the LG ad required a cool Abhishek, I kept the camera rolling and the music on, even when we were not shooting. Later, we retained it in the ad. The crew really enjoyed themselves.
In the LG ad, Abhishek is shown waiting for his dream girl and he plans his home for her and how everything should be neat. In the four-minute ad, he looks at the washing machine, microwave, refrigerator and air conditioner...
Throughout the ad, we have tried to give the products the prominence. Later, the ad will be divided and individual products will be introduced.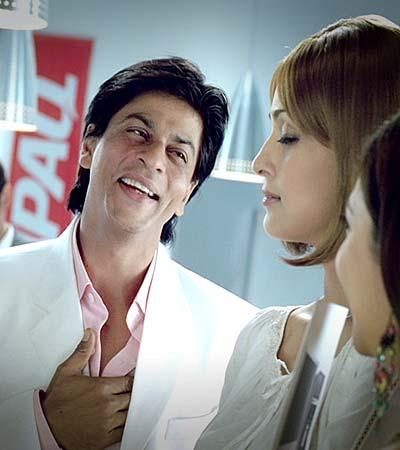 But in SRK's case, we followed the story to the T. Shah Rukh is a perfectionist. He rehearses each line the way he needs to deliver it, until it turns out exactly the way we need it. Both (Shah Rukh and Abhishek)are excellent actors.
The Compaq ad shows Shah Rukh going to a showroom to buy a computer. A foreigner also comes to the shop with her Indian friend to buy a computer and mistakes Shah Rukh for the salesman.
Shah Rukh, who is smitten by her, tells her so in Hindi.
He just about asks her for her phone number in Hindi, when the actual salesman walks in and calls out to him. Shah Rukh tries to push him away, and later tries to leave the shop sheepishly, when he realises that his cover is blown. And the foreigner surprises him by talking to him in Hindi.
You can't say that the ad is copied from Rang De Basanti (when Aamir Khan introduces Alice Patten to his screen mother Kiron Kher). These kind of things happen so often. Since it was used in Rang De, people will think it is copied. If we had added 'eegjactly' after the foreigner said 'sorry' then that would have been copying.
It took two days to shoot Shah Rukh's ad and five for Abhishek's.