All the world is a keyboard - Allah Rakha Rahman is today's hottest musician both at home and abroad
by E Vijayalakshmi, Chennai

Cameras whirred and flashlights popped as the A.R. Rahman sound track for direc-tor Rajiv Menon's latest Tamil film Kandukondein Kandukondein was released. But trouble was brewing in paradise as an ace lyricist of the Tamil film industry rose to speak. "I agree wholeheartedly that Rahman is a great composer," said Vairamuthu. "But I do wish his music would not totally swamp my lyrics to the extent that nobody can make them out."

I hate the discrimination between south, north, Tamil, Hindi. If I represent India that is good enough for me. But we should cross all these barriers.
A.R. Rahman

There was a collective gasp from the audience. And then indignation. "In most cases it is Rahman's music which carries the film," a veteran film journalist remarked. "And today's lyrics are hardly worth listening to anyway. It was most rude on Vairamuthu's part to have made that comment." Said director K. Balachander: "The present generation is able to sing Rahman songs without any difficulty. That is what is important."

And what was Rahman's reaction? As usual, a beatific smile and a barely noticeable shrug. This boyish, podgy 33-year-old is as well-known for his composure as for his explosive music.

Ever since his music career took off in 1992 to the lilting notes of Mani Ratnam's hit film Roja, Rahman has weathered criticism of every shade and colour. He was accused of being too technical, too modern, too westernised, too repetitive, of lacking soul and even of plagiarism. He beat back censure with studied silence; but it hardly signified indifference.



When purists sneered at his first album with its soul-stirring Vande Mataram track, Rahman was quick to point out that he never meant it to replace the original. Critics who overemphasised his western leanings were silenced when he delivered songs in the Carnatic genre. Even today, the Ennavale... number from Kaadalan is considered a masterpiece. More recently, Mudhalvan showcased the perfect ease with which Rahman mixed the traditional and the modern. If Azhagana Rakshsiye used the Reethigaulai raga, Shakalaka baby... set many a foot tapping.

His strength is the way he designs sound. He has revolutionised film music. He is perpetually on a quest to get the best out of you and makes you feel at ease which is important. I have sung some of my best songs for him.
Hariharan, singer

Perhaps the only criticism which has stuck is that he is "slow". As Rahman himself admits, sometimes it is just a matter of days and sometimes months for inspiration to strike. Industry sources recall how Bharathiraja's film Kizhakku Cheemayile was held up because Rahman's music was not ready in time.
Rahman was initiated into the world of films while still a toddler named Dilip Kumar. His earliest memories are of tagging along to studios with his father R.K. Sekhar, an assistant music director in Malayalam films. Once a music director overheard the four-year-old trying out a tune on a harmonium. He quickly spread a cloth over the keys. Undaunted, the child repeated the tune, this time running his fingers confidently over the cloth. "Who would have thought then that he would scale such heights?" said film chronicler 'Filmnews' Anandan, who knew Rahman as a gawky youngster.

Ironically, Rahman had never been interested in a career in the film industry. His father's illness and death, however, forced him to drop out of the Madras Christian College School while in the XI standard, and fend for the family. He began by working in studio jam sessions and then migrated to the ad world. He composed jingles for 300 commercials including the Allywn Trendy watch and Kapil Dev-Sachin Tendulkar Boost campaign.



East meets west: (From top) Guitarist Dominic Miller, Kanika Bala and Rahman

He returned to film music when in 1987 Viji Manuel, the main keyboard player for music composer Ilayaraja, hired him. Rahman picked up computer music programming and put together the first Tamil computer song, Punnigai Mannan, for Ilayaraja. Today he may have eclipsed his one-time master, but Rahman's respect for the composer runs deep. For, it was under Ilayaraja's strict guidance that he learnt the virtue of discipline.

Over the years, constant comparisons with Ilayaraja have been the bane of Rahman's career. Although nobody denies Ilayaraja's arrogant genius, Rahman's arrival on the scene "is like the idea whose time has come," said Anandan. "After M.S. Viswanathan, came Ilayaraja, then Devaa and now Rahman. It is nature. The cycle has to keep going."

Among the many who obviously shared the view was Mani Ratnam. Like veteran film-makers Bharathiraja and K. Balachander, he had been an Ilayaraja regular until he chanced upon Rahman. The story goes that Rahman approached the director with an invitation to visit his recording studiothe Panchathan Record Innat his house in Kodambakkam.

Six months, later Mani Ratnam was scouting round for fresh talent for his film Roja and remembered Rahman. He also recalled that his cousin Sharada, of Trish Productions, had raved about Rahman's talent after hiring him for a few jingles including the Leo coffee ad. The rest was history. "I must have listened to Roja a dozen times," said Hindi film director Govind Nihalani. It later prompted him to sign Rahman for his first commercial venture Thakshak.

Roja was as much a turning point for Mani Ratnam as for Rahman, who received the national and state award for best music director for the film. Mani Ratnam, who had hitherto failed to make an impact in the north, now found that with Rahman's radical music his films were making Bollywood sit up and take notice. Thiruda Thiruda, Bombay and Dil Se took the duo deeper into the north.

Bollywood came a calling at Rahman's studio, probably the most sophisticated in India. Beginning with Ram Gopal Verma's Rangeela, Rahman churned out one chartbuster after another.

Soon it was not just India which was dancing to his tune. When Rahman released his first album, Maa Tujhe Salaam, Sony Music Entertainment signed him in a trice and marketed it in 20 countries. In 1999, king of pop Michael Jackson shared the stage with Rahman at a concert in Munich, Germany, and crooned Ekam Satyam (One Truth) with him.

A year later Rahman has touched a new high. World renowned composer Sir Andrew Lloyd Webber, enthralled by Rahman's Dil Se and Taal scorethe latter entered the UK top 20suggested that director Shekhar Kapur and they work together on a musical titled Bombay Dreams. At a party in Mumbai to launch the project, Webber and Rahman played the song Chaiyya Chaiyya from Dil Se on the piano.

"His music has that international quality which is absolutely stunning," said Douchan Gersi, director of The Return of the Thief of Baghdad, a Chiranjeevi starrer to be shot in English. Step by step, Rahman is achieving his ultimate goal, "promoting Indian music in the western world". These are also opportunities for the composer to save himself from writing music for masala movies, and give free rein to his creativity.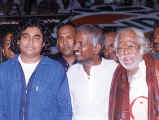 When the maestros met: (Left to right) Rahman with Ilayaraja and music director M.S. Viswanathan

In January President K.R. Narayanan released Rahman's second album, Jana Gana Mana 2000, to mark 50 years of the Indian republic. The albums have brought out the best in Rahman. Produced by school chum Bharat Bala and his wife Kanika, they have almost transformed him into a pop icon of Indian patriotism.

It is exciting times ahead on the film beat too. Having completed work on Mani Ratnam's Alai Payudhe, Rahman is moving on to Shyam Benegal's Zubeida, Khalid Mohammed's Fizaa, and the Tamil comedy Tenaali featuring Kamal Hasan.
Fortunately Rahman doesn't suffer from ego vertigo at the dizzying heights of popularity. He has his feet on the ground, and steadying him constantly are his family and faith.

In 1990, when his sister fell ill, the family turned to a pir, Karimulla Shah Kadri. The girl's almost miraculous recovery led to the family's conversion to Islam. Although Rahman prefers not to wear his religion on his sleeve, there is ample proof of its primacy in his life. His studio is decked with Islamic icons and symbols and he wears a chain with an inscribed locket round his neck. On his trip to Delhi to receive the Padma Shri, he offered namaaz at the Hazrath Nizamuddin Dargah. In 1995, his mother chose Saira Banu as his bride. The couple have two daughters.

Rahman zealously guards his privacy. His house is protected from prying eyes by an imposing gate and guests are ushered through a side gate into a small and austere office. Ask him to pose for a photograph in his well-manicured lawn, and he very politely but firmly shakes his head. "He just wants to be left alone with his music," said James Noell, a long-time aide. He would rather the hype and hoopla surrounded his music than his persona.

But his shy demeanour hides a generous heart. Associates remember him stopping at a busy Mumbai intersection to give alms to beggars lining the street. "He just thrust his hand into his pockets and gave them all the money," said one. Another time in Chennai he got out of his car to help a cyclist who lay in an epileptic seizure.

Despite global acclaim, Rahman will always remain a Chennai boy at heart. Recently he dispelled rumours that he was planning to settle abroad. "How can I leave? It is only my work which takes me to other places." Yes, his work and his fame.
http://www.pvv.ntnu.no/~kailasan/articles/the_week_april2000 .htm