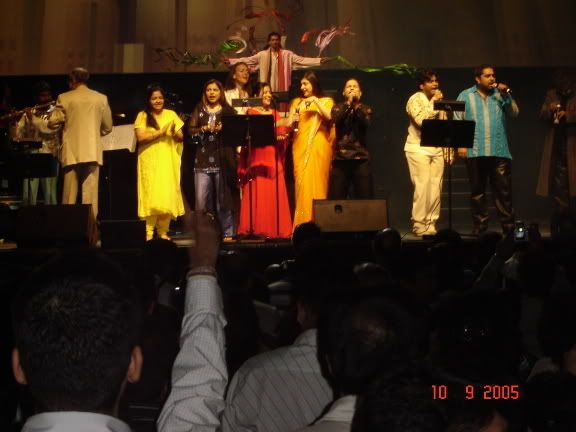 From L to R(foreground) - Chitra, Sadhana Sargam, Unknown, Madhushree, Alka Yagnik, Kailash Kher, AR Rahman, Shankar Mahadevan, Hariharan(in the dark).
There was excitement in the air when I woke up yesterday morning (or was it afternoon :D....well almost). I was going to a Live music show (my first one) and more than anything it was AR Rahmans show. A few months before the movie Roja released, I heard news from many sources that a new Music Director who has great potential had given music to Roja. I chose to ridicule that claim, the staunch Ilayaraja fan that I was. But it was not long before I accepted Rehman as a class act. This however did not change my view of Ilayaraja. From Roja, AR Rahman has come a long way and has gone on to become a global achiever.
The venue was the Rod Laver Arena (better known as the main court for the Australian Open Tennis) and the time was 7 pm. The show started about 10 mins late but it started with a bang. ARR made a grand entry in white and in his shy voice said hi to the Melburnians who welcomed him in grand fashion. He immediately started off with Fanaaaaaaaa Fanaaaaaaaaa.......wow Whatta Start!!!!!!! The singers who had come were Shankar Mahadevan, Hariharan, Kailash Kher, Blaaze, Sadhana Sargam, Alka Yagnik, Chitra and Madhushree. There were non stop hit numbers right from Bombay to Lagaan, Taal to Swades, Dil Se to Mangal Pandey, Kandukonden Kandukonden to Rhythm, Mahanadi to Boys. The singers were very good as well. They were improvising a few songs, mixing a few songs in Hindi and Tamil, adding a few rap bits in some others.......
Humma Humma..., Chaiyyan Chaiyyan...., Thaniye Thannathaniye..... were a few songs that got the crowd on their feet. Shankar Mahadevan showed just how versatile he is and his stage presence is worth mentioning. He was interatcing with the crowd. Hariharan was not far behind, he had his moments with the crowd too and his voice.......just fantastic. Among the ladies, Sadhna Sargam was very good and Chitra was melodious as usual. ARR was performing on the synthesiser, the piano and was also lending his voice for certain bits. He also sang Ye Jo des hai tera and Humma Humma and a few other numbers. In reply to a vocie from eth audience that said "I love you Rahman", ARR replied in a shy and coy manner "I love you tooooo" :)
At about half time, while the troop was on a break, Sivamani - the percussionist performed a solo for about 10 mins and his performance is beyond words. He just confirmed to me that he is the worlds best. He was just Fantabulous. After this break, ARR performed the theme song for the UNO Poverty Eradication program, a tune that he had composed with Blaaze. Fantastic again. The crowd got into the mood as well. As we didnt have candles with us, we used the display lights of our mobile phones and were swinging away. It was a wonderful sight and very creative I must say.
A jugalbandhi between Shankar Mahadevan (vocal) and ARR (piano) - Ghanana Ghanana....from Lagaan, was very engrossing. Then an improvised version of the same song with a very fast beat (ARR's tune incase the movie had to show that it actually rained) - Shankar was tremendous.
A section of the crowd was not happy with Tamil songs being sung and were shouting for Hindi songs. To me, this was ridiculous. With ARR, one should expect a few Tamil songs atleast. I thought ARR did well to choose Tamil songs that were also dubbed in Hindi, so that the crowd could relate to them better. About 50% of the songs were Hindi numbers, 25% of the songs weremixed (parts in Hindi and parts in Tamil), about 10% were Tamil songs which were also dubbed in Hindi and the remianing 10% were purely Tamil songs. The crowd complaining was ridiculous given the minimal % of songs that were purely Tamil. The majority of the crowd were Tamilians (guaged from the applause and acceptance that each Tamil number received).
By now it was 4 hours of fantastic entertainment, not just songs but also a few dances in the background. A fitting finale was Vande Mataram from the man himself and all the artistes joining them on stage for the grand finale. In all it was a very exciting evening and the fact that the show was for a cause (charity) made it so much better.
posted on Sunday, September 11, 2005 12:24 PM
http://o3.indiatimes.com/rpramod/archive/2005/09/11/248964.a spx