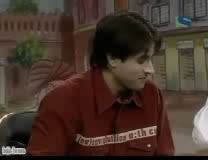 Where the heck does Mr. Agnihotri think he's looking??
..this reminds me of the latest PussyCat Dolls song
This hasn't been the first, second or even third time
...WHENEVER i see JJKN...
Does Apu want me to visit the Saklani residents and YANKK his eyes out??
...as they say 'boys will be boys'; unfortunately, this boy hasn't GROWN UP
Tell me, am i just hallucinating??
..or is Mr. Poo being a bit naughty?
...
I am furious at Apu right now
..
Am i overreacting??
..being a bit of a feminist, i CAN'T STAND when guys do that
..i won't use the term
to describe Apu's actions at this point
..
Look what effect manly mali has had on him
All i can say now is YUCKKK


Edited by moondust - 17 March 2006 at 1:30pm