I found this article on the net....dont know if it was posted b4...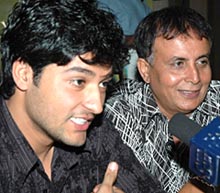 Mr Ansh Batra actor (left) and Mr Rajoo Kariya, Director of "Kabhi Alvida Na Kehna," at a press conference at the Chandigarh Press Club, Chandigarh, on Wednesday. — A Tribune photograph
Chandigarh boy Ansh Batra is all set to try his fortunes in the world of films. After featuring in over 20 video albums, Batra is now being cast as the male lead in "Kabhi alvida na kehna", a romantic flick produced by Ajit Singh. Unplanned as his debut in films was, Batra is keeping his fingers crossed. He knows the kind of pressure that works in Bollywood and also the fact that luck works most in the world of glamour.
The youngster is, however, adamant to make it big. With stars in his eyes, Batra says: "The film is a regular love story, told smartly." Accompanying him was Rajoo Kariya, director of the film, who has in his cast all new faces, Janki Shah and Vishwaroop Roy Choudhary. TNS