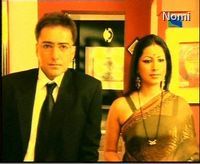 Mishty is Mr.Oldie's wife and her getup adds 20 years to her age already.
and...supposedly she is going to get pregnant with Angad's child.
I don't know, with mishty being married and then doing this romping in the sack to supposedly conceive this bundle of joy, it like adds a really gross EWWW Factor to this whole thing.
It would have been better if she was not married!!!
The show was about young kids, young and brash Angad, naive and innocent Kripa, Prithvi and Mishty and
now its going to become...
frustrated rockstar and husband Angad,too successful (and pregnant) for her own good Kripa, a lifeliess bod Prithvi and an older married Mishty....
The storylines are a little interesting because the old players are back again, but it just seems like a show for afternoon soaps now.....all married and pregnant or getting pregnant at the drop of a hat and adulterous and not to mention scandalous. !!!!


Edited by ghunoo - 15 March 2006 at 9:37am