PART7
Its 2 in afternoon Geet came out of her office n saw a big Van waiting 4 her. She entered n wat she saw she could'nt believe so lavish it was. So spacious'.
The Caravan
Interior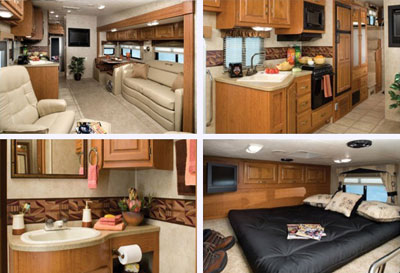 Simply beyond words. Even though she is a multi millionaire like Maan but she neva lived a lavish life n it was her choice to be simple..

As soon as she was in front of the door, the door opened by its own(sensor) A hand stretched towards her welcoming her inside. She entered n felt its truly Magical..
She is surprised: Her mouth automatically open in O shape in awe of its beauty!!
He gives a whole tour of d van'..
Driver's seat
Main Hall
Maan's Room
Maan's Room: Washroom..
There are 3 more rooms in it. 1 is convertible Conference room & other 2 Spare rooms.. All well furnished..
Convertible Conference Room
A table n chairs on d other side of room:
Room1: Guest Room
Room1 Washroom:


Room2 or Entertainment Room
Kitchen: With just a coffee maker n necessary items.
Coffee & Tea Maker:
Dining Area:
After the tour Maan takes her bak 2 d main hall n they take seat next to each other on the couch..
She is awestruck n impressed @ d same time.
She gives him a smile
She Speaks:
Geet: Wah mr. Khuarana am impressed.



Maan returns a Smile
Maan: My Pleasure Miss. Handa
Geet: (pouting cutely) Kya kaha aapne??
MAan: thank u
Geet: NAhi uske baad kya kaha
Maan: tumhara naam Miss. Handa
Geet: Ji nahi hamara naam Geet hai n aap hame Geet bulayenge kaha than a humne.
Maan: Accha to ye baat hai, is dat case humne bhi aapse kaha tha k hame aap Maan bulaye.
Geet is silent.
Few seconds Later
Geet: Accha theek hai aaj se bal k abhi se hum aapko MAAn n aap hame Geet bulaenge.. Agreed?
Maan: Agreed!!
Maan: Ab baitho n aaram karo till v reach.(he open d curtains )
Geet: Theek hai aap bhi baithiye. They pass acreoss hills, rivers n greenery'
Maan: Aap free tym me kya krti hai?
Geet: Nothing bas frnds k saath'' (she stops in mid n get lost in past coll days wen she used 2 go 4 outings)
Maan is looking intently @her.. She is lost suddenly. She is lost in her memory lane(Coll days, internship n all sweet memories)


Geet n Annie (Sanaya)
Geet n Sweety(cousin)

With DR.KIRTI
HER SANJEEVANI GANG
SGG(Sanjeevani Gals Gang)
With her hottie (DR. ARMAAN MALIK/ARMU)@ 2 occasions:
After sumtym seeing her still lost. Maan snaps his hand in front of her eyes n
Maan: Geet u here??
Geet: '''
Maan shakes her shoulders. Her trance is broken n she cums 2 present
Geet: Ji yaa m perfectly alrite.. Vo hum coll k dino me frnds k saath jaate the so un yaado me kho gayi ab kaha tym milta hai? Clients, meeting n all me hi busy rehti hu.
Maan: Ohh!! Same here but still u shud thank me in dat case n thank u apne busy schedule se hamare liye time nikalne k liye.
Geet: Oh dat 5n. I really needed a brk n thank u 4 dat n btw u hav a really gud taste' I must say..
Maan: thank u once again''
Btw aap coffe lengi??
Geet: jee!! Black coffee wid 1 cube sugar
Maan: O dats gr8 me bhi aise hi pasand krta hu..
Wait I'll get it 4 us.
They enjoy their coffee:
But again while having it Geet gets lost in d past''.
I CUD'NT GET DD'S PIC WID COFFEE SO HERE I M BAK WID A LONGGG UPDATE N THANKING U 4 UR PATIENCE N 4 BEARING WITH ME... EXPECTING LONG COMMENTS AS WELL. IT TAKES A LOT OF EFFORT 2 PUT DIS UP B4 U PPL..
LOVE U ALL!!


Edited by maneetmayur - 21 July 2012 at 12:09pm