A poll:
BE YOURSELF
< name=polls ="return chk();" =be_yourself/polls/newpolls.asp method=post>< = value=Who_is_the_Queen_of_TV? name=subject>

Who's the Queen of TV?

< id=poll_a ="_ion='a'" = value=a name=poll>

Aamna Sharif:
The pretty face on TV, she's got glam as well

< id=poll_b ="_ion='b'" = value=b name=poll>
Mandira Bedi:
She knows how to woo with her smile and her saree
< id=poll_c ="_ion='c'" = value=c name=poll>
Shilpa Saklani:
The urban or the bahu look, she pulls it off
</>
Who is the Queen of TV?
| | |
| --- | --- |
| 46% say Aamna Sharif | |
| 12% say Mandira Bedi | |
| 42% say Shilpa Saklani | |
Shilpa Saklani on Womens Day:
Shilpa Saklani (Ganga of 'Kyunkii Saas Bhi Kabhi Bahu Thi'): I believe that women could and should celebrate Women's Day everyday.
Insider info on what other people have to say about SandA in a different forum:
"they're married they look good together .. "
"shilpa saklani and apoorva agnihothri look sooo HOTTT together !!!"
"thats the 3rd kkusum and ArmaanN !!! "
An article(soz if posted):
The recepient of the final award was the most surprised when his name was announced as the winner of the Best Actor of the year award.
Apoorva Agnihotri had finished a gruelling day's shoot at the Jassi... sets and reached the Indian Telly Awards venue, least expecting that his nomination would win him an award, that too at the hands of wife Shilpa Saklani!
Before that, Mona Singh walked away with the honour of being the best actor (female) of the year. Mona, looking smashing in a denims and blazer ensemble, looked radiant as she accepted the award from co artiste Karan Oberoi.

On dancing with Zayed Khan:
Shilpa, who recently participated in STAR One's "Nach Baliye" contest with her husband Apoorva Agnihotri, is a little nervous and says: "I have a major stage fright and it takes a lot for me to go and dance on stage. And I don't know dance. So when they called me I was a little apprehensive but somehow they convinced me.
"I danced on 'Das bahaney' in 'Nach Baliye'. But there is a difference - there I teamed up with my husband and here I am going to dance with Zayed. I will do a Spanish dance on the song."

Shilpa is quite impressed with Zayed. "It's a great honour for me to dance with Zayed because he is an established actor. I met him during the rehearsals. He is a very good human being, down to earth and hardworking.
"We the girls just have to go for a short while for rehearsals but he is there throughout. He is carrying the entire responsibility on his shoulders and doing a great job," she adds.
Snippet:
| | |
| --- | --- |
| | Shilpa Saklani and Shilpa Shetty: The similarity starts with their first names and ends with their dressing sense |
Another Snippet:
BREAK-UP OF THE YEAR...... Shilpa Saklani &Arjun Punj
The two were quite a couple until recently when the unfortunate split happened. While Shilpa is going around saying 'This is one aspect of my life full of queries but I don't want to know the answers, because even if I know the answers I won't be able to do much', Arjun is said to have found solace in Gurdeep Kohli's arms.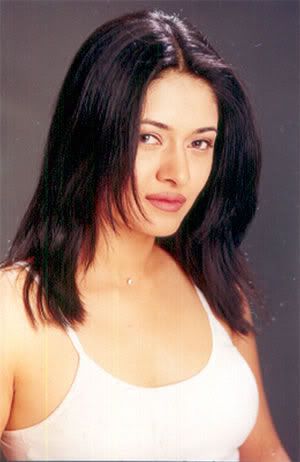 --------Shuili

Shakti Anand and Sonal Sehgal
Captain Vikram Kocchar and Sanjana could not resist each other on the sets of Saara Akaash. Today, they are not even on talking terms. Shakti is now married to Sai Deodhar (Monica).
Interview snippets SS:
I am just here to do good work and make the maximum money out of it." So says Shilpa Saklani who has always had some controversial story or the other linked with her name
. Her stormy affair with Sanjivani star Arjun Punj; her link up with Apoorva Agnihotri and then her consequent wedding ceremony -- everything she did made news.

An evening out with your husband is more likely to be...
With friends. We usually go bowling or go-karting. We might even watch a movie together at the projector at home. Basically, we are so comfortable with each other that it doesn't matter where we are.
The ultimate dream for Shilpa Saklani would be...
I want a picture perfect family with kids. I want to live a happy family life. I want to be there for my family whenever they want me. I would love to have two daughters.
Are you the adarsh biwi at home?
I love doing things for my husband because he means a lot to me
. I will cook dinner for him when he comes back form work
. I try to clean up his cupboard, which he messes up-------LMAOOOOOO
..do you you iron his socks too?..or water his carpet?
. I am basically there when he wants my aid. If that is being a adarsh biwi, then probably I am one-------CHIPKOOOOOO CENTRAL
.



Edited by moondust - 12 March 2006 at 6:55pm