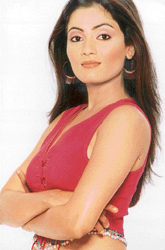 Remember that gorgeous song Ujjaini sang from Black- Mausam Ki Adla Badli? It was said to be the one of hte best performances of SRGMP.. here is some info about the singer of that song Gayatri Iyer. Found it on the an archived edition of The Tribune.

Just a thought.. she is so talented and also so bright in studies (MBA from IIM!) , I wonder why shows dont talk about such successes, where singers show that they are balanced in other things as well ?!

Anyways enjoy the article..

=============================


Gayatri Iyer, a suburban Mumbai middle-class singer, has suddenly been catapulted to international fame. Gayatri obtained her MBA at the Indian Institute of Management, Lucknow, and decided to forgo the fabulous corporate job opportunities offered through campus interviews to pursue a singing career. "My mother took tuitions all week – even Sundays – to support my studies," she says, "But when I decided to refuse highly-paid corporate jobs to seek an uncertain singing career, she supported me completely."
Last year, Gayatri married upcoming playback singer Kunal Ganjawala, who won the Filmfare Award for the hit song Bheege Hont Tere in Murder. Before marriage, she sang hundreds of jingles and became a promising playback singer working with Ranjit Barot, Ram Sampath, Himesh Reshammiya, Anand Raj Anand and Shankar-Ehsaan-Loy. Till now, her greatest success has been singing for Gurinder Chadha's Bride & Prejudice. This month, the bubbly girl from Mumbai's nameless middle class became an overnight international star-celebrity when she was chosen for the lead role of Princess Anjuli in the prestigious international musical based on M.M. Kaye's Raj-novel Far Pavilions, to be presented in London's West End, after the huge success of Andrew Lloyd Weber's Bombay Dreams, with music by A. R. Rahman.
"I went to the auditions in Mumbai with a friend to give her support," Gayatri says, "But I was persuaded to give an audition myself for a lark. I never thought I would win. Now I am in London for fittings of costumes that I will wear in the international stage production. Rehearsals will begin in spring. Far Pavilions is the story of a romance between an Indian princess and a British officer during colonial rule. It is a challenging role for me apart from singing under the direction of internationally known music directors. The entire cast will be chosen from many countries. Working in the grand production is going to be a memorable experience for me. Her husband Kunal encourages Gayatri by saying that she deserve this success completely.