Member of the Week is one of Kyunki forum's very own VIEWBIE!
A bit shy some may think as her posts aren't numerous on the Kyunki forum... but she's actually one who works diligently behind the scenes and once you get to know her you'll discovery she's veryyy outgoing, helpful, sweet, and so much more! Let's give her a warm welcome to her on the hot seat....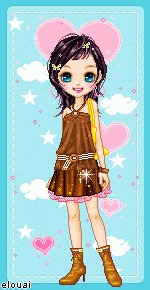 Username: luvya4ever

Real name: Gunia

Age: 17

Profession: Student (unfortunately); part time jobs in the retail industry and food industry (whatch what u eat pple
)

Country of Residence
:
United States of America

How did I get started with India-Forums?
updates for Jassi Jaisi Koi Nahin

Why am I hooked to Kyunki saas bhi kabhi bahu thi:
because it is very diverse and has a lot of variety...and ofcourse it rocks

My hobbies, more about me:
listening to music, coming to If, chillin with frenz, gettin into trouble (yes...its a hobby now...since i have a special knack of attracting it), watching movies

My Personality in brief:
outgoing, very frank (sometimes too much frank...i need to learn how to keep my mouth shut sometimes), friendly, don't-carish attitude

My favourite:

Colour
--
Black and Red

Sport-- Football (american) , Soccer, water polo, cricket, tennis...

Dish-- indian - makki ki roti and sarson ka saag (esp. made by my grandma)
american - mac & cheese, scalloped potatoes

Song– a lot of songs...i wud be here for hours if i started listing em, but i like hindi music, punjabi music definitely, hard metal, rock, sometimes emo music.....and the list continues

Serial
--
KSBKBT, Remix, KYPH, Ek ladki anjaani si

What I like best @ IF:
all the cool pple esp. the ones who are taking time to read about plain, ol' boring me

What I would like to see more @ IF:
i think IF is kool as it is for now!!!

Message to everyone on Kyunki forum:
u guys are awesum...and u rock...and i wud love to get to know all of u more...



Edited by ~*Prinkzz4eva*~ - 11 March 2006 at 12:09pm