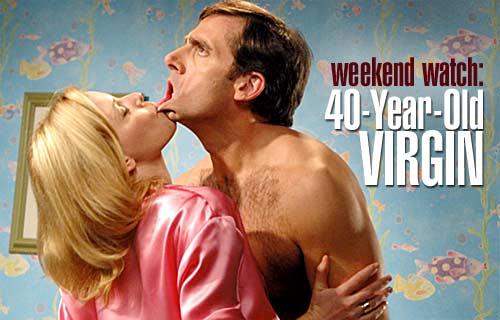 I'd seen the 40 Year Old Virgin resting on DVD library shelves, but its provocative title, screaming American sex comedy, made me run miles.
Though popular, films like American Pie and Road Trip have done great disservice to the sex comedy genre. They've set the standard of such comedies as being juvenile, full of crudity, lots of nudity, animal sex jokes and people ingesting (other people's) bodily fluids.
And so when a film with such a title comes along, one is naturally sceptical. I settled for this as I missed the weekend DVD bus, and all good films were already rented out.
I was pleasantly surprised to find some great acting and genuine comic moments that drew chuckles and belly laughs.
Everything in this film, though seemingly clichd, is anything but.
Say a 40-year-old virgin, and we immediately picture a bumbling nerd, lacking in looks and confidence. But our hero Andy (a superb Steve Carell), though a modest dresser and shy, is a decent, average guy.
He's an obsessive toy enthusiast, works at an electronics store and prefers to ride a bicycle rather than own a car. So why's he still a virgin? He's been plain unlucky, we're told. He's faced a series of unfortunate and hilarious attempts at doing it, but something always went awry.
The fun begins when his rather personal secret becomes public thanks to his group of colleagues (Paul Rudd, Seth Rogan, and Romany Malco), who turn friends, and then knights in shining armour. As one friend puts it: 'I am going to help you. From now on, your d*** is my d***.'
And then follows a mishmash of contradictory advice; from how to pick up 'drunk chicks' to a gift of a personal po*n collection. This well-intentioned advice pushes him deeper in trouble, with even his stern female boss Paula (a marvellous Jane Lynch) starting to hit on him. There's fantastic chemistry between these actors as they match each other's comic timing flawlessly.
American sex comedies usually exclude women from their target audience, and make unflattering jokes. Here, refreshingly, the female characters are as eccentric and funny.
Meanwhile, Andy decides to trash all the advice and follow his heart that beats for the woman next store – Trish (a lovable Catherine Keener). The fact that she has three kids and a grandchild doesn't go well with his friends, but he is still attracted to her.
Carell's acting is so earnest, you just fall in love with him as you share his confusion and embarrassment in this unusual situation. Watch the film just to gape at the comic range of all the actors.
40 Year Old Vigin has some forced comedy scenes, like the one where, as per advice from his friends, Andy goes for a chest wax, which, by the way, Carell 'actually' went through and was filmed live. Ouch!
But the main humour lies in the dialogue, which often has undercurrents of larger issues. Haziz and Mooj are two Asian employees at the store and are always wary of being sidelined. The dialogue brings that up interestingly. Like when the friends are throwing a prank party for Andy, Haziz overhears and screams: 'How come we never get invited to parties? What are we, the Al Qaeda?'
But be warned, this film is not totally devoid of crudity. It does not shy away from its characters swearing and indulging in male trash speak.
The film drags on (it's over two hours long) with sometimes repetitive situations, and finally our hero is, well, happily deflowered. This film has one of the funniest endings ever.
You see all the characters go ballistic to the tunes of the song Aquarius.
The DVD also includes a hilarious commentary by the actors and the director.
Call it the thinking person's sex comedy if you will, and rent it out this weekend to laugh till you cry.