~ * ~ Ronit Roy appreciation thread... ~ * ~
Post Reply
New Post
leena04
IF-Sizzlerz
Joined: 05 November 2009
Posts: 12043
Posted:

29 November 2011 at 6:04am

| IP Logged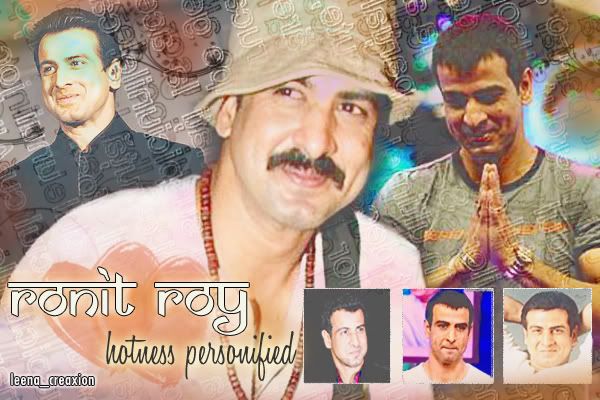 Hello Ronitans
here is the appreciation thared for our dear charming Ronit Roy a.k.a Dharamraj a.k.a DM so plz discuss anything u like abt her here... u can talk abt her real life abt her any show... or what ever u like abt her here...
three Simple Rules :

Please Do Not Bashes...

Please Do Not Spam...

Please Do Not Argue...
now enjoy ur talking abt adorable Ronit Roy ...
Members List :


Edited by leena04 - 29 November 2011 at 6:09am
The following 3 member(s) liked the above post:
eli01
,
AyeshaRR
,
_xCIOT_
,
Dear
Guest
, Being an unregistered member you are missing out on participating in the lively discussions happening on the topic "
~ * ~ Ronit Roy appreciation thread... ~ * ~
" in
Bandini
forum. In addition you lose out on the fun interactions with fellow members and other member exclusive features that India-Forums has to offer. Join India's most popular discussion portal on Indian Entertainment. It's FREE and registration is effortless so
JOIN NOW
!
leena04
IF-Sizzlerz
Joined: 05 November 2009
Posts: 12043
Posted:

29 November 2011 at 6:09am

| IP Logged

Reserved !
_xCIOT_
IF-Rockerz
Joined: 03 January 2010
Posts: 7219
Posted:

29 November 2011 at 6:20am

| IP Logged

RESERVED!~
Post Reply
New Post
Go to top
Related Topics
Forum Quick Jump
Please login to check your Last 10 Topics posted
Kunal Thakkur returns to television with CID!
Talented actor Kunal Thakkur is making a comeback to television after ... 3
Is Aasiya Kazi the new Simar of Sasural Simar Ka?
Aasiya Kazi of Bandini fame has recently given a look test for the ... 32