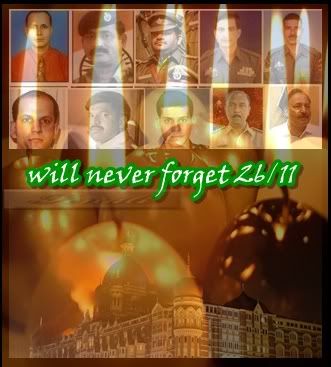 In Rememberance Of the Lost Lives and Martyrs of 26/11!
The 2008 Mumbai attacks were more than ten coordinated shooting and
bombing attacks across Mumbai,
India's financial capital and its largest city. The attacks, which drew
widespread condemnation across the
world, began on 26 November 2008 and lasted until 29 November,
killing at least 200 people and wounding at
least 308.

Eight of the attacks occurred in South Mumbai: at Chhatrapati Shivaji
Terminus, the Oberoi Trident, the TajMahal Palace & Tower, Leopold
Cafe, Cama Hospital, the Orthodox Jewish-owned Nariman House, the
MetroCinema, and a lane behind the Times of India building and
St. Xavier's College. There was also an explosion atMazagaon, in
Mumbai's port area, and in a taxi at Vile Parle. By the early morning of
28 November, all sitesexcept for the Taj Mahal Palace had been secured
by Mumbai Police and security forces. An action by India's
National Security Guards (NSG) on 29 November resulted in the death
of the last remaining attackers at the
Taj Mahal Palace, ending all fighting in the attacks.
3 years after the 26/11 terror attacks on Taj and Trident hotels in
Mumbai, the families of the victims are still
battling the trauma.
26/11, a date remembered in infamy, forever etched into India's
consciousness. An attack so brazen, that a country was left reeling
in shock for days afterwards. But amongst the chaos, there
emerged stories of incredible heroism in the face of terror, where it
proved that despite the best attempts of those who would seek to
destroy it, the spirit and nobility of humanity would always shine
through.
Let us pay tribute to those who gave their lives to save ours. Let us salute those who made their own lives, a trifle, to make sure that we lived ours.
Salute the men who fight our battles for us !


They have lost their precious life to save us, so why can't we just say hat's off to them? Come on show the spirit of what we Indians are and let's stand brave against the terrorism.



Edited by sonali_N - 25 November 2011 at 11:41am