I don't know if this has been posted here before...sorry if you'hv already read it.
Success is a journey, and every day you face a new battle"
Ronit Roy plays the debonair Rishab Bajaj in Kasauti Zindagi Kay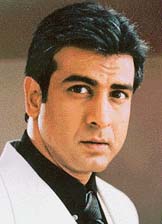 I tasted success with my first film Jaan Tere Naam in 1992. After that I went through a bad patch, but took it all in my stride.
Success to me is like a journey, and the road ahead is always much more difficult and requires harder and harder work. I feel the more successful you are, the humbler you get. You learn to be more tolerant... may be it is the result of the labour you have put in.
There is no single mantra for success. Lots of people like my father (businessman) and uncle Subhash Ghai have been a source of inspiration for me. Different situations too contribute to what you become in life. My father taught me humility and how to handle situations with diplomacy. Subhash Ghai, with whom I lived for a few years, put me through the grind from which I emerged stronger.
Success is a journey, not a destination. Everyday you have to face a new battle. You have to do better work than you did the previous day.
While your family and genuine friends feel happy with the accolades you get, many cannot handle somebody else's happiness. But that is okay, it is all part of the game.
I am happy with the two serials I'm doing on the small screen. They take up most of my time. Now people don't look down on TV. Small-screen stars are as popular if not more than the film stars. Unlike the movies where the dashing hero may be the delight of just teeny boppers, serials have a larger fan-following: men, women, children, grandparents, all are hooked to them. I feel honoured when even three-year-olds walk up to me shyly and address me as Bajaj uncle.
Putting in 16-18 hours in a day, leaves me little free time. In fact, I was once a big party animal. Again, I haven't seen a movie for about one and a half years and there's just no time to meet friends. But I don't miss all that I can't do. I like to remain focused on what I have to do.
"I feel on the top of the world with this adoration"
Shweta Tiwari plays Prerna in Kasauti Zindagi Kay
Now that I'm doing well, it seems everybody thinks I am great. Whatever I wear is considered the fashion of the day and whatever I do seems to be the in thing to do. I may feel on the top of the world with all this adoration but all this attention can get a little uncomfortable too. I can't go out to movies, beaches'85people mob you. What is more, I have to behave in a particular way when I go out: can't laugh as much as I would like to, can't freak out. Have to be reserved for I know that I am being watched all the time.
I was doing theatre before I joined Kasauti Zindagi Kay and took up modelling assignments. I fully realise that now is the time for me to work. And I am lucky that I have my hands full. The major ingredient of success certainly is luck. After it, comes hard work, which must be accompanied with honesty and dedication.