Shweta Tiwari: I am much more famous than most movie actors...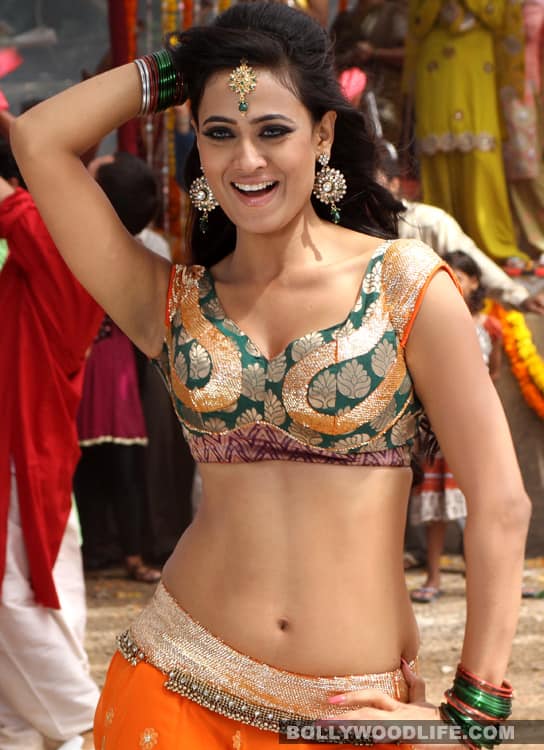 At the launch event of her new serial, Parrvarish ' Kuchh Khatti Kuch Meethi, the katto gilehri girl was at her spunkiest best. Not only did she almost take over the event as a host, she also kept the audience in splits with her motor-mouth Punjabi act, a la Kajol inKabhi Khushi Kabhie Gham
She spoke of the challenges of being a mother of a ten-year old girl, her attraction to money and how much she despises Bhojpuri cinema
Your new serial is about parenting; how much of a challenge has it been for you?
Being a working mother is a huge challenge but, thank god for my mom, most of my chores get done. Though my daughter is just ten years old, she is tall. This makes me very concerned about how she is dressed and how she carries herself. I coax her into wearing pajamas and track pants, since I don't want her to be seen in shorts by the house help, driver and other people who drop in at home. I tell her that her skin will get tanned if she wears shorts et al and it works. There was a time when I used to be very careless about things; I would leave used cutlery on the table, etc, and one day I saw my daughter doing just that and it struck me that she was picking up habits from me ' that's when I mended my ways.
But you wear all kinds of clothes as an actor'
As far as work is concerned, I have to wear whatever the role demands, be it a bikini, short skirts or whatever else, but when I am at home I am dressed very appropriately.
How did you prepare for this role ' any inspirations?
I watch a lot of videos on Youtube, and am particularly impressed by that Punjabi lady who played a mother to one of the kids in Chillar Party. Dolly Bindra wasn't much of an influence because other than a word or two in Punjabi, she can't be an inspiration for this character. Now that you remind me, I will watch videos of Kajol in Kabhi Khushi Kabhi Gham, because this character is more like her in that film. With so much talking to do, my character is borderline irritating, so I have to be very careful in treading the line. I would rather model it onSholay's Basanti; though she speaks a lot, people look forward to her talking.
Is your daughter clued in to the work you do?
Not really, as she is not interested in television shows. She is busy with her computer games, iPod and her dolls and she loves it when am at home. What she doesn't understand is that the demands that she makes require me to be working a lot. She said she wants a separate room for herself, one for her toys and another for her paintings. With such a demanding child, I better be working a lot. (giggles)
Do you keep a check on who she is hanging out with?
Well, I know that she is friends with just two girls from her school who form her so-called 'group' and I know them personally too, as they keep dropping in to the house and at times my daughter visits them.
Who are you rooting for in this season of Bigg Boss?
To be frank, I have never watched any season of Bigg Boss because I don't find anything interesting in it. I went into the house just because the money they offered to me was huge and there was no way I could say no to it. That apart, from my own experience, I can say that they only show the negative things that happen inside. During the season that featured me, we used to play kho-kho every evening and have lots of fun most of the time, but all they showed was the fights and hatred. Veena Malik used to recite to us verses from the Quran; she even learnt to chant the Gayatri mantra, but that was never shown. Even Dolly Bindra, though I wouldn't call her my best friend, was shown in a bad light. She was abusive, yes, but like everyone else, she had positive points too, but nobody was interested in that. So yes, I don't follow any TV soaps at all; thanks to my daughter, the only channel that plays all day in my home is Disney.
Do you think that the saas-bahu soaps are on their way out of Indian television?
I don't know if it would be appropriate to say so, but yes, like every passing trend, the saas-bahu serials are losing steam. Even reality television shows aren't as hot as they were when the trend started. Fiction that is rooted in reality ' like our new show, Parvarrish ' seems to be catching up with the audience these days. The responses to the promos have been very encouraging.
You seem to be doing quite a few Bhojpuri films'
Actually, that is not the case. The few Bhojpuri films I did were as a favour for friends and to help my production house. The fact is that there is no money in it. Not just money, they don't even have any good ideas that can get me excited. I have totally stopped taking calls from Bhojpuri filmmakers.
You are playing a mother of two kids in Parvarrish; will it hamper your career as an item girl?
I do not harbour any intentions of being an item girl. My Katto gilehri act in Miley Na Miley Humwas a part of my role, but because not many people saw the film, most felt that I had done an item number. I don't have anything against item numbers, but I will not put my life on hold for the sake of it. The same is with films ' I am not obsessed about doing only films. As a TV actor I am more famous than most film actors! I will not sit at home hoping for a film to come my way, as I have to keep myself busy. I am not very choosy about doing films either. I don't ask which banner is making the film; all I need is that my role should excite me and also add to the film. I don't want to be there just looking pretty and doing nothing


Edited by ZarYab.....Khan - 18 November 2011 at 7:27pm