Famous actress of yesteryears Nadira died after prolonged illness at a hospital in Mumbai early Thursday morning. She was 73.
Nadira was admitted to Bhatia hospital on January 2 after a paralytic stroke. She was also suffering from other complications and had been in coma, doctors said.
Nadira was staying all alone in a flat in south Mumbai.
Nadira made her foray in the film industry in the 1950s with the film Aan. She also appeared in Shree 420, Dil Apna Preet Parayee and Julie.
Bollywood loses its first glam girl
Veteran Bollywood actress Nadira, who passed away in the early hours of Thursday, was Hindi cinema's first sophisticated vamp.
She made her foray into Bollywood in the 1950s -- when women were expected to look demure and do only 'positive' roles -- and gave new meaning and depth to the character of the 'bad girl', playing the confident, often sensuous young woman who was not afraid to get what she wanted.
Her arched eyebrows, as she wooed Raj Kapoor in the song Mud mud ke na dekh in the classic Shree 420 (1955), will remain etched in the memories of movie lovers for a long time.
Nadira's career spanned over five decades, during which she acted in over 60 films.
She was part of some of Hindi filmdom's most well known movies, starting off with Aan (1952) -- the movie directed by Mehboob Khan in which Nadira played the fiery Princess Rajashree -- and featuring in classics like Waris (1954), Dil Apna Aur Preet Parai (1960), Kamal Amrohi's Pakeezah (1971), Amar Akbar Anthony (1977), and Saagar (1985).
Nadira won the 1975 Best Supporting Actress Filmfare Award for her portrayal of the protagonist's mother in the film Julie.
The Shah Rukh Khan starrer Josh (2000) was her last Bollywood film.
She also featured in Ismail Merchant's English film Cotton Mary (1999) and Pooja Bhatt's Tamanna (1997).
Born in Israel as Florence Ezekiel, Nadira was a spinster and has no immediate family in India. She is survived by two brothers, one in the United States and one in Israel.
In her final years, Nadira had turned into a recluse, meeting no one and staying confined to her house. Even during her stay at the hospital, no one except her domestic staff was present at her bedside.
Nadira was admitted to the intensive care unit of Bhatia Hospital in central Mumbai on December 31 after she suffered a paralytic stroke coupled with a heart attack.
"She was a very special person. There are a very few people like her. I loved her very dearly. She was a very talented actor," said actress Dipti Naval, one of the few people in the industry with whom Nadira kept in touch till her last days.
Nadira: A woman ahead of her time
If you do an Internet search on Nadira you will probably find a list of her movies, or a few recent articles about her illness.
But not much has been written about this boisterous actress who had the audacity to play negative roles in the 1950s and 1960s -- when most heroines portrayed the virginal pativrata nari.
July, Pakeeza, Shri 420, Sagar and, more recently, Pooja Bhatt's Tamanna, Josh and a teleseries, Margaritta, with Milind Soman, are a few of her works that showcase her stunning beauty and performance. She mostly acted in villainous roles.
However, apart from the hospital registrar and a few close friends, no one even knows her original name is Florence Ezekeil. She has two brothers, one in the US and one in Israel. But before you peek into her life, acquaint yourself with her present state.
Nadira is in the Intensive Care Unit of Mumbai's Bhatia Hospital, where she was admitted on December 27 last year.
When I entered the second floor ICU last Wednesday, Nadira's maid Shobha was very protective. However, she led me to bed 233. A shiver ran down my spine.
What lay in front of me was a bundle tied together with lots of tubes, her neck given support and her head hanging low in it.
Images of her youth flashed through my mind. I was wondering what happened to her, and I was wondering god knows how many other yesteryear actresses might be lying similarly alone in their sprawling homes.
I guess Nadira sensed some presence, so she opened one eye. The other eye's nerve is affected, and she can't open it yet. She extended her hand slowly. I stood there frozen and puzzled. Her maid then took me away.
On my second visit to the hospital, Dr Arpita, the ICU's medical head, explained, "Nadira was brought in a semi-comatose state. She had patches and bruises all over her body. She is suffering from tubercular meningitis, alcoholic liver disorder and paralysis and had developed a complication of tubercular meningitis. We have been feeding her through tubes. However, she seems to be getting better now after about 18 days of treatment and may be discharged within a week depending on her condition. But she will require a nurse at home."
I left the hospital shaken. Though I was no fan of hers, to think of such a beautiful woman frail and bedridden was just too much.
Considering she had made no public appearance in three years, like many others, I assumed she was a loner. On reaching the Vasundhara building near Mahalaxmi temple -- where Nadira lives -- I was in for a pleasant surprise.
Her 12-year-old neighbour and friend Abhay Chopra gushed about how just last month on December 5, the kids in the building relished cakes and Biryani while celebrating Nadira's 75th birthday.
"I love to meet aunty. We kids drop by once in a while at her place. She is very fond of us and we love interacting with her," Abhay said.
Another neighbour, Kaushal Agarwal, said, "I used to borrow books from Nadira Aunty. She has a wonderful library stocked with works of Shakespeare, Hitler, Vivekanand, books on World War II, religious books on Judaism, books by German philosophers among others. To my sister Deepika and me, she is like our grandmother."
While a neighbour, Sona, raved about Nadira being an agony aunt and patient listener, another, Rajesh Agarwal, said, "She is very fond of music and listens to the radio. She does not like to watch television. However, she reads newspapers diligently and can discuss current affairs at length. In better days, we would sit with her friends Nimmi and Shyama and play cards too."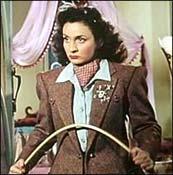 While leaving the building, the liftman confirmed that Nadira is no loner. "She has regular visitors -- friends from the industry and otherwise. People like Tanuja, Nimmi, Shyama, Deepti Naval, Milind Soman and others drop in once in a while," he said.
Actor Tom Alter reminisced, "Nadira has been a woman so much ahead of her time -- in fact, she was a woman for all time -- beautiful, bold, truthful. What today's woman strives to be, Nadira was 50 years ago."
Her co-star Milind Soman, visiting her at the hospital, said, "On the sets of Margaritta, it was a treat to work with her. A very graceful lady, she would perform her role with the utmost care and treated all of us like a family. I drop into her place once in a while, with our serial's director."
Nadira, the graceful vamp of yesteryears, passed away early on Thursday morning.
A fiercely independent woman, she lived alone in her last years and was undergoing treatment at Mumbai's Bhatia Hospital. Her funeral was held in Chandanwadi, in south Mumbai on Thursday.
"When I learnt about her death, I went for her funeral. As expected, there were hardly any people," said Mahesh Bhatt, who directed Nadira in the 1997 movie Tamanna. In the film, Nadira plays an ageing actress who pines for her lost glory.
"When she was shooting for my film, she was very temperamental, and emotionally unpredictable. She had her highs and lows. She was very naughty, amusing and articulate. She lived her life on her own terms. It was a great experience to work with her," Bhatt continues.
"I once requested her to get a picture of her youth for the shoot. She did, and what a marvellous beauty it was
"As I was returning from the funeral, the image of Raj Kapoor and Nadira in the Mud mud ke na dekh (from Shree 420) song came to my mind for some reason. Nadira was the diva of the early 1950s and 1960s. And like any part of the world when the arc lights dim, when the fame fades, people forget the ones who entertained them on stage. Nadira was no exception," Bhatt adds.
"She was alone in life but never lonely. I wish her the peace in death that she always sought in life," said Nadira's close friend, actor Tom Alter.
Former Board of Control for Cricket in India chairman P M Rungta, who had admitted the actress to the hospital, said, "I had known her for a very long time. She was a very brilliant, intelligent and graceful woman. May her soul rest in peace."
Nadira's neighbour Sunita Chopra said, "Just a day before she was admitted, we had a talk and she seemed quite normal. I was very close to her. She was like a mother and friend -- well versed, well read, very intelligent person. It is a great loss."