LOL Its like Chamak Challo
This is the famous banana melon dance for ur shop :$ I hope ju are enjoying it
arent they cahuteee
First of i jst wanna say C O N G R A T U L A T I O N S for ur new shop
May you have many many more i lovesu
Ur one of the most amazing siggy makerson IF im soo proud of answer book
I cant believe its ur 7th itni jaldi uve come to 7 koi to baat hai na tujhme
I have seen u improve and i remember wen u started making avis i was soo happy
and watever u do comes out perfect coz u rock na u shud know
So ya keep working hard and making such siggies and ur dukaan will rock ad u will make many more dukaans in the future
lemme tareef ur banner now
I love it sooo much like seriously its sooo adorable and i love the colouring on it! tht kajen scnes is soo u my super duper pagal
so perfect che for ur shop ;)
LOL i looove that dance :P i remember telling u that LOL in Islu when u posted this banana dance :P Aww they look shooo cute <3 Thank u jiii :P I loves u too <3 Aww thank u but am not that gud too :P I know that LOL :P I know LOL have u ever seen my first sig
u wud vomit if u ever see LMAOO! Compared to that i guess i did improve LOL!
Aww Thank u jii :) LOL thats my FAAAV scene that makes me laugh as well as cry :( LOL :P
OH and thankyou for mentioning my name in the first post tehe meansa lot and yes my lamba more lik pointless essays will always be there
you will always find me in ur shop spamming
wenever u need it awaaz de dene
and even using ur stuff coz i lub it :$ oh btw i love how u take all suggestions and make them pleej stay like tht always
and i have to say i love how update soo often i love getting a daily dose of ur shop :P so continue like tht!
Ji.. Mention not.. tussi hamesha comment karte ho and tussi mere acche dost bhi ho isliye i mentioned LOL :P I LOOOVE Reading ur essays :P Haan mein awaaz de doongi dnt worry LOL coz i will pakka need u :P Aww I will always be like this so dont worry LOL =)) and i wud always make u YuNa Stuffs :P
and omg wen did u make this
- i SWEAR this is the first time i saw this and i love it! <333 omg i lovers the text u used i always wanted one siggy of yuna with them
hayeee i love it omg
che che btw i was looking for all ur yuna avis bt somehow i lost those dunno how i remember saving them
bt now i see them on tera first page gonna chori them for later use
and the best thing abt ur creations is the way u blend the pics it comes out sooo uniquely! Im bad at tareefing LOL bt i love u for aving on this http://i.imgur.com/dQSKM.gif i love this sooo damn much the way he asks her soo dreammy
ur first page looks absolutely gorgeous with all ur old siggies i heart the kajen offscreen ones and ur icons are oye hoye
Pagal I made that for u and Nadz like on my previous shop ka 1st update :P U likes it :P That was my new style i did that time LOL! And i changed my style now.. IDK why i cant stay with a single style LOL =)) Aww LOL I See ur dabba has sooo many avis =))
OMFG u made me this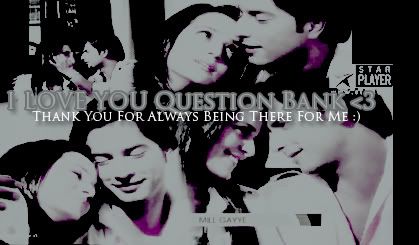 Thts soo sweeet omg i love u AB
and thanku for always being there for me too
Its such an adorable siggy
i absolutely love love it cutie pies che <33 Gonnause it like now i love this colouring of urs
thanks again for the surpirse
K now i go change my dabba
ILY <3
Aww ILY 2 <3 U liked it..? Thank uuu :) and if Nadz comes ask her to take her sig :) coz she doesnt check her PM LOL! Am happy that u liked it :)
Ok question bank signs off now
Answer Book Finishes replying
Love Ya Tc