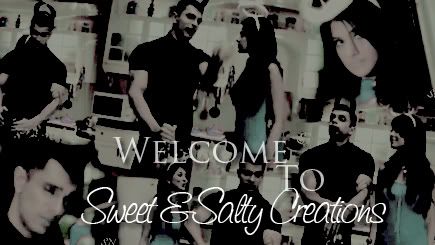 Ok! I dont believe i am in 7th Gallery LOL its all coz of all my cutomers (in Saba's language)
Welcome Guys to my New Shop :D
So all those who dont know me I am Niya.People call me with all weird and strange names like SDP Pagal Klaus and many more
So u can make up a new name for me and call me LOL JK! And i am doing my FY Bcom :) I am from Mumbai :)
First Of All I wanna thank the people who are not in IF but they had helped me a loot without whom i wud have not even completed these Galleries!
Lemme Start With my BESTEST friend PARI I Seriously miss her and I know she will be back in sometime but I Miss her loads </3 If it wasnt her i wudnt have been here she had always encouraged me always told that she loved my stuffs even though they were Crap :|
Then its my BESTEST friend again RADHIKA urff My Chuddy Buddy.. Aww I miss her too </3 I know she is busy with studies but LOL I am still in contact with her :P She always encouraged me to make more and was always honest in telling if she liked or didnt and ILY <3 And miss u <3
Now its My BESTEST FRIEND AGAIN :| JESSY Can i tell that i didnt read ur note please :| u have no IDEA how much i miss u </3 Its like one part of my life went away from me </3.. I HATE U :P LOL I LOVE YOU.. I just hope u come back soon :(
LOL she used to always give LAAAMBA comment and wanted LAAAMBA reply :P And always fought to be the first to comment in my shop LOL! and she always used to encourage me with stuffs :P I LOVE YOU JKJ :( COme back soon!
Now Time for my bestest friends and sisters :)
SABZ DIII Aww Dii I love the way you take ur time just for commenting on my work <3 I love ur comments they are always sweet and encourage me I know u looove ur HarshJen LOL ok i have a gift which i wud post along with my suggestion list :)
SABA JEEE LOL meri Pagal Sweet Waali Customer :P Aww i love all ur laaamba waalaa comments and asking when i wud update always being sweet <3 and always coming to my shop whenever i call u! And sowwiee b4 i cud reserve i saw ppl had reserved :(
DABBUUU LOL my mooost pagal and crazy customer :P And the most sweet one too :P She is inactive these days I KNOW but she will be back soon and i know that :P
She has always helped me whenever i wanted her help in colouring and i love churafying her texts and style and LOL she never says anything for that <3
KATHERINEE
Aww She has always been so sweet <3 and my bestest frnd. or infact my sis <3.. I actually love to talk to her everyday LOL! She always comes to my shop whenever i call her even though she is INACTIVE
LOL Thank u <3
QUESTION BANNNKKK <3 Aww She is My Cutest friend LOL and Crazy about SeHa and YuNa :D I love to talk to her and love her pagalpanti LOL! Thank u for alll ur LAAAMBA comments and sweet comments too LOL :P
SHAWWWTYYY <3 Aww madam ji is inactive or she wud always be here :P I Miss u Shawtyy :( Come back soon :|
NADZZZ
I know u BG with ur work these days LOL.. Thank u for always using my stuffs even though they turn out crappy
TEHREEEM
:P U always RES a spot and u bhaag jaing
Anyways Thank u too <3
NANIII Thank you too for being sooo sweet and always giving me shwwwet sa comment and supporting ur DAUGHTER NOT ME :|
Posting gifts for u guys when i update :)
@All Others
Thank u sooo Much for commenting.. I just love to read each and every one of ur comments they make me feel really very happy :D I know am not that good to express my opinion LOL but all i can say is THANK YOU GUYS!
WHAT I MAKE
Animated Avis

Non-Animated Avis

Animated Sigs

Non Animated Sigs
RULES FOR REQUESTING
Not Many Just Req When I am OPEN for REQUESTS :)
And for AVI reqs keep the timing upto 10 sec :)
And if u wnt me to stack avis then please make sure all the videos have same timing or my PS will kick me out :P
Am Done :)
INSPIRATION
I have Looots of Inspirations from IF i cant mention a single name but my stuffs are maximum inspired by Dabbu/Ash (midnight.blue)
MY SAMPLE WORK AND PM LIST ARE BELOW :)


Edited by -Niya- - 14 February 2012 at 4:33am