Originally posted by Aahaana
H.A.P.P.Y B.I.R.T.H.D.A.Y
G.U.R.P.R.I.T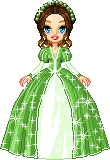 Ek ladki ki tumhe kya sunaaoon daastaan'
Ek ladki ki tumhe kya sunaaoon daastaan
Voh pagli hai sab se judaa
Har pal nayi uski ada
Phool barse, log tarse jaaye voh ladki jahan..
But who is this pagli?? Let's go back in flashback '.
Aww
... but hey I'm not pagli
*hmph*



Long time ago, on the 9th of November, a pari fell down from the sky and entered the Earth. She was sent by God to touch everyone's heart and make each of them smile. They named this fairy Gurprit, aka GK_09. She was the only child to her parents, until her brother was born and she was no longer the baby of the house. She felt it was time to grow up, become more responsible, and expand her hobby list. She wanted to explore the world on her own and started to use Google uncle. Accidentally one fine day while searching for pictures of Hiten-Gauri, she landed up on I-F. She very soon realized that instead of her going around the world, the world would come to her if she joined the forum. From there onwards, there was no looking back for her.
I actually still remember the first time I came across this site
Man time does fly. The the last sentence is so true. I never thought I would still be here in 6 years and in the long run find some of my best friends here
IF Journey
She is one of the senior DT members of I-F despite her young age. She has achieved a lot in I.F by starting off as the coolbie of Paalkhi forum and was later on promoted as viewbie for the same forum. Eventually, she migrated to Saath phere; upon seeing her hard work she got promoted as moderator. Her sense for fashion got her promoted as moderator for Fashion and Beauty section and very soon she made history by becoming one of the youngest CM of I-F (GD forums) before she reached her last stop on her I-F journey-- Colors Channel and currently Veteran member and she enjoys being that. (We all know her dream is short-lived, once workaholic, forever workaholic.)
Pretty much sums up my 6 year stay!
And I must say the VM status is the best one
Jokes... don't worry. I'll be back very soon

Development Team
As a Development team member she is very organized, hardworking, and always stood by the sections that needed her. Her forums members find her to be friendly, easy to approach, trustworthy and active while fellow DT members find her to be one of the best co DT to work and moderate with. She is loved by everyone and thats very visible because she is a role model for any new D-T.
Crazy Creative and BollyBuzz
"Vision without action is a dream. Action without vision is simply passing the time. Action with Vision is making a positive difference."


She was crazy enough to join the crazy creatives team and is currently one of the veteran batch of CC members to remain. Her creativity and enthusiasm for new things brought her to the BollyBuzz team (news team). Her dedication and hard work made her become the head of BollyBuzz team. Her team members love pulling her leg by referring to her as the Hitler Boss but she is admired by one and all for her work and is a source of motivation for the others. Well no wonder why they call her the backbone of their BC team. After all, her role model is none other than the late Apple founder Steve Jobs, who had a vision in life and Gur has been inspired by her role model.
I am glad to be apart of both teams. CC & BC hold a special place in my IF journey.

I still don't understand why I have this hitlerish image, or maybe its a good thing?
Steve Jobs was or rather still is, an inspiration. He's positive and innovative outlook on life really surprised me. May his soul rest in peace.

Friendship
"These are relationships we are born in, they are some we can't control over but in friendship, we can choose our friends"
She is very special for her friends. An amazing friend who is always there for the people she loves and cares through thick and thin. She is a loyal friend who easily earns her friends' trust and a forgiving person who never takes things to heart. That's one of best qualities about her. No wonder they say she is a friend anyone would die for.She is really warm and welcoming, and is very trustworthy! Though she may be young, she is very mature and easily enters others' heart and remains there forever <3.
Thank you guys
Like I said before, I have met some of my best friends here on IF. Ones that I talk to every single day. If I don't, it feels like something is missing. Thank you for creating this thread and thank you for always being there for me

Secret Love/Crush
"Life is all about risks and it requires you to jump. Don't be a person who has to look back and wonder what they would have or could have had. No one waits forever."


Don't get carried away thinking she is a workaholic with no time for social life. Inspite of being a young multitasking lady, she finds time for her most favorite drooling sessions. Her crushes are endless, and in fact it's longer than the toilet roll. To mention a few of her crushes... Jay Sean, Ranveer, Shahid Kapoor, Stefan,Sam (Rookie Blue), Damon, Dr.Sid (DMG), Akshay Kumar, John Abhraham, sadly it doesn't stop with telly and bolly stars..she has not spared sports ateliers like hockey player Crosby, cricketers, MS.Dhoni and Yuvaraj.

My newest addition: Karan Tacker & Kushal Tandon
. Yup, I'm the new blushing queen. I can see all the girls like starring at me
Hobby
Her favorite hobbies are to watch movies of the old school (old is gold
) like DDLJ, KKHH, K3G, Vivah, and her favorite jodis include Raj-Anjali of DDLJ, Prem-Nisha from HAHK, Prem-Preeti of HSSH, Prem-Bitto of Vivah, Stefan and Elena from TVD and Sam-Andie from Rookie Blue. This girl knows how to sneak in and watch her favorite shows however busy she maybe; her addiction for shows never ends. Criminal mind, BALH, TVD, PLL, IPKKND are few of the shows which gain her attractions
Nothing beats old school movies and their respective actors/actresses!
I can watch these movies 1459483059843 and never get bored. I'm pretty many will agree

This list reminds me, I have to catch up on so many shows
Altogether, Gurprit is an amazing friend, wonderful moderator and a good human being. if you need an friend, Gurprit is just a PM away
I'm always here to help ... thank you all the kind words guys. I'm honestly speechless

Happy Birthday to you,
Happy Birthday to you,
Happy Birthday to you, Gurprit,
Happy Birthday to you
Baar baar din ye aaye,
baar baar dil ye gaaye
Tu jiye hazaaron saal,
ye meri hai aarzoo'
Happy birthday to you...
Happy birthday to you
Happy birthday to u, Gurprit,
Happy birthday to you'.
A very happy birthday from all of us who rocks your life! Hope you have a wonderful day and an even more wonderful year, dear Gurpz.
Thankkk youuu
Love you loads, Gurpz<3