Koffee with Love guru/controversy queen!

In an exclusive interview just for the members of India-forum.com, the controversy queen and a self-claimed love guru of I-F, Harjot, openly speaks about her controversial love affairs, her new life, her likes and dislikes and last but not the least, love tips (Love Guru) for the members.



Meli: What is your favorite color? And Why?
Jot : Hot Pink.. wait.. OMG F***! I read that question wrong !!!


RED! Like OMG..I LOVE red. Red is my life. Red is like, amazing dude! its great and represent my passion for my vampire hotties...blood is red and they love my blood!! Their lips are so
!!! Seriously dude!!!



Hershi: Are you scared of bugs/bees?
about the bees...well uRm..

and i felt like the bee told me

*cry'

Meli: Do you know the difference between a roof and a ceiling?!
i screw it up now. uff


Hershi: Who is karan?
Jot:Karan ... Well first he dated me and another gal at the same time. and then he dumped me and that was because I was dating someone else at the same time as Karan. Then we both competed with each other to date others. But then we hooked up again and then I dumped him

.
Many were so hyper that they resorted to playing games online and making themselves date random computer generated guys. Suneil and I made music together
.



Those of you who wonder whom she were talking about. Here is the guy Jot share love/love relation with. (side note - their date ended up in disaster
)


Meli: Which is your favorite tv show?
Jot: Uhhh. My favorite show? TVD! *runs around in circles*
But then again, that only thing that matters about TVD are the guys in the show. *dreams*
And in Secret Circle? Adam and Jake and Nick. THEY ARE SO CUTE!


Hershi:Favorite Couple?
Jot: Damon and Elena uRm...because they have an understanding and they just really are epic together... you know? Not to mention they are so Hot together!!

(Side note from meli: that is a total hershi answer about them being hot)



Meli: Favorite actor?

Jot: JUSTIN BIEBER IS SO HOT! Like, OMG hot! I dunno how anyone can not be in love with him.
Meli: i am sorry but Just-in-what beer????
Jot:

Those that hate him are just jealous. Hmph
He's so amazing man.
We're like, the same age, except I'm only like 8 months older. Oh well though. He's still amazing

I just wanna go and drown watching his interviews. He's such a beautiful specimen
. Just look at him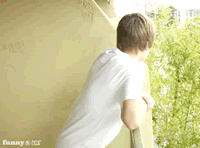 Hershi: Whats your favorite word?
Jot; FIRE TRUCK but it reminds me of a kid here who says Fire F***. Kids are so screwed up these days

Meli: Describe yourself in 3 words??

(side notes - this was an expected honest reply
)
Hershi: Last but not the least some tips from the Dating Guru for our readers/member?

Jot: here's some free dating advice: don't be such a jerkhole, jerkhole"


"when you said you were gonna show me a good time, i didn't expect it to ya. know..SUCK."

"i can smell the Dean's list in the future. it smells like BRAINS."
"Girls don't love simple, decent, lovely boys. They love bad abnormal boys like Damon, Stefan, Jacob, Abhay, Jeh, Tyler, Edward
".

This is a spoof interview made by Radha, Hershi, Ami and Meli. We will be back with more controversial interview on our next Birthday Issue
(sidenotes - Gawds knows when the next time will be *tehe* Probably NEVER
) .



Edited by Aahaana - 08 November 2011 at 10:31am