Dhadkan Ban Gayye Ho Tum
AR FF
Partt 36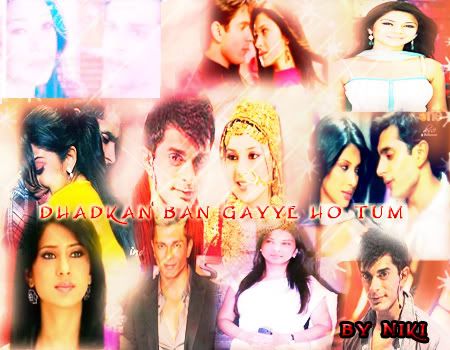 P.S. The credit of this beautiful banner goes to Shilpa u rock shilpu love u so much Thanks for this beautiful banner
Ar:''par tum riddhima tumhe to shuru se sab pta tha kii tum hii merii basket ho, kabhie btaya kyoon nahin tumne riddhima aakhir kyoon, mujhe dekhti rahii aapne liyye tadpte(crave) hue kaise kar sakti ho tum yeh meree saath? Tum to kabhie merii aankhon meiin aanson nahin dekhh sakti thi aur aab dekhti rahii kaise mai tumhare liyye baichan hun?mujhe pasl-pal aapni basket kii yad meiin jeene diyya tumne aakhir kyoon riddhima?kyoon riddhima aakhir kyoon? aur tumne mujhe vo meree aapne hii pyaar ke saath aapni basket ke saath vo sin karne diyya mai aapni basket ko force kar rahaa tha? kyoon nahin btaya riddhima kii tum merii basket ho? tumhe jawab denaa hogaa riddhima mere in sawalon ke? tumhe btana hogaa kyoon dur rahii mujhse meree itnee pas hotee hue bhi aakhir kyoon? batana hogaa tumhe?tumhe sab jawab dene padege riddhima?''
He said with lots of pain, anger, love, his eyes were filled with tears and the love for her, but he wants answers.
He was still lost in thoughts when his phone rang, he does not want to answer the call but as soon as he saw riddhima's number flashing on the screen, he immediately picked the call, he does not want her to know that he knows everything. And as soon as he picked the call
Ri:''hello armaan mai riddhima bol rahii hun''
Armaan smiled in his tears hearing her nervous voice she was still same basket of his
Ar:''han riddhima maine tumhe pechan liyya''
As soon as riddhima heard his words, her eyes widened, what does he meant with these words and when she does not speak for a moment armaan knows what she was thinking so he asked
Ar:''areey riddhima kahan kho gayyi tum?''
And riddhima come back to reality
Ri:''jii nahin vo kahin nahin''
Ar:''achaa riddhima tumne call kiyya koi kam tha kya riddhima?''
Ri:''umm han vo mai bas janna chahti thi aap chand niklane tak to aaa jaayenge naa?''
She asked softly wishing he says yes and armaan smiled
Ar:''han riddhima off course don't worry mai chand niklane se pehle tumhare saath hoyunga''
He said lovingly, riddhima smiled hearing this and
Ri:''umm armaan mai rakhti hun aap jaldi aaa jayiyega bye''
Ar:''bye see u soon''
And they hung up and armaan was smiling as well as crying, though he is angry with her but the happiness was on his face after finding True Love Of his life that too as His Dear Wifey, the moment when he heard her voice on phone his heart skipped, though he heard her voice every day and just few hours back but one truth and everything is changed, after all he heard the voice for which he was craving all the years.He was smiling with the truth that now he can hug her without any hesitation, kiss her without any repentation,romance with her, fulfill her all wishes and desires and the most important he was going to tell her that He Loves Her, he never say his basket that he loves her and this is the first thing he was going to do after when he got answers of his questions from her, y did she do this when she loved him so much, yes he was sure about this thing that she loved him as she confessed her love all the years ago and after knowing her as his riddhima he knows that she loved him so much and her love was unconditional. And after reminding his moments with her he finally rushed out of his office, to mall, wants to give something to her as it was her first Teej as well he was going to confessed his love to her.
And after getting something he traced the thing with his fingers
Ar:''mai riddhima ko aaj yeh gift doonga''
And he smiled and rushed to his car, he was in no mood to wait to saw her, love of his life and smilingly he drove off to his house.
Mallik Mansion
It was beautifully decorated with the flowers and lights, and looked like its having a wedding in the house, y not after all its first Teej of their daughter-in-laws so everything must be perfect and was must on grand scale.
Ka:''areey rahul tu yahan bahar garden meiin kya kar rahaa hai betaa?''
Ra:''kuchh nahin dad pak rahaa hun mom ne strictly aandar ane se mna kiyya hai''
He said sulking
Ka:''yea i know terii mom bhi naa humare liyye fast rakhti hai, humare liyye tayar hotii hai, aur humein hii aandar nahin aane detii''
Ra:''yea right yeh bhi koi bat hui dad''
Ka:''han oopar se itnii beautiful lag rahii hai''
Ra:''dad kuchh kijiye naa chaliye aandar chalte hai''
Ka:''yar jaana hai to hai par nandu mujhe kachaa chaba jaayegi aur room se bhi bahar nikal degii aagar maine aisaa kuchh kiyaa to''
Ra:''kya dad aap bhi naa abhie aagar ammy hotaa to vo har haalat meiin aandar jaata''
Ka:''i know betaa par vo terii maa ka laadla ose nandu ne kuchh nahin kehna tha''
Ra:''dad please kuchh kijiye naa mujhe aandar jaana hai please''
Ka:''chl theek hai ekk idea hai par tujhe meraa saath denaa hogaa''
Ra:''off course dad''
And karan whispered something in rahul's ear and rahul smiled and hi-fived him and both moved towards the house.
Here inside the mallik mansion
Nandini was waiting for riddhima and muskaan side by side doing preprations with the help of nikki
Na:''nikki yeh muskaan aur riddhima kahan hai jaldi bulaa ke laa oonhe''
Ni:''jii mom vaise mom oonhe time to lagega hii naa after all yeh oonki first Teej hai oonhe aaram se tayar honee dijiye''
Na:''mujhe pta hai yeh oonki pehli Teej hai par humein pooja karni hai isliyye aap mehrbani karke oonhe bulayengi''
Ni:''koi jarurat nahin hai vo dekhiye muskii bhabhi aaa gayyi''
And there muskaan was coming wearing a beautiful red green churridar with heavy embroidery and she was looking so beautiful
And when she come towards them nikki
Ni:''areey vah-vah muskii bhabhi bahut sundar lag rahii hai''
She said while hugging her while muskaan hugged her back
Mu:''thanks nikki''
Na:''vaise muskaan betaa yeh riddhima kahan reh gayyi abhie tak nahin ayi?''
Mu:''pta nahin mom chaliye rukiye mai dekhti hun''
Na:''han dekhna zara''
But before they go to saw her riddhima was there slowly descending the stairs,she was claded in green-golden saree, the same saree which armaan gave her, it was beautiful one having sequences all over the saree with golden border, and she was looking pretty as ever, as soon as nikki's gaze fell on her, she whisteled seeing her till then riddhima reached near them and when she reached near them
Mu:''nikki tujhe nahin lagta aaj hero gayya kam se, aaj ridzi ko dekhte hii vo clean-bold ho jaayega''
Ni:''yea bhabhi i agree tabhie to bhaii ka kam maine kar diyya aagar vo yahan hotee to bhi bhabzz ko dekh ekk whistle jarur karte''
Hearing them riddhima blushed remembring armaan and their small moment in morning and
Na:''bas kar nikki yeh 2ono hii aaj bahut sundar lag arhii hai mujhe inkii najar ootarni padegi aaj''
She said while placing her hands on both their heads
Mu:''fir to mom aapki bhi najar ootarni padegi kyoon ridzi yar''
Ri:''han mom kyonki aap bahut sundar lag rahee ho aaj''
Ni:''han bhabhi tabhie dad ko bahar garden meiin nahin jaana tha areey kiska man karega jab mom itnii sundar jo dikh rahii hai''
They winked towards her and nandini blushed, she was claded in red saree with matching green blouse and laoking beautiful
Na:''badmash ho gayye ho tum sab ke sab chalo aab pooja karein der ho rahii hai''
Riddhima and Muskaan nodded after that they did pooja of godess Parvati with Shiv Jii for the long live of their husbands and their relation ship. After taking blessings from nandini all three were going to sit when they heard
L1:''le nandini har sal(year) kii tarah karan aaj fir aandar hii aaa gayya.''
They said teasingly while pointing to window where karan and rahul were standing admiring their partners, they were not aware that all were looking at them
L2:''han aabki bar to teraa chota betaa rahul bhi hai inkee saath''
L3:''han bhaii oosne to ana hii tha ooski pyaari biwii jo hai yahan par(points to muskaan).
All the ladies were teasing mallik ladies and riddhima was smiling seeing nandini and muskaan's face
L4:''han par vo armaan nahin dikhh rahaa har bar vo hii inkaa leader hotaa hai''
Hearing armaan's name riddhima's face was red
L5:''han aur nahin to kya ooski biwii itnii khoobsoorat lag rahii hai aur vo pta nahin kahan hai?''
Hearing all the teasing nandini was angry as karan and rahul was still there and looking towards them dreamingly
Na:''karan naa had karta hai har bar yehii kam har bar yeh sab ladies mujhe aisee hii pareshan karti hai.''
Mu:''aur nahin to kya mom aur yeh rahul khota dekho kaise dekhh rahaa hai aur yeh aunties bas meraa peecha hii nahin chodd rahii hai''
She said looking at rahul and then the aunties
Na:''han muskaan chl zara aaj to inhee mai btati hun''
And both the ladies went towards rahul and karan who was still unaware the surroundings and
Ni:''ridzi bhabhi aaj rahul bhaii aur dad ko koi nahin bacha sakta''
She said giggling
Ri:''nikki yar vo log bas dekhh to hii rahee the''
She said defending karan and rahul
Ni:''i know bhabhi har bar aisee hii hotaa hai par ammy bhaii dad ko bacha lete hai''
Riddhima smiled and till then nandini and muskaan reached towards karan and rahul and holds their ear respectively
Ka:''aauch nandu yar please chodo dard ho rahaa hai.''
Na:''achaa to yeh sab kyoon kiyya?''
She said angrily
Ka:''yeh sab iss rahul ka idea tha''
He replied putting whole blame on rahul who looked towards his dad with widened eyes
Mu:''mujhe pta tha kankhjure yeh tu hii kar sakta hai''
Ra:''nahin muskaan yeh dad ka plan tha mom i swear maine nahin kaha''
Ka:''nandu yeh jhooth bol rahaa hai tumhe lagta hai mai aapni nandu se jhooth bolunga''
He said making a puppy face
Na:''karan aagar mai tumhe naa jaanti hotii to mai yeh man letii par i know u Mr. Karan Mallik''
She said angrily and went inside the house with karan following her
Ka:''merii bat soono nandu please''
And seeing them like this
L6:''han nandini sun le naa kitne pyaar se keh rahaa hai karan''
L7:''aur nahin to kitna pyaar karta hai tujhe''
Karan holds his ears while nandini turned her face and here rahul was trying the same thing
Ra:''yar muskaan please sun naa''
Mu:''nahin rahul chupp ho jaa bahut besharam hai tu''
Ra:''muskaan please''
But he is cut short by ladies
L8:''areey muskaan betaa man jaa naa aab tu itnii sundar lagegi to bechara rahul yehii karega naa''
L9:''aur nahin to kya man jao naa areey nikki armaan ko bulaa vohii aapni maa ko mna sakta hai''
Ni:''vo aunty jii ammy bhaii kisii kam se gaye hue hai''
Riddhima looked both the couples and then she smiled and
Ri:''mom please papa ko maf kar dijiye naa aab vo aapko hii dekh rahee the jab aap ho hii itnee sundar''
She said and karan looked towards nandini
Ka:''han nandu please''
He said making a cute puppy-dog face and nandini smiled
Na:''par sirff riddhima ke kehne se''
And both give each-other a warming smile
Ri:''muskii tu humesha kehti hai kii rahul bhayiya tere liyye kuch romantic nahin karte aaj oonhone kiyya to naraj ho rahii hai''
Mu:''par ridzi''
Ri:''nahin muskii vo teree liyye to mom kii daant ka risk lekar aye''
She said and muskaan looked towards rahul and
Ra:''han muskaan man jaa naa please''
Mu:''aww meraa kankhujura mujhe nahin pta tha tu itnaa romantic hai''
And both smiled and hugged each-other while seeing this
L10:''yeh armaan kii biwii bilkul ooske jaisi hai''
Riddhima smiled and looked both the couples who was looking so happy together and then her eyes fell on door and his eyes was finding only one person, her armaan, she was waitinf for him eagerly, and she was missing him like hell, there was armaan's name everywhere but he is nowhere at sight and seeing her disappointed look nandini nudged karan and he winked towards rahul, nandini, muskaan and nikki and next moment she
Ka:'' Ga re maan Ga re maan Ga re maan
Piya piya re ga re maan
(She saw karan start singing and coming towards her)
Ga re maan
Piya piya re ga re maan
(He went towards riddhima and start dancing around her)
Ka:'' Har nazar hai kab se bekarar
Har kisi ko tera Intezaar
(He points to everyone in his family who were looking towards door and then Armaan's photo as if saying everyone was waiting for him)
Ra:'' Areey har Nazar Hai kar se bekarar
Har kisi ko tera Intezaar
(Rahul joined Karan and they both start dancing while rahul was singing)
Sanse kahe rahi hai tujpe jaan-o-dil fida
(He bent on his knees in front of riddhima and placed Armaan's photo in his hands)
Ga re maan Piya piya re
Ga re maan
Ga re maan
(They both danced around Riddhima)
Ri:'' Aaja
( She smiled and start dancing in between of Rahul and Karan)
Aa jaa na tujhe pyaar pukaare
Saansoka har taar purkaare
Aa jaa na tujhe pyaar pukaare
Saansoka har taar purkaare
Bin tere kuch nahi saaajna
(She take Armaan's photo from Rahul's hands and danced holding his photo)
Ka &Na:'' Ga re maan Piya piya re
Ga re maan
Ra&Mu:'' Ga re maan Piya piya re
(All four danced)
Ra:'' Zikar tera hai sarii mehfil main
(He points to everyone who was keep asking about Armaan)
Ri:'' Teri tasvir hai mere dil main
Tere dam se hai zindagani hai
Tu mere pyaar ki kahani hai
Tu mere pyaar ki kahani hai
(She points to her heart and closed her eyes and saw him and dances remembering their moments)
Na:'' Sabke hoton pe bikhara jaye hansi
(She smiled with Karan remembering armaan)
Sab ke rukhh pe nikhar aa jaye
(She points to everyone as if saying the smile of everyone's face was with him only)
Mu:'' Ruanke- basm laut aye aagar
Merii jaan ko karar aaa jaye
(She looked towards door and everyone looked towards door waiting for him)
Ka:'' Tu meri jaan mera lakhte jigar
Na:'' Tujhpe kurban mere shamo sahar
Ra&Mu:'' Tu meri jaan mera lakhte jigar
Tujhpe kurban mere shamo sahar
Umrr ho daraz teri hai yehi dua
(They all points to Riddhima as if she was the reason of their happiness)
Ga re man piya piya re gare piya piya
Piya piya
Ri:'' Yaad aane lagi hai phir teri
Meri aankhen hai muntazir teri
Shamma bhi Roshni ki pyasee hai
(She was again going towards door and seeing him nowhere at sight a tear escaped from her eyes)
Bin tere har taraf udasi hai Bin tere har taraf udasi hai
(She looked towards everyone's faces in her family with dispoointed look)
Shamma jal ke pighal na jaye kahin
Raat suhani dhal na jaye kahin
Tera rasta takte takte
Meri jaan nikal na jaye kahin
(She was looking at sky where the moon start glowing and he was still not there and she was disappointing as if he would not come)
Ra:'' Tu na kar der aaj aane mein
(He gave riddhima a side hug)
Mu:'' Rang bhar mere aashiyane mein
(She caressed riddhima's face)
Ka & Na:'' Tu na kar der aaj aane mein
Rang bhar mere aashiyane mein
(They all encircled her and start dancing around her make her smile)
Tu nahi too zindagi ye zindagi hai kya
(She smile all of them and points to everyone)
Ri:'' Aa jaa na tujhe pyaar pukaare
Saanso ka har taar pukaare
Aa jaa na tujhe pyaar pukaare
Saansoka har taar purake

Bin tere kuch nahi saaajna
Bin tere kuch nahi saaajna
Aaa bhi ja aaa bhi ja Aaa bhi ja aaa bhi ja
(She was dancing taking rounds and rounds)
And her dance break with the call on her cell and as soon as she answered the call, the cell dropped from her hand and tears start bleeming in her eyes, all who were very happy and dancing hearing the phone dropped from her hand and seeing her rushed to her and
Na:''riddhima kya hua kiskaa phone tha ro kyoon rahii ho tum betaa''
Seeing her all panicked but riddhima was in co condition to answer and when she does not speak karan picked the phone and after attending the call, firstly he looked towards his family, riddhima who was lost and seeing him not answering nandini
Na:''karan kiskaa phone tha batao naa mujhe dar lag rahaa hai''
Ra:''dad please boliye naa kya hua sab theek hai naa''
Mu:''han dad btayiye naa ridzi bhi nahin bol rahii''
Ka:''vo armaan ka accident''
He could not complete his sentence as
Na:''nahin karan jhooth bol rahee ho naa kuchh nahin hua meree maani ko''
She said while holding him
Ka:''nandu sambhalo aapne aap ko humein jaana hai''
Ra:''han mom please dekhiye ridzi ko she need u''
And seeing riddhima's face nandini hugged her and
Ka:''rahul jaldi kar''
Rahul nodded and
Ri:''mai bhi aaongi''
Rahul wants to say her ''no'' but seeing her condition karan stopped him and all rushed to the place where armaan is.
And all of them reached to Sanjeevani Hospital where they informed Armaan was admitted and they reached there and asked about Armaan and they were told that he was in emergency room and hearing this their hearts skipped, and riddhima was like someone snatched her life from her and all of them rushed towards emergency with the hope that their Armaan is fine and after reaching they waited for doctor to come outside and muskaan looked towards riddhima who was lost and her face was blank, without any expressions and seeing her like this she was worried
Mu:''mom dekhiye naa ridzi ko kya ho gayya kaise bas emergency room kii taraf hii dekhe jaa rahii hai vo''
She said to nandini who was already crying for her darling son and as soon as muskaan's words hit their ears they all looked towards her
Na:''riddhima betaa kya dekhh rahii hai vahan''
She asked while caressing her head but she did not reply and
Ra:''oye ridzi aisee koi karta hai tu to ammy se bahut pyaar karti hai naa aagar aisee karegi to hum sab kya karengi''
But still no reply and
Mu:''han ridzi tu to hum sabse strong hai fir aisee kaise yar''
She still enfugling her in hug but no response she was still looking towards door without blinking her eyes not responding to them
Ka:''han riddhima betaa meraa buddy bahut strong hai ose kuchh nahin hogaa''
He said while try to control his tears
Na:''riddhima kuchh bol betaa.''
She asked completely broke down and karan hugged her while riddhima was still looking towards door slowly she go towards door and saw armaan from the glass door and she can only saw his forhead covered with bandage seeing her like this everyone was helpless only then doctor come out and
Do:''excuse me Mr.Mallik ke saath kaun hai?''
All gathered around doctor and
Ka:''jii mai i am his father vo meraa betaa hai''
And he is cut short by
Na:''doctor meraa betaa theek to hai naa?''
Do:''relax he is fine bas sar par thodi sii chot lagii hai abhie hosh aaa jaayega oonhe aap oonse mil sakte hai.''
Ka:''thank u doctor thanks so much''
And all rushed inside the room, riddhima was about to enter the room
Do:''ohh yes vo kisii basket, mai jii nahin sakta tumhare vinaa kvchh aisaa bol rahee the but i can not understand aap dhayan rakhiyega oonkhe stress naa ho''
Riddhima was not surprised but she nodded and entered in his room.
And there he was laying with bandage over head and all were gathered around him and slowly armaan gained consciousness, firstly he did not recognaised the surroundings, but after seeing his family members around him, he aware that he was in hospital and seeing him gaining consciousness
Na:''maani kaisa hai tu betaa?''
Armaan looked towards his mom and smiled to her
Ar:''mom mai bilkul theek hun please aap chinta mat kijiye aur royiye bhi mat''
He said while holding her hand
Ka:''kya buddy tujhe kitni bar bolaa hai aarman se drive kiyya kar''
Karan scolded him while caressing his head
Ar:''dad mai aaram se hii drive kar rahaa tha par jaane kahan se vo truck aagee aaa gayya to bas bachate-bachate car tree se hit kar gayyi''
(in his heart):''aab aapko kaise bataon dad kii ghar aane kii itnii jaldi thi aapni basket, aapni riddhima, aapne pyaar se milne kii''
Ra:''vaise ammy tune kya kasam kha rakhi hai humein pareshan karne kii?''
Ar:''areey raool sorry yaar maine jan-boojh kar nahin kiyya yeh''
Ra:''fine par aage se kabhie aisaa kiyya to dekhna''
He said while slowly hugging him and armaan hugged him back and nodded
Mu:''han hero yar aisee jhatke mat diyya kar hum dar jaate hai ridzi kii haalat dekhh zara kya ho gayyi thi tere accident kii news sunkarr''
Only then armaan saw her who was actually hid behind muskaan, she does not delibrately hid herself but as all the family members around him somehow she was hidden and seeing her face armaan's heart skipped, seeing her he could not believe that she was the same girl whom he leave in morning, she was looking so pale, her eyes were swollen and red, he knows she does not cried but she was stopping her grief with in her heart, he can saw the pain in her eyes, pain of loosing him, he knows she needs him right now and the grief which was inside her needs to be pour out from her heart so he slowly
Ar:''mom mai theek hun aap sab log ghar jayiye aap sab subhh se bhookhe hai kuchh kha lijiye''
Na:''nahin maani mai tujhe iss haalat meiin chodd kar nahin jaongi''
Ar:''mom please mai theek hun par aagar aapne time par khana nahin khaya to beemar ho jayengi aap please dad mom ko samjhayiye''
Ka:''han nandu armaan sahii bol rahaa hai tum sab jao mai rukta hun yahan''
Ar:''nahin dad aap bhi jayiye mom ka fast open karvana hai aapne''
(He was using this excuse as he wants to talk to her in alone he knows his assurance was the only thing that she wants now)
Ra:''par fir teree pas kaun hogaa?''
Mu:''rahul hum dono ruk jaate hai''
Ra:''han muskaan''
Ar:''nahin guyss tum log jao, tum thake hue hogee, meree pas riddhima ruk jaayegi yahan''
Before anyone can speak doctor comes in and
Do:''please aap inhee rest karne dijiye inkee pas aap meiin se koi ekk hii ruk sakta hai''
And the doctor leaves and
Ar:''bas aab to doctor ne bhi bol diyya aap sab jayiye, meree pas riddhima ruk jayegi, ok''
And riddhima looked towards him and then lowered her eyes and when all of them looked towards her she nodded and finally giving lots of instructions to armaan and riddhima all mallik family leaves towards home.
And after they left armaan looked towards riddhima who was standing there and after a moment she locked the door,
Ar:''riddhima.''
As soon as she heard his soft voice she looked towards him and
Ar:''meree pas nahin aaogi riddhima?''
Armaan said while opening his arms and as soon as riddhima hear his words she ran to him and hugged him so tightly,
and armaan hugged her back without caring his wounds and hugged her with equal fervour, holding her in his arms, he feels calm and riddhima in his arms hold him more tightly and as she feels him closer this one moment is enough for her to break down, she broke down in his arms and all the damns break and tears poured from her eyes, she was crying and crying and armaan knows crying is the best option to make her feel better so he slowly start caressing her back while whispering
Ar:''shh riddhima chupp ho jao shh riddhima aisee koi rotaa hai chaloo achee bacho kii tarah chupp ho jao tum to merii achii vaali riddhima ho naa chalo chupp shh baby chupp ho jao mujhe tumhari aakhon meiin aanson achee nahin lagte shh''
He said while rubbing her back try to calm her dowm but riddhima did not calm, she kept on crying while clinging to him
Ri(in between her sobs):''armaan mai dar gayyi thi dar gayyi thi, mai aapko nahin kho sakti armaan, aap merii zindagi ho armaan''
She said and hearing her sobs and words armaan's eyes welled with tears, her state tell him how much she loved him and missed him in her life. He now was more eager to tell her that he loved her and wants to start a normal and happy life with her but right now he was try to calm her down, but after hearing her words he knows now his words was not going to help her so he just hold her closely to himself and was caressing her back after some time when he heard riddhima's sobs decreased he slowly detangles her and look towards her, she was silent but tears were in her eyes armaan wiped her tears and
Ar:''mai theek hun riddhima aur tum darne kii jarurat nahin hai mai humesha tumhare saath rahunga ba''
But he stopped in mid way as he reminds what he was going to speak, riddhima looked towards him, but she could not register his words as she was still in her thoughts, thoughts of losing him and armaan sighed in relief
Ar:''riddhima mai theek hun bachaa''
He said holding her hands and riddhima finally nodded
Ri:''aap rest kar lijiye mai abhie ati hun''
She turned to go when armaan holds het wrist and riddhima was confused and armaan makes her sit beside himself and
Ar:''nahin pehle aapna fast open karoo riddhima bhookh lagii hogii naa tumhe''
Ri:''nahin armaan mai theek hun bhookh nahin hai mujhe.''
She replied softly
Ar:''par mujhe tumhara fast kholna hai tumhari pehli teej hai naa aaj''
Armaan replied with honesty riddhima was overwhelmed with this but she
Ri:''par yahan meree pas kuchh nahin hai''
She said with a disappointment
Ar:''kisne kahaa yahan kuchh nahin hai sab hai yahan par chandd tum mai sab hai yahan''
Ri:''par pooja ka saman?''
But she is cut short by armaan and he placed his fingers on her lips and riddhima looked in his eyes
Ar:''shh bahut bolti ho tum''
And he get up but
Ri:''kya kar rahee hai aapko rest kii jarurat hai''
Ar:''riddhima mai theek hun aur tum 2 minute chupp nahin reh sakti kya?''
He said with a stern voice, and riddhima shut her mouth and armaan got up and moved towards window,riddhima helped him and armaan placed his hand around her shoulder and when they were near the window where they can see moon armaan let go of riddhima and stand in front of her, riddhima was looking with confuse expressions then armaan slowly unpinned her saree pallu which was at her back so that her pallu was freely drapped on her shoulder and with his this action riddhima's eyes widened as she feels her pallu is free and in his hands
Ri:''armaan kya kar rahein hai aap?''
She asked with lots of difficulty as his hands were touching her bare shoulders and she was loosing control he was affecting her
Ar:''tum riddhima sachh meiin bahut bolti ho kahaa naa chupp rahoo after all i am ur husband''
Riddhima gasped hearing this and as she feels his one hand above her chest and she closed her eyes, armaan was enjoying her flushed face and he was happy that he has that effect on her and he wants to kiss her but control himself and put pin on his shoulder so that her chest is covered at the same time her half pallu was free in his hand
Ar:''tum merii biwii ho riddhima aanheiin kholo''
He whispered in her ear, riddhima opened her eyes and saw armaan was holding her pallu between them and as soon as her green eyes met with his blue ones, he points her to saw towards the moon and riddhima saw the moon and then she saw him in between her pallu, as it was of net she can saw his face and armaan smiled and winked to her and riddhima has the tears in her eyes seeing this, armaan was also doing the same thing looking firstly to his moon his riddhima then the actual moon and then armaan dropped her saree pallu and slowly went towards riddhima riddhima was looking towards him she forget everything and here armaan slowly bent to her forhead and rubbed his forhead with hers and then placed a kiss on her forhead and let go of her, riddhima looked towards him, he actually rubbed with his sindoor and with that his forhead covered with her sindoor and
Ar:''chalo aab mujhe tilak bhi lag gayya aab chalo paani peeyo''
He said while picking the glass from table and bring towards her lips but she shook her head in disagreement and armaan was confused
Ar:''abhie bhi kuchh reh gayya kya riddhima?''
He asked and riddhima nodded in between her tears and armaan
Ar:''kya?''
Riddhima points to her maang and armaan knows what she was saying he has to fill her maang but there is no vermilion there so he slightly rubbed his hand over his forhead where he has the wound but riddhima holds his hand but armaan shook his head and he rubbed it and there is some blood on his finger and next moment he filled her maang and riddhima's eyes moistened with this, she touched her maang and then armaan makes her drink water she somehow drank the water and next moment hugged him tightly.
Precap_Ar:''she is very precious to me''
Ri:''mom kya mai summet bhaii ke saaath kuch din ghr jaa sakti hun''
Na:''matlab armaan abhie bhi aapne past ko nahin bhulla''
Ar:''lekin mom riddhima to vaapis aaa jaayegi naa?''
Ar:''aisee kaise jaa sakti hai vo''
Ar:''Kya Riddhima is time par so rahii hai vo theek to hai naa?''
For Finding Answers Stay Tuned
Thanks to all of u for ur precious comments and for pressing tab button
PLEASE DO COMMENT IF U FIND IT INTERESTING
And if u want pms add me to ur buddy list,it will be easier for me to pm u once again thanks to all for ur support
WITH LOTS OF LUV
NIKITA
Finally completed friends now please comment friends it really means a lots to me


Edited by niki.5 - 11 November 2011 at 4:04am