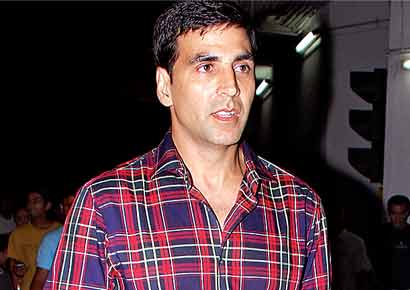 Akshay Kumar
It was a close call for actor Akshay Kumar — a bullet grazed his right eye by just half an inch when he was shooting for one of his upcoming films. The incident took place on Friday night at Filmistan studios in Goregaon. There are varying versions to the incident, but it states that the bullet that hit the actor was from the gun of one of the guards present on the sets. The guard, inform sources, was sitting opposite Akshay with the gun on his lap and the safety catch open.
"He had kept the gun on his lap and joking, slapping his thighs, when his hands accidentally the trigger. Akshay was shooting for the film within the range. Akshay didn't realise what hit him, till his action director figured out that it was a bullet," says a source. The bullet that grazed past Akshay's right eye was later found on the floor of the sets.
Another version, said to be the official one, has emerged that it was a freak accident involving a mistake by a staff in action director Mahindra Verma's team. Though real bullets are not used in film shootings, Verma was quick to point out that the scene required a real bullet be fired.
"There was an action scene where a bullet is fired and Akshay, as usual, refused the double. Unfortunately, the level of gunpowder in the bullet had increased by a minuscule level and everyone was oblivious to this fact," said a senior technician. The more gunpowder meant that the gun fired accidentally, hurting Akshay who was supposed to duck it.
"When the bullet was fired, Akshay immediately pulled the drape of the table for protection. But due to the increased gunpowder content, the fire tore through the drape and burnt near his right eye. It is a serious injury for it could severely injured his eye," the technician added.
Mahindra was 'immensely sorry' about the unfortunate incident and has "apologised to Akshay numerous times for the past 24 hours."
source: DNA