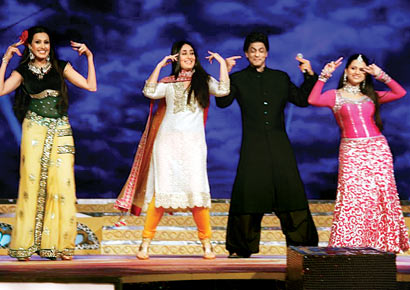 Shah Rukh Khan and Kareena Kapoor shake a leg on a show
DNA
Festive fervour's catching up on the small screen and the race across TV channels for airing their Diwali special episodes or one hour special shows has already begun. As the tube has gone through an intensive makeover in last the decade, so have these Diwali bonanza programs.
DNA finds out more from small screen pundits about what makes these programs so special amongst the audiences and gets an insight of the tube's Diwali fixation.
Producer Raakesh Paswan of Zee TV's Afsar Bitiya says, "During festive season, the audience watches less TV, so channels have highlight these special episodes to attract the audience. People relate with festive culture as they are in a festive mood. Weaving authentic festivities in the storyline make it that much more appealing and fitting suitable naach gaana also helps."
According to Hawan's producer Rajan Shahi, seeing the characters celebrate Diwali is a high point for audiences. "Diwali special episodes should fit in as the part of storyline beautifully. Viewers love to see their favourite show characters celebrating Diwali and happiness of characters in the show is what audiences connect with as they are too in the festive mood. The celebration should not be loud and should be real," he says.
But such special episodes means more work for actors who are part of such shows. One such actress who will be working is Kritika Kamara as she will have to skip her trip home on Diwali. She says, "I have always celebrated Diwali with my family, but this year because of hectic shoot schedules, I am unable to visit home. IfI do get a day off, I will light candles and spend good time with friends in Mumbai itself."
Actor Sameer Soni who is currently working round the clock for his show Parichay has been lucky compared to his contemporaries as he will take a mini break for the first time ever since the show began. "I celebrate Diwali with my family in Delhi and this year is no different as I and my wife will go to Delhi and celebrate the festival of lights with our family. I believe Diwali is one of the rare occasions, where all friends and family get together and spend time with each other," says Sameer.
Paswan also feels that besides the regular characters of the serials attendance by Bollywood stars on shows, add to the interest levels of the audiences. "Off late many Bollywood actors have come in as special guests for such special shows. It is either as part of their movie promotions or as a friendly gesture. And this does add zing amongst the audiences to see how their favourite actors blend along with the TV stars and the concept of the show," he adds.