___________________________________________________________________
Chapter Twelve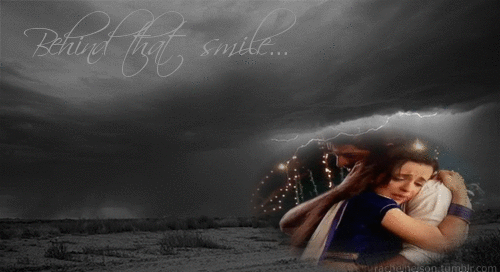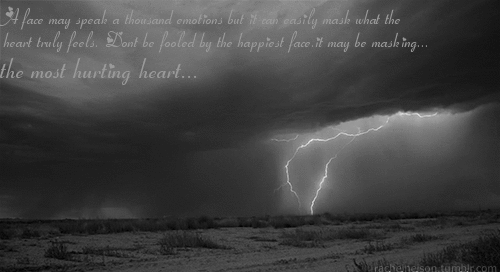 Khushi woke up the next morning to the same numbness that had been a part of her for so long. She remembered a quote she had read a long time ago,
"My time has come and so I'm gone, to a better place far beyond. I love you all as you can see but it's better now as I'm free."
She repeated them again and again in her mind and found solace in those words. She then opened her eyes and looked at the surroundings. Hospital. She didn't know how she reached here, she didn't care. She turned her head and was surprised to find Arnav asleep on the chair next to her. Tiredness etched on every line of his face.
"Why hadn't he gone home?" She wondered. The old khushi would have smiled in hope would have danced in a jig when no one was looking. But she wasn't the old khushi. The old khushi was dead. There wasn't any life in her to feel.
Life had given her so much love from her parents, amma babuji.. and then taken it away. Taken it away when she had needed it the most. Taken it away so brutally that it had killed her in a way she could never love, in a way she could never feel.
They had all hurt her. Hurt her more than she deserved, hurt her more than it was possible to be hurt and still stay alive. No one could hurt her any more.
Now nothing mattered. Because she refused to feel. There was a numbness around her that separated her from the rest of the world. And she was alone at a place where no one could ever reach her again.
___________________________________________________________-
Arnav woke up to the stinging pain in his neck. He had fallen asleep somewhere in the morning. He checked his watch. Di must be arriving. He had refused to leave khushi's side at night. He was scared that if he went home she would leave him like his parents did and he had stayed up the whole night to make sure she didn't despite of the doctors reassurances that she was fine.
"Depression" the doctors had termed her condition. And it had taken all his restraint not to break down and cry knowing he had pushed her so far that she was now far away from him.
Akash was sitting in a chair nearby reading a news paper.
"Did the doctor come for a check up?" he asked
"Not yet. An intern did though. She said the doctor would come in some time. Apparently Shaurya has come to India. It's on the papers. So I guess there is a function to welcome him."
Shaurya Veer Singhania was Akash's distant cousin. He was mami's second cousins son. Arnav didn't know him personally as that family were mostly abroad and not technically his relatives but according to di ,shaurya had talked her out of depression when her leg had been amputated.
" Di said she got through the depression phase because of him. May be he can help khushiji" akash suggested
"He was not even her doctor. He is a neurosurgeon. And I could have helped Di too if I wasn't slogging off so that she got the best treatment." He said angrily.
"Bhai He is called the brain man. He is reputed all over for being the best. He is brilliant in his field..."
"Exactly! this is not his field." Arnav argued not wanting the handsome doctor any where around khushi. If khushi needed professional help he would get experts of that field.
"khushi?" he said sensing her awake. "How are you feeling?" he asked with concern.
"Fine." She said in a voice that was barely audible
"Anjaliji?" she asked
He sat next to her and stroked her hair. She didn't react nor did she draw back as she always had. It was as if nothing mattered and that tore him.
"She will be coming" he told her.
He waited for her to say something else anything to tell him that she would live... that they would both live but she closed her eyes and remained silent. Arnav felt the fear once again settle in his chest. Not caring that Akash was watching him in this vulnerable state, unable to bear the thought of her going away, he pulled his khushi in his arms and begged her to come back, to call him names, to hit him for every thing he had done. But she remained limp in his arms. Still as a statue and that hurt him more than any thing.
__________________________________________________________________
Akash broke the news about shyam to khushi's family. He was supposed to do so yesterday. He had asked payalji if he could visit but since her babuji was discharged yesterday payalji had refused and he didn't want to tell her over the phone.
Garima and payal gasped in shock on hearing about shyam. Buaji sat down stunned. She remained quiet for a moment taking every thing in and then she started crying and muttering about how they could have been so wrong
"And I said so much to khushi" buaji said with regret. Something must have given away in akash's expression as she asked
"Where is khushi? Why didn't she come to tell us this?"
" khushi is admitted in the hospital. Doctors say she is traumatized and is under depression. Her eyes are blank. She doesn't speak unless she is addressed to and too if she hears us. "
Buaji grabbed his arm and begged to tell her that she was all right. When he didn't reply, Payalji started crying and so did her amma and buaji. Her amma pleaded him to take her to khushi . So payal and her amma left with akash. Buaji wanted to come too but she had to be left behind to look after babuji.
______________________________________________________________
Anjali brushed khushi's hair and spoon fed her. She forced arnav to eat something but he refused. She begged him to eat but he shrugged it off saying he was all right. It tore anjali to see chote breaking apart. His eyes never left khushi and died each time she didn't react. They tried to be normal around her. But sometimes she replied, most of the times it looked as though she didn't even hear what was spoken.
Then khushi's mother came, who cried looking at khushi and asked her to respond. But all khushi said was "amma, don't cry." But even that sounded too unemotional.
Arnav left the room and sat on a bench. He had thought talking to her family would bring her back to life. Now when that failed, he didn't know what to do any more. He was getting desperate.
His mobile buzzed. It was from the office. He switched it off wondering how the world could go on when his was ending. Every thing he had accused khushi of, every pain he had put her through was coming back to haunt him. He felt her pain as if it was his own. He felt it cut his soul. But he was ready to take this pain, to suffer for the rest of his life only if khushi would be fine.
Akash and di went to make arrangements of having khushi discharged later that evening.
He held his head in his hands too tired to think any more. He felt a hand on his head stroking his hair in a way his mother used to. He looked up to find khushi's mother with tears in her eyes comforting him despite of the way he had treated her daughter. Suddenly every thing he was trying to hold on to broke apart and he threw himself in her arms and for the first time in his life cried to a complete stranger.
______________________________________________________________
Anjali watched arnav finally break down and couldn't hold back the tears any more' she ran down the corridor to the temple in the hospital. She prayed in a way she had never prayed before. If khushi did not recover she would lose chote. Her brother was her life. All the pressure of the last few days caught up on her and she begged to god for a miracle, which would sort out the ill wind that was threatening to destroy every thing she held dear.
As she turned to leave she ran into a something solid. She was so drained that she held on to that person without knowing whom she was holding. A moment passed and she felt his arms around her.
"Easy.., easy.. surely it cant be that bad" said a kind voice
She dragged back and looked at him. Her eyes widened in recognition as she looked at a handsome face.
"You are Shaurya" she exclaimed surprised
He smiled. A slow smile that would make hearts race... if hearts were intact and unbroken...
"I know. In fact I've known that for quite some time" he replied studying her intently.
She smiled through tears and then turned around and thanked god.
And for the first time in days she felt hope... she just knew every thing would be all right.
Shaurya veer singhania was standing infront of her.
Her guardian angel was back...
___________________________________________________________________
I would like to thank shaam91 for all her encouragement and for naming Shaurya Veer Singhania .


Edited by Lyraa99 - 15 July 2012 at 12:47am