___________________________________________________________________
Chapter Eleven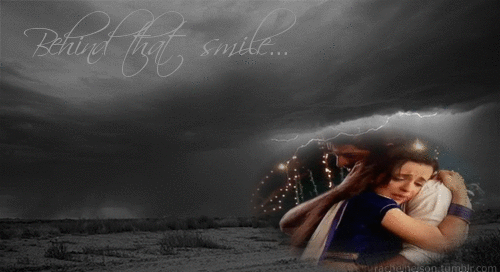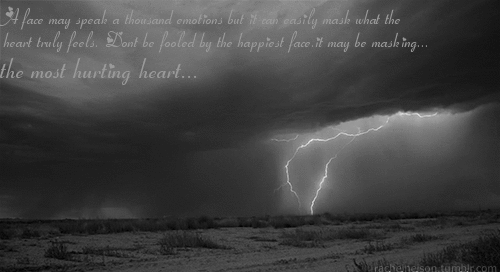 The rising sun did nothing to alleviate the darkness of khushi's life. She had not moved for more than a day now, had not eaten. She stared ahead looking at nothing. She had consoled herself thinking that the time would come when they would believe her but the time hadn't come. And so she had left that world. Gone to a place where she was free from the pain. Existing and yet torn from existence. So much away from every one that she was no longer a part of them. So detached that she no longer belonged.
Another day ended and darkness fell and yet khushi didn't move. The phone rang and went on ringing. She knew she had to go and pick it up but she couldn't bring herself to. Some distant part of her brain told her she needed to get up and yet she didn't move. She lost track of every thing. She felt as though every thing else was distant from her even herself. The phone was ringing continuously now. Khushi felt the sound was too remote to ever reach to her.
Arnav was getting worried. Nani had told him to leave khushi alone for a while and he had agreed and not called her. And now when he did she wasn't answering. It had been 3 days now. He wanted to go to her the moment he had realized the truth but nani had stopped him and even di wasn't in a better frame of mind and nor in a good health. He was glad that they were getting ready to leave. In few hours he'd be with khushi.
But why wasn't she picking up the call. Mami laid a hand on his shoulder and said
"Arnav bitwa don't worry. You have treated her badly and so she'll hardly be in a mood of hello hi"
He walked off and picked their luggage and headed towards the car. How would he ever make things fine between him and khushi? How would he ever apologize enough for the pain he caused her? How would he live if she walked out of his life?
For now he was glad that he was going home...to his heart...
__________________________________________________________________
Khushi looked around blankly. She got up and headed towards the bathroom. She was unsteady on her feet. She had a bath and some how made it back to bed. Even that small action drained her. Something told her she needed to eat. She got up and sat down again as the room swayed. She got out of the room catching hold of the furniture. But as she looked down the flight of stairs, she felt a darkness come over her and she was unconscious before she fell down the stairs.
________________________________________________________________
As they reached near the house, arnav had a bad feeling that some thing was wrong.
He opened the door and walked in. He called out to her but there was no response and then saw her. .. Every thing stilled. His blood froze ...
Did hearts stop? Did life end? It felt like his just did when he saw khushi lying at the bottom of the stairs like a beautiful broken doll.
With a horse cry he ran to her and bent down near her checking for the pulse. He called out to di, yelled to call for an ambulance. He then hugged her to him and kissed her forehead, caressed her face.
"khushi wake up.. please wake up. I'm sorry, so sorry " He sobbed
Her breathing was labored. There were people around them now. He tried to check if she had hurt herself somewhere but his vision was blurred with tears. Di and nani had bent towards khushi too. He gently lifted her limp form and laid her on the couch
He could hear every one talking in low voices but he didn't know what they were saying nor did he care. He had never felt so scared in his entire life nor so helpless. The ambulance came after sum time but it looked like a lifetime to arnav.
Khushi still hadn't regained consciousness when they reached the hospital. His hands trembled as they pushed the stretcher to the emergency room. The doctors told them to wait outside. Di was supporting nani, mami was pacing around in worry. Arnav stood like a statue with his back to them . He found it difficult to swallow, difficult to breathe. Panic filled every fiber of his being.
Every thing he had done to her passed like a panorama in front of his eyes. He had accused her, mocked her love, blamed her for every thing shyam did, separated her from her family- he had been the monster here not shyam. He had wronged khushi just as shyam had wronged di in a completely different way. Every thing his love for her his devotion for di looked like a feeble excuse for the way he had behaved. Oh how he wished he could turn back time and take back every thing he had said and say every thing he hadn't.. How he wished he had believed her.
Nobody knew how many hours passed before there was a noise at the door and it opened. A grim looking doctor came out. Every one stood up. Arnav never felt so scared in his entire life. He knew in that moment that he would never be able to survive without khushi. He clenched his trembling hands and waited for the doctor to talk afraid that if he would speak he would breakdown completely.
"She didn't hurt herself by the fall." The doctor said
Arnav felt a moment of relief before the demons of panic came again threatening to choke him.
"Then how did she faint, why didn't she wake? Answer me damn it" he asked harshly
"She hasn't eaten anything for days. She is suffering from a great shock a severe trauma."
Anjali gasped. Arnav closed his eyes drawing a ragged breath trying to dislodge the lump in his throat.
"Is she conscious?" he asked brokenly
"No but it isn't surprising. I don't think she has even slept for days. Her state of unconsciousness is just her body's way of telling her that it needs rest. "
"Will she recover?" he asked desperatly
"Physically yes, mentally it's a different matter. "He said grimly
"What the hell is that supposed to mean?" arnav demanded
"We are blocking the way here, come to my office "the doctor replied leading the way to his office
He followed the doctor with di accompanying him. The doctor gestured them to sit but he remained standing wondering how the doctor could be so cool and expect him to be unruffled when his love, his life was at stake.
"As I said she is suffering from trauma. A severe one. We cannot predict if she will be fine mentally till she awakens but human mind is very unpredictable. It has its own way of dealing with things. I can completely assure u of her physical recovery."
Arnav took a deep breath. He was dying from inside. She had endured so much till it had hurt to endure. And he was to blame for every tear that trickled down her cheek, for every arrow of hurt he tossed her way. Fresh pain over pain and he didn't even look as she bled and continued to bleed from those wounds. And he left it too late to nurse them.
"Can we see her" anjali asked silently
"Yes but not for long."
They walked in her room and he saw khushi his love, his life, lay there, still as death. He wanted to rush to her and beg her to wake up, to forgive him. He wanted to cry out. He wanted to hit something but he stood there unmoving, looking at her too scared to look away. They were soon ushered out of the room.
Another few hours passed. No one spoke. Akash came in after some time and asked di about her condition. They spoke in low voices and then there was silence again. Anjali forced nani to go home and rest. She wanted to tell that to arnav too but he looked unapproachable. At last nani said to akash
"Inform khushi's family. Tell them all the facts. Go there personally and do it. "
Akash nodded and left.
Finally the nurse came out of her room and walked away. After a few minutes the doctor followed and closed the door. Arnav felt the same fear again felt the same helplessness. Arnav singh raizada who could control every situation faced something he couldn't control and for the first time after so many years he prayed to god for the life and happiness of this one women he had truly loved.
After a while the doctor came out.
"She is conscious. You can visit her but don't upset her" he warned
Arnav's feet felt unsteady as he walked towards her.She was lying on the bed looking fragile and pale with her eyes closed . Nani stroked her hair and whispered gently
"khushi bitya"
Khushi opened her eyes and arnav flinched. They were glassy and unfocussed.
"How are u feeling now. You gave us such a scare bitya. Now get well soon and come home. I'm missing your jalebis already." Nani said kindly. When khushi didn't speak anjali went to her and said
"khushi I know we all judged you wrong but we know the truth now and we are not blaming you. please forgive us. We will make every thing fine khushi. "
Khushi didn't blink, didn't react and arnav felt the fear seize his gut. His khushi who was filled with childishness, laughter, mischief looked empty as though all the life had been squeezed out of her. Arnav felt her silence kill his soul. He had shattered her heart in so many pieces and now those scattered pieces pierced his chest. He knew he would remember this look on her face till the day he died and something in him would always rip apart when he remembered.
The doctor was observing this. He watched every one trying to get a reaction from her but the patient sat there her gaze unfocussed. He doubted if she was even listening to what they were saying.
His gaze shifted to that one man who had not made a move towards her. Who stood rigidly almost too rigidly as though trying to get through this without falling apart. So many emotions emanated from him- deep undying love, helplessness and gut wrenching fear. Either he was too scared because he didn't understand her condition or may be he was too scared because he did. How ironic it was that the person you loved made you feel strong as well as most vulnerable.
Arnav watched every one trying and failing to get a reaction from her. Lavanya had arrived too and he guessed di must have called her. He remembered accusing khushi of telling di when it had been lavanya who had spoken up. Lavanya apologized and yet khushi didn't react. Arnav felt a lump in his throat. She was like a broken glass that could never be put back together again. And it hurt to realize that he had pushed her so far that no matter how much they called their voice didn't reach her.
He remembered her before their marriage - always laughing, full of life and he had broken her a bit more every passing day and he knew he would remember her broken as long as he lived.


Edited by Lyraa99 - 15 November 2012 at 10:08pm