___________________________________________________________________
Chapter Eight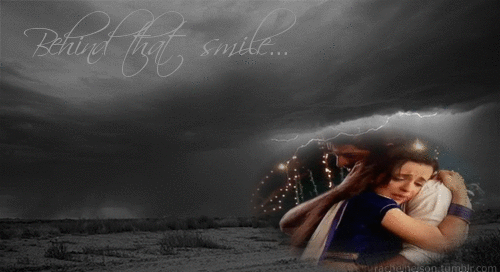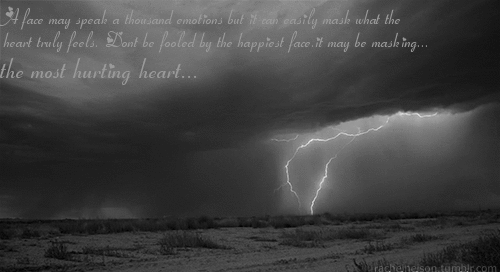 Khushi got into bed and lay staring into the darkness. Whatever had happened somewhere it had been her fault. She had caused pain to every one... amma buaji arnav anjaliji lavanyaji. The saddest part was each one of these were the most important people in her life.
'I'm sorry,' she cried 'I'm so sorry.'
She laid down staring at nothing. She lost track of time. Hours passed and she was still there. The pain had taken over so completely that there was no more place in her heart to feel. The darkness had seeped into her slowly with each hurt inflicted, until it consumed her fully leaving her glad for the darkness that had numbed the pain.
___________________________________________________________
Anjali had been very upset when Arnav arrived. At first she went on crying blaming herself for not seeing through khushi and then crying for ruining his life by bringing her into it. Arnav was searching for words to break the news to anjali. How do you tell someone that they had been living a dream? A dream behind which there was a harsh reality?. He knew it would shatter her but he hoped she would be strong enough to pick up the pieces and carry on.
"Chote you didn't have to marry khushi" she said "You should have told me the truth"
"di ' when did you introduce khushi to jijaji?"arnav asked
"I didn't introduce them chote. In fact I didn't even know that they knew each other." She replied
Another piece of the puzzle telling him that khushi had been telling the truth.
"But she was working here. Jijaji was there for functions' his photos are there in ur room.." arnav asked
"Yes but you know how his work is. He is always busy. I thought of introducing them at the anniversary but he had to leave in between. And the photos are in my room which khushi never used to enter. Why did you ask?"
Arnav closed his eyes. Can your heart break and yet beat at the same time? His heart beat because khushi wasn't wrong here but the same nave innocent girl he had fallen in love with but broke because he had hurt her beyond endurance.
"chote?" anjali touched his arm. He took her hands in his and said
"Di, grip my hand real hard because you will have to be strong.. If not for yourself then for me'"
And he told her every thing, word by word, shattering what she thought, 'her world''.
________________________________________________________________
Khushi lay awake at night. She did not switch on the lights even as darkness filled the room. The darkness which once filled her with fear did not affect her. She doubted if she would ever feel anything again. The next morning she did not go to do her puja after bath. She sat on the chair. Every ones words echoed in her mind
" I wonder how you can live with yourself knowing that ur existence causes pain to every one around."
"Its ironic that you are named khushi when u cudn give khushi to any one but probably apt as you took khushi from every one"
"yes I was wrong about you. I thought people like you were rare and yes having poison inside you to such extent is indeed rare."
" you proved one thing. Adopted daughter can never take place of a true one. Get out from our sight before your presence affects babuji's health more."
The words kept going in circles but the pain didn't come. Her heart felt numb. She felt dead from within. She had smiled till it hurt to smile; tried to explain till she realized that there wasn't any one believed; and trying to prove herself outside had killed something on the inside. After all she had always known tomorrow would come, had always known that their story couldn't go on forever.
___________________________________________________________
How could he ever make it up to her? Explain something that mere words couldn't explain, and nor could silence. How could he convince her that he had been scared to find something real, something that would last a lifetime because he was too scared of losing it?
Till khushi came in his life, Arnav didn't even realize what he had been missing, and he was scared that when she would walk out, his life would be empty and he would never be able to live with the void her absence would create.
________________________________________________________________
Anjali felt drained of every emotion. Arnav had told mami and nani the truth about shyam and she was grateful for their support. She wanted to call khushi and apologize and tell her that every thing would be all right but how could she console khushi when she was broken herself..
She had lived in a dream for so long that reality was the hardest to understand. But once understood, it was impossible to forget. So many dreams, so many promises and within seconds every thing was over.
So much pain. Khushi suffered, chote suffered, khushi's family suffered. She wondered if she would ever forget, ever move on. She had put all her trust in her husband only to be betrayed. He had never loved her. She had just been means to an end and that is what hurt the most. When someone breaks you, it is difficult to pick the pieces and push forward but it is even more difficult to look at the broken pieces and realize how important those pieces had been and how happyyo u were when they were whole and unbroken.
She thought of her parents, their love, their support. She thought about chote and his devotion.
Finally she thought of shyam. She thought of his charm, his words, his smile. She thought of all those feelings she had felt for him. She thought of his betrayal. And even though it was fresh and painful she knew she would survive and someday she hoped she would come alive.


Edited by Lyraa99 - 15 November 2012 at 10:07pm