Chapter Sixteen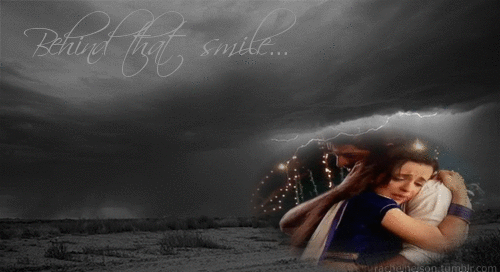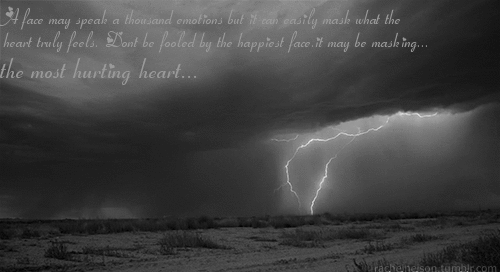 Arnav continued to pace around the room like a caged lion, casting occasional glances at the sleeping form of his wife. Now that the fear he had felt on the sight of sleeping pills in her hand had subsided, he realized that Shaurya had his heart at the right place and Arnav was grateful for his presence. He glanced at the clock. It was 2.00 am. He knew there would be no sleep tonight because this night was all he had, to hold her in his arms and whisper in her ears, his deep love for her. He lay on the bed and pulled her in his arms, savoring the feel of her for these few hours...till the night ended... till the moon set... taking with it those small moments, when khushi almost seemed to need him. Because he knew in his heart that she was back, and along with her were all the memories of the hurt and hate he had inflicted on her. He brushed his knuckle over her cheek wishing for her love. love that could have been his, had he not crushed it, only to search for it when it had no longer existed or may be it existed only in his dreams, in his wishes, in his endless prayers to the god he had once refused to believe in.
___________________________________________________________________
Khushi didn't know what woke her but as she knew she no longer had the veil of numbness that had protected her from the pain for so long and the agony her mind had refrained from revisiting caught up with her, piercing her heart, burning through her soul, robbing her breath. She felt hot tears sliding down her cheek when she heard a familiar warm but slightly slurred voice saying
"khushi bitya"
Khushi opened her watery eyes and was surprised to look into a pair of warm kind eyes of her father.
"Babuji" she exclaimed and the next moment she was in his arms crying out her pain her heartbreak her relief as she hugged this one person who had not judged her. Who she knew wouldn't have judged her even if he had been in good health. Her father held her the way he had held her when she was eight and had lost her parents, murmuring soothing words in the ear, taking away the hurt, putting a balm on her wounds.
The entire Raizada and gupta family saw khushi come back to life, from the crack of the door. Amma buaji and payal broke down and cried tears of relief. Shaurya grinned and mock punched akash. Anjali was laughing and crying at the same time. Nani brushed her tears and shocked everyone by hugging mami. Mami in turn shocked every one further by wiping moisture from her eyes and announcing that she was preparing jalebis and ushered every one to the living room.
However Arnav stood outside khushi's bedroom, his entire body stiff and blistering with tension as he stared at the teary face that had come to mean so much to him, hearing the heartbreaking sobs as she clung to her dad. They were speaking in low voices and he shifted closer to hear clearly
"I tried to tell them that it wasn't my fault but no one listened babuji. No one cared enough to listen' s-said I was adopted, that I didn't care for you, that I destroyed lives, my existence caused pain'" khushi said gasping for breath as sobs wrenched out from within.
Arnav clenched his fists and fought the urge of rushing in the room and begging for forgiveness. To tell her that he had wronged her, that she was his life and without her his life was nothing but a empty void.
"Bitya, I wouldn't have loved you more had you been my own daughter." Sashi gupta said soothingly.
"He married me to prevent me from spoiling anjaliji's life." she said brokenly
Arnav winced at that. Every word she said pierced like knives at his heart. Silent tears streamed down his cheeks. He felt whipped knowing that she had paid a high price for the emotional defense he had created over the years.
He walked towards an open window and felt the cool blast of fresh morning air hit his face, reminding him of the possible endings scattering before him. He had wronged her terribly, treated her like dirt during the brief months of their marriage. How could he expect her to forget? To forgive? He remembered all those times lately when she had clung to him, needed him almost as badly as he needed her. May be he had been clinging on to something that was never really there. Or may be it was something as transient as the clouds flitting in the sky or something else entirely. All he knew, was that he had lost something precious, something real, something lasting. Lost it in a way that he might never get it back and he wished with all his heart that he could turn back time and grab her love and clasp it in his outstretched palms and hold it till eternity.
He stood near the window for a long time feeling lost, feeling as if he was following someone who was lost. He felt a hand on his shoulder. He turned around to see khushi's father standing before him leaning against his crutches. Arnav looked at him and was surprised that there was no anger in his eyes, no condemnation, just silent sympathy.
"I'm taking khushi back with me. We are going to Luknow."
Arnav felt the impact of those words robbing his very breath, feeling as if his life has suddenly lost all its meaning.
"But babuji-" arnav protested but his father I law cut him
"Son, things have been very bad and I want her to heal. Give it time. For you it may look like months but khushi doesn't remember much of her depression phase. It's too soon for her to forgive and forget' "
"Will she ever?" Arnav asked brokenly
"Keep faith son. It is all that keeps us going."
Arnav felt his breath catch knowing that within a span of minutes his world would suddenly become empty. And he knew he was helpless. There was nothing he could do but watch his love walk out of his house, his life.
____________________________
Shaurya was busy talking on his cell phone when he heard Anjali enter his room. He gestured her to take a seat while he finished the call. He then leaned against the wall, arms folded, watching her intently.
"Shaurya, you have no idea how happy I am. It was killing us to see khushi that way. You have done so much for us... I don't know how to thank you." She said genuinely
"Marry me" Shaurya said seriously without missing a beat.
Anjali was taken aback. So many times she had dreamt that he would say these words, had fantasized about him in those bleak days which she had survived just because of him. But those words hadn't come. He had disappeared out of her life as unexpectedly as he had come into it.
"Stop joking shaurya." Anjali said too scared to hope
"I have never been more serious in my life." he replied holding her gaze.
"But why... I mean all of a sudden'" she whispered fumbling or words
"Because I'm in love with you."
There was something in his eyes, in the way he said those words that anjali instantly knew that he was telling the truth. And here it was, her dream that had been dead and buried for so long, resurfacing just an answer away. But her heart was no longer the same. It had just survived a betrayal... it was perhaps too soon or may be too late...
"I'm in love with you too, may be I always was... but I'm too broken, too jaded. Just a few months back I was happily married. I'm not the same anjali you had met in the hospital. Things are no longer the same." Anjali replied sadly
"Things never are the same Anjali. They change and they change again. But some feelings don't and there are times when we just have to give them a chance, give love a chance because may be, just may be when you are ready to give in to your feelings, its too late and you end up losing something that you once had in your grasp because things never remain the same."
Anjali couldn't think. So many emotions whirled inside her that all she could do was stare blankly at his face. But she knew no matter how much she tried she couldn't forget all the hurt she had gone through in the past few months. And she couldn't give her broken heart to Shaurya. He deserved better. But she was too scared of finding him only to lose him again.
"It's too soon' I need time." She whispered
Shaurya sighed and straightened up. He walked towards her and sat next to her on the bed.
"I'm going back to London. I still have to wind up some things. I will come back Anjali only if you give me a reason to come back. May be there are a lot of things left unsaid between us but this step is yours. You have to trust me, to trust my love because love dies without trust. Our happiness is in your hands and so is our future. You make it or break it."
Anjali sat stunned. Shaurya was going away. Again. But she knew just like last time there was little she could do to stop him. Her heart was not ready to give him a reason to stay. And all she could do was watch him walk away and let all the warmth all the feelings she felt only in his presence become nothing but a memory.
_____________________
Khushi was standing in the bedroom staring at the packed bag with unseeing eyes. This was the day she had dreaded but a day she had always known would come. Because nothing lasted forever. Tomorrow always came making today a thing of past.
"khushi"
She turned around to see Arnav standing behind her. His eyes looked bleak and worried as if he had all the weight of the world on his shoulders.
"So you are leaving me." He said hesitantly
She looked at him, her beautiful eyes widening with surprise for an instant before being veiled by sadness
"You never gave me a reason to stay."
"I'm giving you one now. You are my wife. You belong here." He said still trying his best to keep her near him
"I'm your wife by circumstance but not by choice. I never belonged, arnav. We never belonged." She whispered dejectedly
Arnav wanted to tell her that he loved her, that if he couldn't belong to her, there was no point of being alive but he knew it was too soon for this. Her babuji was right. She needed time
"We can make this work khushi." he said not ready to let go of her completely
"I loved you once and you threw it on my face. But I went on loving you. I was scared of tomorrow. That tomorrow would come and you would make me go away from you. You didn't even care that I loved you."
Arnav closed his eyes. Every breath was painful now
"Its not that I didn't care.., it's just that I cared too much."
She pulled out her bag and walked past him towards the door
"I don't have it in me to love you any more. To face uncertain tomorrows any more." She said quietly leaving the room.
"I stopped believing in tomorrows a long time ago khushi." arnav whispered in silence. He sat down and picked a discarded dupatta which had the familiar scent of roses. He buried his face in it and let his broken heart vent out the pain and let his tears flow as his reason to live walked away from him. He felt di stroke his hair and looked at her to see her eyes bloodshot and knew she had been crying too. She told him about Shaurya, about her love for him, about his proposal and he knew once again he had di faced similar loneliness. He clasped her hand tightly just the way she had clasped his when their parents had passed away
"Once again, just you and me di" he said
"once again,You and me chote." She replied tearfully
As the car drove away, Arnav watched khushi go wishing he could hold her in his arms again and rekindle the ambers of lost love and recapture everything that could have been before fate intervened' teaching him that some things are meant let go even if the memories never let you go. They stay hidden in flashes, in photographs, in homes, in hearts reminding you of that one person who the eyes are always searching... the heart is always waiting...


Edited by Lyraa99 - 18 July 2012 at 4:31am