Hi
______________________EDIT___________________________
THIS FF WAS WRITTEN IN OCT 2011
I thought I'd give a shot at writing. I'm new out here so please forgive me if I make mistakes and correct me all d same. I'll just give u a brief description about my script. Well Arnav finds out that its khushi's fathers wish to get her married cause her family confides in Anjali. A possessive streak (which he doesn't accept ) brings him to the hospital to ask khushi about it when he finds out that the person she is intended to is none other than shyam.
Shaym gives a convincing explanation saying that khushi has trapped him taking advantage of the circumstances. Shyam is hoping that by pointing out to khushi the Raizada family will throw her out and he can maintain dual lives (wives)Arnav doesnot completely believe shyam but he does not have a reason to accuse him. After all he has trusted shyam, he has been a loving husband jiju and a support for the family from 3 yrs. He does not trust khushi because he does not believe that a person can be so pure and nice and the innocence can be real. She brings out emotions in him that scare him. But he will go to any extent to protect his sister. He wants khushi to be out of his jiju's limits. He wants her silence. So marries her. And no one knows the real reason except shyam (who cannot do any thing to stop it)
So this story is the journey of how hate turns into love so deep that a hint of pain behind that smile of the loved one cuts your soul and all u want behind that smile, is love equally devoted equally deep.
The prologue is the turning point of the story. However the story begins a lot before.. Actually since I'm new here I'm lacking confidence and I would love to continue only of u guys like my work so please comment and let me know whether to proceed..
________________________________________________________________________________________
Behind that smile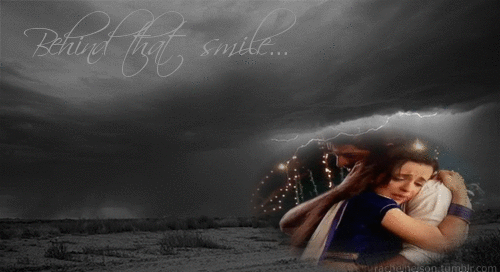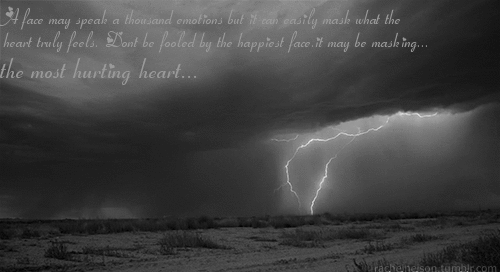 PROLOGUE
What do you do when your entire world turns their back against you? And holding on to the belief that every thing will be all right is like holding on to air like bringing back time. Khushi was tired. Tired of explaining herself, tired of the fake smiles' tired of the accusing stares and the forced silences. She couldn't feel any more pain now.., there was a strange numbness. She had tried and she had lost. And now she was in that dark hole where no pain could ever touch her again.
What do you do when you realize you hurt the person whose only fault was being naive trusting and innocent? When u try to pull a mask of accusation and hate just to hide the love that runs too deep to leave u vulnerable? Arnav felt guilty. Guilty that he put khushi through hell and back for something she hadn't done. Guilty because he readily believed shyam when he knew deep down khushi was telling the truth just to resist himself from falling in love with her. He hoped it was not too late to make things right, because if it was, he wouldn't be able to survive without her.. He was not just fighting for his love, he was fighting for his life.
What do you do when you know every thing you believed in was just a dream. When every word every emotion was nothing but a bubble of deceit. Anjali's world had come crumbling down at her feet. The reality was so shattering that all she wanted to do was go back to sleep for a while just to escape the reality. Who knew this reality would just turn out to be a bad dream?
___________________________________________________________________________
Chapter one
Khushi sat on the edge of the bed clutching the sheets tightly as she heard the door open. She closed her eyes and braced herself for the explosion that would follow the moment Arnav would enter the room. The door opened. She felt a figure come towards her. A warm hand touched hers and said kindly
" khushi bitya"
Khushi opened her eyes to see nani looking at her kindly.
"I hope u did not feel bad on the Cinderella comment Manorama made downstairs. I don't know much about these English fairytales but as much as I know I can tell you that you are indeed Cinderella. Not because you married a rich prince the way Manorama puts in but because Cinderella must have had a nice heart to make the prince fall in love with her despite of the beautiful ladies"
Khushi smiled. Little did naniji know that behind that smile was a world of pain.
'Have a happy married life khushi bitya" nani said before leaving the room and leaving khushi alone with her thoughts.
Was this how Cinderella must have felt? khushi wondered. All alone closed up in a golden cage. But she would have faced it because her prince loved her. Cinderella had not married someone who had married her to buy her silence, to make her pay for trusting the wrong person.
Shyamji! How could she have been so wrong about him? He had ruined her life. Her family thought that she ignored her father's wishes to marry Shyamji and married Arnav. And she couldn't tell them the truth because Arnav had forbidden her and her silence was buying her father the best treatment. She had told Arnav the truth but he didn't believe her.
But she had to be strong as someday the truth would come out. She had done nothing wrong and someday every one would know it and she would be strong till that day. Devi mayyiya was with her.
________________________________
Arnav dreaded going up the stairs to his bride. Looking at that lost look on her face and that smile. No! he would not think of that smile as behind that smile was a cunningness a greed that had the power to destroy his sisters life. And he couldn't let that happen. His sister was his world and he would make khushi pay for even trying to ruin her happiness.
He hadn't expected khushi to deceive him so much. She had done so much for them.., could he have made a mistake? Was jiju the evil manipulator out here? Was khushi telling the truth that she didn't know that shyam was di's husband? No! That was not possible. Khushi worked here. There were photographs of jiju and di, jiju was there for parties and poojas and so was Khushi. He couldn't overlook these facts. A part of him wanted to trust khushi but he couldn't let that part cloud his judgment of the facts.
khushi had tried to ruin di's life and he would make her pay..
________________________________________________________________________________________
Index


Edited by Lyraa99 - 07 September 2013 at 8:57am