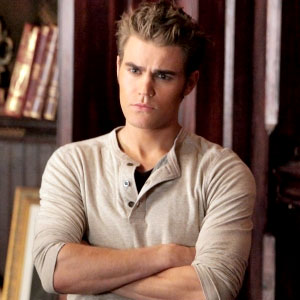 Quantrell Colbert/The CW
Sully716: Does the nice Stefan ever come back on Vampire Diaries?
From what Paul Wesley tells us, we don't think Nice Stefan is making a full return anytime soon, but we may catch glimpses of him. "The thing about Stefan is that the whole struggle the audience is going to watch, and that I hope to convey, is that there are little glimpses. When I say a little glimpse, I mean like a look, like maybe he is still there, but you have no idea. Even I don't know if he's really in there."
Randall: Any scoop on Vampire Diaries? I know Mason is returning and this excites me.
It excites us, too—in all the right places. (What? We meant our brains, naturally.) We're hearing from sources that Kelly Hu (Pearl), Jasmine Guy (Sheila aka Grams) and Arielle Kebbel (Lexi) also will be seen again on TVD, right around the seventh episode. Ghost party, y'all! Get pumped!