OH YES! We got an update .. Loved everything esp the b/w of Teri Meri. Fab fab work on those. Love the sigs esp the electric green! amazing work!!
This is indeed all SaRun's fault. Oh god who knew.. Jeez, and I think it's def the characters but it's the chemistry more than characters. U do understand or am I just ranting crap away?
Love the first set of avi. Oh god, the fire looks.. Uff, he's looking at her so tenderly and she's looking like she's gonna ready to pounce on him.
Love the Didi tera. Oh god, IPK has gone wild and crazy,. a new feather into their hat.. Love this avi's.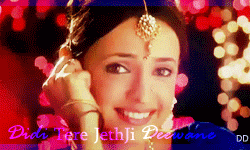 THIS man's smile. He was hot as Shravan too, but this is something else all together and I lvoe how beautiful Sanaya looks here.. Oh god, tempted to watch this again!
This one is sizzling.. Love the b/w and green shine on it.. Uff
and I think this is the hottest sequence ALIVE!
Love each and every sig Dangelz. I am trying my best to come out TM world and you are dragging me more there.
Oh if u get a chance, listen to these pieces, amazing"