Home > News > Elections 2004 > Report

If Tulsi goes to Parliament, what happens to Kyunki...?

Sukanya Verma in Mumbai | April 30, 2004 16:37 IST
Last Updated: April 30, 2004 16:58 IST



Can you imagine a galaxy without stars, cake without icing and Kyunki Saans Bhi Kabhi Bahu Thi without Tulsi Virani?

Television actress Smriti Irani -- better known as Tulsi Virani in every 'K' soap-viewing household -- is contesting the Lok Sabha election from Delhi's Chandni Chowk constituency on a Bharatiya Janata Party ticket.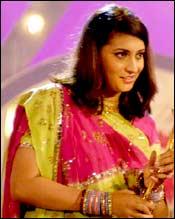 So what happens to Tulsi? Will Irani continue to work the serial that made her a benchmark for ideal daughter-in-laws? Or will she dedicate all her time to politics?
"We don't know anything right now. We haven't thought about it," says Kyunki Saans Bhi Bahu Thi's episode director Deepak Chauhan. "We have no back up."
Chauhan however adds, "The story has many tracks. We are working on the other tracks right now."
Chauhan is confident of Irani's win but whether she will continue to work or not he says, "It is up to her." Chauhan, however, doesn't deny that Tulsi is 'the shaan [pride] of our serial'.
But what does the lady in question have to say? In the midst of a series of telephonic interviews, Irani squeezes some time for rediff.com to say her bit.
"As such I don't have a heavy schedule of Kyunki Saans Bhi Kabhi Bahu Thi. I am just working four days a month. But definitely, my first priority is my constituency and Parliament," she says. "I don't know what future has in store."
Irani is contesting against Congressman and lawyer Kapil Sibal.