Thousands if not lakhs make their journey to the city of dreams to make it big.
If you have no connections and are not a part of any camp it is a humongous dream.
And if you insist on good scripts and have to like the people you work with it is akin to the climb to the top most peak through the most difficult path
"I don't live for or because of the world. I don't let expectations bother me. It's my journey, which I want to walk my way. Hence competition can't affect me. I'm growing with each project and that's what matters".

These consistent thoughts has made him be one of the minuscle few or maybe even the only one to make it.

"kitne aate hai yahaan, par only a few chaap chod paaathe hai"
His costars and directors talk about his commitment, involvement, focus, concentration, and sincere efforts as he gives his all.
Very few have the arrogance to expect the best and do not feel they have to stoop to conquer or make much compromises.
An arrogance that sets them apart. He is one.

fought odds
the stigma of being an outsider and a loverboy TV actor
hangs on
through periods of uncertainty
waits it out
when projects do not take off
He thought Peter will take him forward, help show more of what he has to show to the world. But that was not to be. Peter flattered to deceive.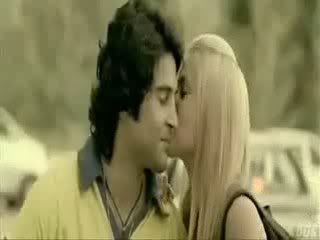 John Owen could have named his peter gaya kaam se keeping in mind the famous British phrase "It all gone pete tong".
Peter went wrong, he did not take him further down the road to his horizon.
So what if there is a two year delay,
so what if there is no Peter there is a remake of a "Pete".
This indianization of a Pete Tong will not go wrong.
This Soundtrack will set him on a very sound track.
If he excited us in aamir and shaitan being sad and angry
he is going to take the "exciting us" to a entirely different level.
We are gong to see him unlike ever before.
He is fun, unlimited crazy fun.
His small town boy childlike enthusiasm has already rubbed off on all of us...

Apart from showing an array of emotions he excels in

This tasty dish is going to show us intimate hot scenes that will scorch not just the screen.