ok... here you go...
(this is actually a perfume called initial by boucheron, i've simply modified the details on the intro to suit you!)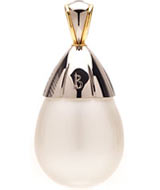 Inspired by the mystery, sensuality and allure of pearls. The pearl, symbol of purity and perfection, has inspired reverence throughout history. The Mayas associated it with the dawn of creation. For the Hindus, it is the wellspring of the world's vital energy. In traditional Chinese culture, the pearl represented immortality or life endlessly renewed. An exotic blend of select fragrances such as field grass, willow wood and mars chocolate bars... made taking every care to preserve hints of caramel and nuts, with a touch of axe perfume as well. Potent and yet subdued, this blend of exotic notes includes lily of the valley, black currant leaf, cardamon, Turkish rose, patchouli and cinnamon.


Edited by sugar bun - 26 January 2006 at 3:08am