'Reviews Of The Movie Soundtrack'
Critic/Website Review


Review I - By Dailybhaskar/Dainikbhaskar


Movie Review: Soundtrack
Reviewed By: Dailybhaskar.com
Movie Name:
Soundtrack
Critic Rating:
Viewer Rating:

6

0

Star Cast:
Rajeev Khandelwal, Soha Ali Khan, Mohan Kapoor, Yatin Karyekar and Mrinalini Sharma
Director:
Neerav Ghosh
Producer:
Sanjiv Goenka and Apurv Nagpal
Music Directer:
Midival Punditz, Karsh Kale, Kailash Kher,Vishal Vaid, Laxmikant Kudalkar, Pyarelal, Ankur Tewari and Papon
Genre:
Musical /Drama

Story: Soundtrack is based on the true story of a prolific Indian musician portrayed by Rajeev Khandelwal as Ronak Kaul. He inherits his love for music from his father and in order to make it big in the music world begins as a DJ in a big-time club, Tango Charlie, owned by Charlie (Mohan Kapoor). Moving around with right people at the right time gives him an early opportunity to work with filmmaker Anurag Kashyap in his film. But, destiny has something else in store for him as excessive consumption of drugs, alcohol and most importantly loud music all the time gets him completely deaf. He is into deep depression until Gauri (Soha Ali Khan), a deaf since birth, enters his life as a ray of hope. Now, will Ronak ever hear again and fulfill his dreams or will he overcome his weakness and emerge as a winner is a real interesting watch.

Story Treatment: A film by a debutant filmmaker isn't just rich in content but in execution too. The opening shot where Ronak is introduced and his passion for music is revealed, says a lot about how brilliantly story is going to unfold further. His slow indulgence in the world of drugs, again, comes out finely, considering his strong inclination towards alcohol. The crisp screenplay doesn't let your eyeballs move off the screen even for a second. The transition from the party to tragic mood and then, to some soothing light moments, with no loopholes, makes Soundtrack, one of the flawless films ever made.

Star Cast: Rajeev Khandelwal yet again proves his acting prowess, as the character of alcohol or a drug addict is so unlike the real sophisticated Rajeev. He springs a surprise with his flawless performance, each time the story unfurls a different side of his character. Soha Ali Khan, too, is refreshing and brilliant as a deaf girl. Mohan Kapoor gets into the skin of his character very well and delivers a fine performance. Mrinalini Sharma as Ronak's ex-girlfriend plays her part well. Yatin Karyekar gives an honest performance as a caring uncle.

Direction: Neerav Ghosh sets a benchmark with Soundtrack and cries it loud that he is surely here to stay. In no way does the film give a feel of being made by a debutant director. To induce twists with no room for confusion at the same time getting perfect expressions from the actors seems to be a cake walk for this filmmaker. Neerav has taken the creative part seriously with some innovative moments in the film in terms of camera moves and direction. The 'attempt to suicide' scene is a perfect example to support the claims.

Music/ Cinematography/ Dialogues/Editing: Music syncs with the temperament of each passing phase of the film but doesn't impress much, considering the expectations from a musical film. Cinematography is 'A' class, in fact quite innovative at some places like catching the lively moments on the streets, railway stations. Dialogues - a combination of some serious tone and humour - surely create an impact. Editing complements the screenplay and does the needful to make the film more engaging.

3 Ups and 3 Downs: Extremely appealing storyline, flawless performances, first time yet brilliant direction are the strengths of the film. Music below expectations, slightly slow-paced initial second half, are the weaknesses.

Overall, if you have a taste for meaningful, juicy cinema, Soundtrack is a must watch.

Review II - By SuperGoodMovies
Soundtrack doesn't boasts of a huge star cast but has one thing that is really important to make a movie work and that is content. A fresh, entertaining and light film that will leave a smile on your face at the end.Story:
Raunak (Rajeev Khandelwal) is an aspiring musician from a small town, comes down to Bombay to make is big. He becomes the hottest DJ in town and lives life like a ockstar. His routine is composing music in the day and DJing at night. His life starts taking a toll on him. He goes deaf. He has to leave his passion, his music. For a few months he goes into depression but then decides to live life. He gradually learns lip reading and creates revolution by composing music.Analysis:
Soundtrack is different, not like the regular run-of-the-mill kind of a film. It has content and is entertaining. It comes off as a fresh attempt though is inspired from another motion picture. Also it is based on the life of a famous musician Beethoven. And another plus point is that it is a musical extravaganza that has some mind boggling tracks.Performances:
There is no doubt that Rajeev Khandelwal is a powerhouse of talent. He carries the film on his shoulder well.
Soha Ali Khan plays and hearing and sound impaired girl and shines. Mrinalini Sharma plays Rajeev's girlfriend and has nothing much to do. But whatever little also that she does is best avoided talking about. Mohan Kapoor plays Raunak's manager. He is loud at places but still is decent enough.
Technicalities:
Direction, camera works, cinematography all are pluses.
Though my only problem is that when Raunak is said to be in Bombay and Alibaug, why is the film shot in Bangkok and Pattaya/Phuket.
All the songs are composed by different musicians and all make a mark. They fantastic specially 'Prem Baba'.
Plus Points:
Music
PerformancesMinus Points:
Seems slow at a point
Verdict:
Definitely worth a watch
Rating:
3.5/5
Banner:
Saregama India Limited, Indie Ideas
Starring:
Rajeev Khandelwal, Soha Ali Khan, Mrinalini Sharma
Producer:
Sanjiv Goenka, Apurv Nagpal
Director:
Neerav Ghosh
Genre:
Musical
Review III - By Taran Adarsh
Soundtrack
Movie Reviews
By Taran Adarsh, October 6, 2011 - 14:36 IST
There's nothing like watching a guy hit the ebb and then trying to crawl back again. The triumph of the human spirit catches our attention all the while. After all, people love watching a good tragedy. SOUNDTRACK, the official remake of the award winning IT'S ALL GONE PETE TONG, narrates one such story.

Rajeev Khandelwal is one of the few actors to have made a successful transition from television to cinema. His choice of films, starting with AAMIR, followed by SHAITAN and now SOUNDTRACK prove that he's keen to be a part of movies that push the envelope, that push him beyond his boundaries. He's gradually emerged as the face of intelligent urban cinema. That's also one of the reasons why SOUNDTRACK catches your attention.
SOUNDTRACK may be a 'small budget film' [in film parlance], but I strongly believe that budgets, however big or small, can never decide on the quality of cinema.
A mockumentary, SOUNDTRACK takes a closer look at a musician's life faced with a career-ending handicap. It has some heartwarming moments, some amusing moments, some comic moments and some lump in the throat moments.

Very well shot drama with touches of black humor, director Neerav Ghosh deserves immense praise for handling a complex story with amazing maturity. The story is attention-grabbing -- it traces his alcohol, drug and sex-fuelled meteoric rise, as he battles his internal demons and a damaging handicap -- and I must add that the film has a strong melodramatic theme with some terrific moments that stay with you.
SOUNDTRACK narrates the story of a successful DJ, Raunak [Rajeev Khandelwal], who gets addicted to drugs and alcohol and loses his hearing ability. He goes through low phases and also starts hallucinating, seeing a joker around him all the time. He is diagnosed with a hearing disorder that ultimately leads to his going deaf. Subsequently, Gauri [Soha Ali Khan] enters his life. His career nosedives, but his love for music helps him resurrect himself.
If you think SOUNDTRACK is distressing and disheartening, let me tell you, it's not! On the contrary, it is young, colorful and most importantly, inspirational, something that goes very well what a majority of movie-going audience these days. The director also ensures that the soundtrack is befitting the content of the film. Besides, the party culture, which is prevalent in metros, where one can find sex and drugs, is depicted well in the plot.
Director Neerav Ghosh narrates an interesting story in an altogether new format. Only thing, the film tends to get stretched at places and could've done with sharper editing. Cinematography is eye-filling.
Rajeev is known for giving his best at whatever he does. Playing an emotionally unstable character is always taxing and an edgy journey for any actor, but Rajeev emerges triumphant with a bravura performance.
Ditto for Soha, who delivers a sparkling performance. Soha is capable of delivering a powerful performance if given an opportunity and this film proves it. Though Mrinalini Sharma doesn't really get scope, yet, the pretty lass gives it all to her character and registers an impact. Another winning performance comes from Mohan Kapur, who is superb in a rather tough role. This film should make people sit and notice this talented actor. Yateen Karyekar does very well as well. Ankur Tewari and Sidd Coutto, the musicians, are wonderful in their respective roles.
On the whole, SOUNDTRACK captivates you with a story that talks of the triumph of the human spirit. An inspiring film, a human story, a relatable and credible journey with an atypical, feel-good conclusion, SOUNDTRACK is not to be missed.
Review IV - By Glamsham
Soundtrack Movie Review


October 6, 2011 06:18:22 PM IST
By Martin D'Souza, Glamsham Editorial
SOUNDTRACK
can easily be classified as an experiment in creativity. It's a bold move by director Neerav Ghosh who has found willing backers in his generous producers. Not everyone gets a chance to explore the realms of his thoughts and explode on celluloid with such gay abandon as does Neerav and
his protagonist Rajeev Khandelwal. With AAMIR, released three years ago, Rajeev stamped his imprint as a quality actor. In SOUNDTRACK, he further endorses that truth.
Anurag Kashyap tried his hand at this 'experimental element' in NO SMOKING. That's probably the reason why he is part of this film in a small role as someone who talks glowingly about Raunak Kaul (
Rajeev Khandelwal
) who is now a successful music composer, although he has turned deaf. There are others from the music industry as well, who speak about Raunak's genius. There's Anu Mallick, Salim (of Salim-Suleiman fame), Kailsah Kher apart from successful VJs and DJs. That's a novelty Neerav brings into this film as he intersperses their views on the central character as he tells the story.
Raunak is full of life. He comes to the city from a small town to make it big. He lost his father at the age of six, but does remember the 'musical times' he had with his dad. His uncle hands him some unfinished tapes of his father and Raunak adds layers to it which become an instant hit in the night club where he is the most sought-after DJ. Already high on alcohol, he takes to drugs of all sorts not to mention women. Life is actually a mess, but he perceives it as bliss. Excess takes its toll on his body and the constant loud decibel levels at the club aided by his 'wasted' lifestyle brings about a hearing disability. He turns stone deaf.
The first half is full of excesses to the point of being repulsive. Drugs, alcohol, women and what have you... But I guess, Neerav had to drive home his point. And you realize the reasoning behind this move after the break when things glide smoothly. Raunak comes to terms with his deafness, returns to civilian life and meets with Gauri (
Soha Ali Khan
), who is also deaf. She is his lip-reading teacher.


It is the second part that balances out the tumultuous first. Both Soha and Rajeev share a chemistry that endears you to them.
Modulating her voice and aiding it with her finger movements and facial expressions, Soha is first rate. I mean this is not a movie any heroine would do. It's only the bold who will experiment with such technically difficult roles.
It's hard-hitting and creatively presented. But what could have worked in Neerav's favour is if the rest of the cast were within the confines of the parameters he had in mind for the film.
It would be tough to get in the audience (read commercial success), but those creatively inclined should definitely watch this flick.
Review V - By Economic Times
Soundtrack: Movie Review
Gaurav Malani
Gaurav Malani, TNN | Oct 6, 2011, 06.50PM IST
Based on true events,
Soundtrack
is an official remake of the cult English film ' It's All Gone Pete Tong ' (2004). The film traces the meteoric rise and fall of a DJ, Raunak Kaul (Rajeev Khandelwal) who has the talent to make the world dance to his tunes (quite literally). But an excessive lifestyle of sex and substance abuse, not only makes him lose focus towards work, but also leads to a permanent physical disability. In his world dominated by loud music, Raunak turns completely deaf and is unable to pursue his dreams to make music.
Things change when Raunak meets Gauri (Soha Ali Khan), who too is hearing impaired but has mastered the art of lip-reading. In Gauri, Raunak finds a tutor and life-partner. Also his passion for music is rekindled, as he attempts to sense sound (if not hear) and study digital waveforms of tunes he knew, to create new music. Thereby a deaf DJ turns a renowned composer.
Debutante director
Neerav Ghosh
attempts to give a docu-drama shade to the narrative to make it seem like a biographical take on the life of his protagonist. Thankfully the documentary treatment never overcomes the actual story, which has enough scope for drama per se. The first half seems obsessed with close-up shots of alcohol, drugs, smoke and sex. Raunak boozes as if he were drinking water and smokes like he is breathing air. The idea might be to give a dark and disturbing shade to the film like Anurag Kashyup brand of cinema (the maverick filmmaker also has a cameo), more so with ample scope for substance abuse in the narrative. But after a point of time, it only gets repetitive and seems forced.
The tone of the film suddenly changes in the second half when the narrative turns more soft and sober, as Raunak goes on a self-rehabilitation drive, shunning all addiction. His romance track (with Soha) is blithe as compared to his hardcore sex-drive (with Mrunalini Sharma) in the first half. But beyond the somber shade and his chemistry with costars, the narrative isn't able to create as much contrast between the first half and the second that would have resulted in relating and feeling for the protagonist's plight better.
The depth that it adds to Raunak's relearning process of music (which is the soul of the film) in the second half pales in comparison to the intensity that it lends to the buildup of substance abuse in the first half. Which means the film adds intensity where not needed and vice versa. A basic idea of a deaf person composing decent music makes for an inspiring story. While the promising premise of the film doesn't let you down, one still feels the entire account could have been more stimulating, esp. when the director had straight reference point in the form of the original film.
The entire track of Raunak's fight with his inner demon (clowning around him in a joker-faced mask) looks ludicrous over being symbolic. It gets exasperating after a point and the entire track could certainly have been avoided. For a film dealing primarily with music, the actual 'soundtrack' isn't as stimulating as one would have expected. Also the length could have been shorter and the film could have done away with several repetitive portions. However, the dialogues, esp. in the second half, are well-worded and leave an impact.


Soundtrack
works to a big extent because of the persuasive performance of its protagonist played by Rajeev Khandelwal. At the onset, one seems uncertain if the sober-imaged actor would be able to pull off a character as wild and weird as this. But as you see him getting more and more into his character, you are amazed at the conviction he brings to his role.
Soha Ali Khan
not only plays a deaf character, she has to lisp in her diction too. And the actress does it with absolute subtlety (as compared to the Bollywood stereotypes that go overboard) and brings grace to her role. It would have made more sense if the story enlightened on the reason behind her lisp.
Mrinalini Sharma
looks refreshingly sexy and is not one-bit vulgar in her skimpily-clad character. Mohan Kapur hams. Manu Rishi doesn't get much scope. Yatin Karyekar is decent.
While it had potential to be a rocking film, Soundtrack, at least, turns out to be sound cinema. Worth giving an ear (and eye) too!

http://timesofindia.indiatimes.com/entertainment/bollywood/news-interviews/Soundtrack-Movie-Review/articleshow/10231796.cms
Review VI - By Movie Talkies
Rajeev Rocks as Neerav Triumphs With 'Soundtrack'!

By MovieTalkies.com, 06 October 2011
There's something irresistible about a heroic triumph, something about an individual overcoming all odds, that appeals to something in every one of us. That appeal is only multiplied, when stories of such triumph leave the pages of fiction, and come into the world of reality, touched by a sense of realism. Perhaps that is why director Neerav Ghosh's debut effort, 'Soundtrack', makes for such a deeply satisfying watch.

However, let one state at the outset, that while this documentary-like feature film claims to be based on a true story, that, in fact, isn't quite true. The film is actually an official remake of the 2004 Canadian indie classic, 'It's All Gone Pete Tong', a similar mockumentary of sorts that spoke of the rise, fall and rise of a fictional Ibiza DJ, Frankie Wilde, with names like DJ Tiesto, Paul Van Dyk and Lol Hammond appearing as talking heads relating Frankie's story through the film. While the original film has turned into something of a cult touchstone, 'Soundtrack', with a first-timer in Neerav at its helm, still has some way to go before it achieves that sort of success. Where the film does see success, however, is in the way Ghosh manages to Indianise as urbane a story as this subject, and makes it quite relatable.

The film's plot is almost Beethoven-esque in its scope, and indeed, more than 'It's All Gone Pete Tong', it is the master composer's legendary life that 'Soundtrack' will invite direct comparisons with. Smartly, then, Neerav makes Ludwig himself a narrator in the film, peppering the narrative with framed quotes from the composer's life.

The plot revolves around a music-maker called Ronak, played superbly by Rajeev Khandelwal, arriving in the city to hit the big-time. Ronak carries within him, the legacy, or rather, the burden of his late father, Parth, who himself tried to make a mark in the music industry, but simply couldn't find success. Ronak, though, tastes victory immediately, as he quickly turns into the superstar DJ at the Tango Charlie club, with the club's owner, Charlie, played by Mohan Kapur, acting as his manager. It is evident that Ronak has a great ear for music, though this is accompanied by a vicious addiction to sex, drugs and alcohol, all of which he finds quite easily in the wonderland of his fame. However, the film's pivotal turn comes when he finds that even as the noose of his addictions is tightening around his neck, his ear is quite literally leaving him, rendering him deaf. The rest of the film deals with Ronak's own tribulations with his condition and how he eventually rises to meet the challenge of life, with some help along the way.

The film, though slow at some points, hooks from the start. The film scores with its interesting narrative, where Ronak's story is told in flashbacks, interspersed with interviews with characters from the film, like Ronak's uncle, his manager Charlie, his band mates Biscuit and Banjo, and his girlfriend, model Shonali, along with real life characters like Kailash Kher and DJ Aqeel, speak of their meetings with Ronak and their impression of him. The tone that they speak of him in, which casts him in an almost genius-like silhouette, makes his character that much more intriguing and appealing. The use of the mysterious Johnny Joker character is also quite interesting, taking the narrative forward in quite unexpected ways, though one must say that the credit here goes to the makers of the original film.

Rajeev Khandelwal, though just two films old as 'Soundtrack' rolls in, has quickly become one of the most interesting actors to watch on the Indian cinema screen. The actor has successfully made the transition from the small screen to the big, and his performance here as Ronak proves that this isn't without reason. Khandelwal is amazingly sincere on centre-stage here, and comes up with a truly captivating performance. The scenes where he is still struggling to deal with his condition are heartbreaking, while you can't help but cheer him on as he finally finds him triumph in the climax.

Soha Ali Khan is also a revelation as Gauri, entering the narrative almost halfway through the second half, but leaving quite a mark. The actress charms in her 'special' role, and shows that given the right scope, she too has the histrionic skills to deliver. Mrinalini Sharma, unfortunately, doesn't get this scope, though, as Ronak's supermodel girlfriend Shonali, she does show potential. Yatin Karyekar, as Ronak's uncle, delivers a great performance, as do the non-actors on the cast, musicians Sidd Coutto and Ankur Tewari, who play Biscuit and Banjo, respectively. Mohan Kapur is perhaps the other main character, apart from Ronak, here, and with a performance that is over the top at points and beautifully understated at others, shows what Bollywood has been ignoring all these years. His Charlie is hilarious, yet endearing, throughout the film.

Given that the film revolves around music and a musician, it was imperative that 'Soundtrack' have a flawless soundtrack itself, and on that front, the film's music directors, the superb Midival Punditz and Karsh Kale, deliver handsomely. Tracks like 'what the f', 'atomizer' and 'fakira' rock the dancefloor, while 'banao', by Papon, and 'jannat', by the film's Banjo, Ankur Tewari, truly charm. However, the climactic number, 'ek manzil', with its haunting cello hook, is where it all truly comes together in a piece of addictive brilliance.

There are points in 'Soundtrack' where the scene-to-scene influence of 'It's All Gone Pete Tong' is unshakeable. And, given the fact that it's an official remake of the film, the question arises as to how much of the credit for 'Soundtrack' goes to Neerav Ghosh. Holistically speaking, the plot is undoubtedly the most crucial aspect of any film, as it is here. However, when that plot is backed up bravura performances like those from Rajeev Khandelwal and Soha, as well as an OST that is as brilliant, the credit then legitimately lies with the director for having the vision to come up with a work as complete as 'Soundtrack'. While the argument can be made for watching the original instead of 'Soundtrack', one has no doubt that if you miss watching this debut effort from Neerav Ghosh, you will be missing out on something promising indeed.
http://www.movietalkies.com/movies/reviews/20091/soundtrack
Review VII - By Livemint
Film Review | The din of silence
A remake of a charmless original, 'Soundtrack' tries too hard to be inspirational and turns insipid
This is the story of "Bandra's Beethoven". That label, used by a glib manager (played by Mohan Kapoor) to hard-sell the hero of Neerav Ghosh's Soundtrack, is bereft of irony or humour. It is meant to be sycophantic, glowing, earnest, 'soul-soup' inspirational largely what the entire movie also is.
Raunak Kaul (Rajeev Khandelwal) is a master turntablist who spins at a nightclub in what is implied as Bandra, the hip Mumbai suburb. One day he goes deaf. Does he plunge deeper into his cocaine-and-whiskey path towards perdition and hell? Or does he crawl back up to life and music? There's that tantalizing promise the promise of a man's redemption after he has hit the abyss with drugs, bad decisions, being in love with the wrong person, and a sudden physical disability.
Director Neerav Ghosh mentions in the credits that the film is inspired by the motion picture It's All Gone Pete Tong. But in fact, it is more than just an inspiration. Soundtrack has scenes which are exact replicas of the 2004 British production, written and directed by Michael Dowse. The true story of the original, that of a DJ at an Ibiza nightclub somewhat of a legend in the Ibiza club scene then and the sudden end of his raucous lifestyle, is not stuff of great tragedy. In Dowse's movie, Wilde has no nuances, and is unintentionally comic in the way his life spirals down. British actor Paul Kaye? adds to the part a skinny man with a stupid laugh, corroded by drugs, who finally cleans up. There is a comic intensity to Frankie's tragedy which makes the character bearable, although the film in its itself is quite charmless.
The writing of the Hindi remake adapts quite awkwardly to the Mumbai context. This is not really a decadent 'Charlie' and 'charas' land. The director and cinematographer (Anshuman Mahaley) depends on neon hues, jagged camera angles and the music to create the drug-induced madness. The actor does not have to do a lot. The only nuance in Raunak, really, is his hallucinatory relationship with an unthreatening clown who goads him on to inebriation (in the original, it was a grizzly bear-like beast with dried cocaine stuck to its nose). There is also his past a childhood without a father and the only child of a helpless mother, a trite Bollywood tool in this context.
The attempt to localize is of course intentional, and it is ultimately not the film's undoing. The attempt to make Raunak's story sentimental and inspirational, and to strip the character's of all his foolishness and dumbness even when he is wasted silly, Khandelwal lends Raunak a sense of importance and seriousness is. It is a put-off, for this DJ is no tragic hero.
Raunak, a man of firm build and groomed hair, is the anti-thesis of a man swallowed by self-destructive madness. His physicality belies the rot inside. Khandelwal has performed with gusto and he makes some scenes extremely potent, but overall, he is sorely mismatched to this character. Soha Ali Khan? plays a deaf girl who rescues Raunak from oblivion. She too, like Khandelwal, is inconsistent. In some scenes the character is strikingly original, and in some completely banal. Mohan Kapoor as the greedy, soulless manager, is the most convincing character here.
Soundtrack is a downer, but for a few powerful scenes all of which are exact replicas from the movie it's inspired from.
I will confess I am at a disadvantage here because I have watched It's All Gone Pete Tong twice, quite by accident. And comparisons with the mediocre original is unavoidable. When it's a remake or an "inspiration", the task of making it better or to adapt it truthfully to its context is up for scrutiny. And I judge the film largely on those terms.
The star of Soundtrack is its music. Lyricists (Kailash Kher?, Majrooh Sultanpuri, Karsh Kale, Vishal Vaid, among others), music directors (Midival Punditz, Karsh Kale, Papon, Kailash Kher, Laxmilant Kudalkar) lift the trajectory of this self-aggrandizing hero by a few notches. The film is visually accomplished, if albeit too plastic at times, but the music and the cinematography momentarily achieves what neither the lead actors nor the writing can achieve.
Soundtrack released in theatres on Friday
sanjukta.s@livemint.com
http://www.livemint.com/2011/10/06191620/Film-Review--The-din-of-silen.html?h=B
Review VIII - By ApnaIndia
Soundtrack
Starring - Rajeev Khandelwal, Soha Ali Khan, Mrinalini Sharma
Director - Neerav Ghosh
Producer - Sanjiv Goenka, Apurv Nagpal
Banner - Saregama India Limited, Indie Ideas
Genre - Musical
Rating - *** .
By Kreative Access Team
The star of the film is certainly the story and the narration. The film starring the talented Rajeev Khandelwal, Soha Ali Khan and Mrinalini Sharma is quite a soul shaking epic dust to dawn story of a aspiring musician who falls from the peak and recovers a death defying phase in life.
The film starts with Raunak (Rajeev Khandelwal) who comes to city of dreams Mumbai to make his name in the music industry. After much struggle and tiring phase he manages to catch up a fleeting that of DJ in a famous discotheque. He becomes a rage and then his life turns tracks as he unintentionally shifts focus from his aim. But suddenly his dream run hits a major roadblock when he suddenly loses his hearing power. This leaves him with an irreplaceable void as the hearing impairment leaves him with no scope to take forward his career as a musician. He goes into depression and mind you that's not a simple but a death defying one.
The film is not the one that you come across every Friday. This one's a rare tale of the highs and lows of life. As I mentioned earlier the main strength of the film is its story and the stars lead the tale with panache. The film is based on a true story of a renowned musician Beethoven. The unexpected twists and turns keeps you glued to from start to end.
Rajeev Khandelwal yet again reminds of the potential that he carries as a star. And we must say with each film he is giving the Khans, Kapoors and Kumars a run for their money. He deserves much more attention to compliment his potential. But what surprised us was Soha's performance which made people notice it even in the presence of power house performer Rajeev. Mrinalini Sharma's role as Rajeev's girlfriend is nothing more than an extended cameo but however the actress has performed her part well.
Apart from film's direction and narration, the unique cinematography takes your heart away. As the film was a tale of a musician's life, it ought to be a musical journey and we must say the tracks don't disappoint.
Yet another awe inspiring film coming from Rajeev Khandelwal comes to lure your hearts away. A perfect treat for music and 'Rajeev Khandelwal' lovers and will also appeal to the ones who prefer out of the track films rather than the run-of-the mill films.

http://apnaindia.com/entertainment/review/bollywood/soundtrack-hindi-movie-review-192.html
Review IX - By Times Of India - Nikhat Kazmi
Soundtrack
Nikhat Kazmi, TNN, Oct 6, 2011, 07.49PM IST
Story: Small town boy
Rajeev Khandelwal
comes to Mumbai, chasing his dreams to become a musician. It doesn't take long before he becomes the most happening DJ of the club scene, creating his music from the sounds of the city and its streets. But it doesn't take long too before he succumbs to the pressures of the glam job -- drug abuse, alcohol, continuous exposure to loud music -- and descends into his private hell. Falling prey to a hearing disorder he almost loses it all, until he meets
Soha Ali Khan
-- herself deaf -- who teaches him how to lip read. More importantly, she teaches him how to rediscover meaning and music in his life, once again.
Movie Review: The film is inspired by the English film It's All Gone Pete Tong which traced the intense highs and lows in the life of musician Frankie Wilde, a legend in the Ibiza club scene, as he battled his hearing disorder. But kudos to both filmmaker Neerav Ghosh and actor Rajeev Khandelwal for creating a completely authentic Indian idiom in
Soundtrack
which holds up a glitzy, yet dark mirror to the Mumbai rock scene.
If Ghosh prefers to tell his story with poise and restraint, never losing hold on the life-like rhythm, then Khandelwal creates a classic act as the simpleton who goes full circle. First, he gets seduced by the heady power of fame and success and falls headlong into a life of indulgence and excess. Arrogance too slips in, as he begins to ill-treat his teammates who do not know about his increasing physical debility...his hearing is fast fading, but the rock star is too proud to reveal it. But when the world begins to turn its back on him and the sounds which were the source of his life, totally disappear, the desperate man does everything to save himself. He even incarcerates himself in dark, solitary confinement, plagued only by his private demons: a life-size joker that relentlessly mocks at him.
It's only when he slays the demon that he manages to emerge a whole man again. Time for some sweet romance -- and help -- from perky Soha Ali Khan who plays a perfect foil to his anguished self. Also, time to rediscover his music by ferreting out some forgotten notes from his childhood -- his father's legacy -- and try and create history again.
Well acted, well narrated and with loads of great music (Midival Punditz), Soundtrack is cinema with a soul.
Tip Off: Must for music makers and movie-buffs who don't want all the films to be breathless tales of revenge and gore or riotous romance.
Critic's Rating:
Cast: Rajeev Khandelwal, Soha Ali Khan, Mrinalini Sharma, Mohan Kapoor
Direction: Neerav Ghosh
Genre: Drama
Duration: 2 hours 12 minutes
Review X - By Bolly Spice
Soundtrack Movie Review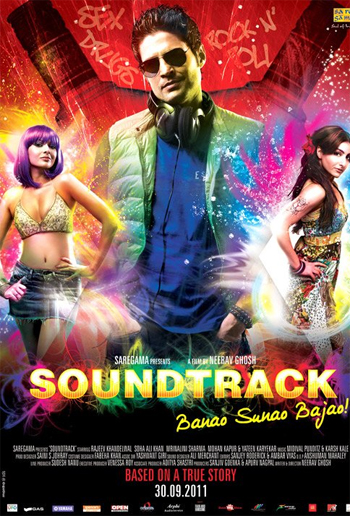 Beethoven said, "I am not satisfied with the work I have done so far. From now on I intend to take a new way." If only Bollywood followed this mantra, then we would surely have more amazing and different movies and better performances. Inspired by the life of Beethoven to an extent, first timer Neerav Ghosh's Soundtrack does successfully implement this thought with the end product leaving you highly satisfied. And while it's no secret that this movie is a remake of award winning Canadian independent movie It's Long Gone Pete Tong, its Indian adaption manages to keep you engaged till the end.
Ronak Kaul (Rajeev Khandelwaal) lives, eats and breathes music. Music is his life. Having inherited the talent and passion for music from his deceased father, he wants to make sure that he doesn't inherit one thing from his father failure. So when he arrives in the City of Dreams, Mumbai, to make it big in the music field he pushes himself to his maximum limit and more to make his dream come true. Starting as a DJ in his uncle's (Yatin Karyekar) night club Tango Charlie, owned by Charlie (Mohan Kapoor), he soon finds himself expanding his avenues to establishing his own studio, making his own music and finally composing the same for a movie by Anurag Kashyap. But along with virtues come vices, so Ronak finds himself falling deeper into the world of alcohol, smoking and drugs as he gets into a relationship with Shonali (Mrinalini Sharma). Trouble starts when Ronak wakes up one day to realise that there's a constant ringing sound in his ears which makes normal hearing difficult. Initially dismissing it as a temporary problem, his work schedule goes for a toss when the problem persists. Visits to doctor reveal that he has tinnitus, inherited from his father and aggravated by his bad lifestyle. Eventually a freak accident renders him totally deaf which pushes him into a deep state of depression. When he finally decides to come out of his self-exile, he meets the free spirited Gauri (Soha Ali Khan), deaf from birth, who teaches him lip reading as well as the way of life. But still, the fact that he will never compose music again keeps on pricking him until finally he discovers a way of doing so and bringing music in his life back again.
Rajeev, who debuted with Aamir and proved his mettle again with Shaitan, is definitely the star of this movie. Whether it's his high on music avatar, his interaction with his inner self, his times during mental depression or his final self-rejuvenation, Rajeev keeps you totally hooked on to his performance. Watch out for the scenes during the time he shuts himself up in a room for two months. Mohan as Charlie is another amazing actor who fits his character to the T. Mrinalini and Soha do justice to their roles as well as Yatin as Ronak's chachu.
The best performer of the movie however is the director himself, who definitely doesn't give you the feel of a debutant. From the moment you see the picturization of how the daily mundane sounds seem music to Ronak you know that Neerav has got something different to offer. Crisp storytelling without a moment of boredom, Neerav makes sure that the viewer remains glued to the screen. Incorporating some unique and creative filming techniques whether the sound waves to depict the fast changes or the direct interaction of the artists with the audience, Ghosh makes sure that the movie doesn't deviate to unnecessary side stories focusing totally on Ronak. Kudos to Neerav, Rajiv Gopalakrishnan and Chintan Gandhi for coming up with a beautiful screenplay.
In addition to the great direction, crisp editing by Sanjey Roderick and Ambar Vyas keeps the movie well-paced. Anshuman Mahaley's cinematography is worth mentioning and definitely one of the bigger plus points of the movie. Music is different and as an independent album good to hear but somehow you feel that it lacks the magic when incorporated in the movie. This especially stands out since the movie is wholly and solely based on music.
Apart from the slow initial second half, there isn't really much you can complain about in this movie. A breather of fresh air in the have-seen-befores been churned out recently. Definitely worth a watch.
Rajeevians Review