Stefan; why are u running away from me?
Elena; why did u read my dairy?
Stefan; i know it wasnt right but i was curious what u wrote about me.
and am soo touched what u wrote about my fangs and teeth that was soo romantic.
Elena; why are u ishtalking me and why dont u go away?
Stefan; no dear i cant live without u i love u so much and
the other thing is that am addicted u
to ur toutch and afcourse ur bodysmell it smells so sexy.
Elena; my bodysmell ?and what about klaus?
Stefan; he means nothin to me no no i dont love klaus.
Stefan;(thoughts) u are my sexy sexy lady and ur mine only. u dont understand from the moment
that u saw u that ur mine. and am so atractted by ur bodysmell. when i smell it am going in a trance and dont be scared i will not show my fangs.
Elena;(tought)why is mr stalker staring at me? i feel so stupid what i wrote about his sexy fangs and teeth. i must not know let him know that am imbarrased.
Elena;cheers my sexy vampy
Stefan; cheers my pumpkin.
Stefan;why are u running away when u see me? i hold u tight so that u cant run away.
just look into my eyes and u will see that i love u at the bottem of my dead hart.
i love u so much have faith in me sweety.
Elena;when i see ur eyes i forget everything and i get lost in ur eyes u sexy vampy.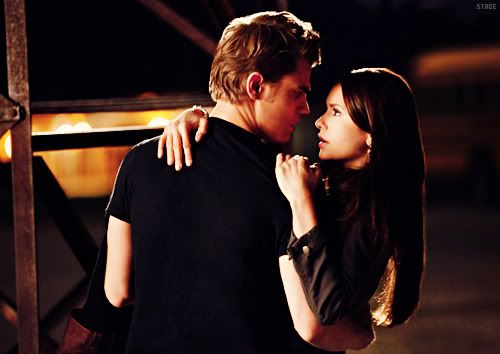 Stefan; u means so much to me and because ur my beautyqueen. ur the sexy type of girl a have never seen. i really love i hope u understand what i mean. i want to see and feel u so i can mesmeraize u when u need u. i love u so much that i cant live without ur touch. i say this from my hart no one is gonna tear us apart. we come to a conclusion my love for u is not an illusion. all my live i prayed for sumone like u now am glad that i finally found u. u are everything and everything is u.
Elena; thats so romantic because ur so fantastic. i love u at the bottem of my hart. dont let me laugh otherways i will fart. now am in a romantic mood after our workout were gonna grab sum food.
Stefan; i will allways love u come to my house and i will show u. i want to love u just love u.
(they gonna do sum coochie coo for sure)


Edited by .Reshama. - 29 October 2011 at 2:34am