Originally posted by iceprincesinluv

happy birthday princess..!!
Thanx Dear!!
Originally posted by Prottasha

Happy Birthday..

Thanx Dear!!
Originally posted by Reashma.Happy birthday
Thanx Dear!!
Originally posted by carisma2
Happpeee Birthday
sweetie - hope it was a good one...
Koi kami ho gayi ho tho we will send Abhay to make up for it. Lol.
Happy Birthday again.
Haan Jaldi Bhejo abhay ko badi kami hai..
Thanx Dear..!!
Originally posted by syria2014
Happy Birthday Annie! Sorry forgot . i was gonna wish u yes , but i was zoned out for the whole day due to studying. Sorry girlie!Anyway, Let's wish the birthday girl shall we!
Suprisingly u have been one of the rare person, I have never come conflict with me. You have always been honest ,and sweet to me. You are very dear to me from this forum. I know we rarely chat nowdays, but whenever we have . We have had full laughter. You always try to remain neutral before jumping in to conclusion. You have understood, and stuck by me. I don'tknow if we are that close, but whenever I have talk to u. You have been a warm, genuine, and welcoming to me. Thank u for that! Anyway, Happy Happy Happy Happy Birthday!Save me a cake will u!Warna, be ready to suffer the consequences. Kidding!
. Hope u had a blast on your birthday, and we shall defend Jai sometimes as we do nah!
I know our love for the show is a commound ground that binds us. !!!! Wish you a happy happy birthday again!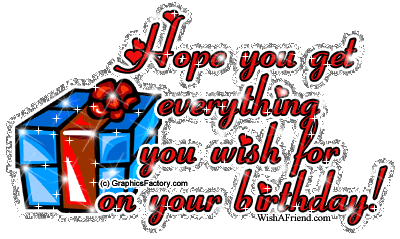 Thanx Syria.. Ohh thanx itna acha acha likhne k liye mere baare me..
I'm vry evil ..
Yes We shall Defend Jeh sumtyms.. N i shall also stop u frm taking panga wid people coz of Bashin Vahbiz!!!
Cum Hav the cake!!