Hey gals! me back wid another update thank u so much for all ur support nd co-operation so far. i really appreciate ur comments nd likes. so thanx from d core of my heart to all of u. nw here's d Part 25 of my SS. hope u all r going to like it. Pls feel free to criticise if u all dnt like it.
Nd ya Aakriti is disappointed wid d no. of likes in d prev part. i knw it was bit disappointing but was it so much bad
. Pls hit d like button guys. it really means a lot to me.
Part 25:
He sighes nd decided to go inside to check himself wen suddenly d door opens nd he saw d most beautiful sight of his whole Lyf. His Angel standing over dere in d Red Saree looking as stunning as always. His heart missed several Beats seeing her in Saree. Dis was d first tym he saw her in Saree nd he was happy dat he choses right dress for her. she was looking breathtaking nd she had definitely took his breath away. It was impossible for him to remove his gaze from her. he was so lost in her dat he didn't realize wen he started moving towards her.
Geet was standing over dere feeling shy due to his intence gaze on her. Dis was not d first tym he was seeing her wid his intense gaze but still she was feeling Butterflies running in her stomach like d very first tym dey came close to each other. She was never in Saree before him nd today she was feeling nervous wen she saw herself in d mirror nd now Maan's gaze as making her more nervous. By d tym she compose herself she saw Maan standing front of her so close looking at her intently
****************************************************
She lowers her gaze not able to bear intensity of dose eyes. Maan started moving more close to her nd unknowingly she started taking a step backward until her back hit d wall. she was trapped between Maan nd Wall nw. Maan raises his one hand towards her face like going to touch her face. She closes her eyes knowing his next step. Maan stops his hand a bit away from her face nd kept looking at her beautiful face for sumtym nd den moves his hand further towards d back of her head nd frees her hairs which were tied in a bun nd sets dem loose nd slowly brings his hand back brushing his fingers slightly on her neck.
His soft touch sends shivers down her spine. She slowly opens her eyes wen she felt his hand withdrawing. She looks at him only to find him looking at her lovingly. She wanted to ask him y he did dat but couldn't able to ask due to proximity between dem. D look in her eyes says him all. He smiles knowing wats going in her mind.
Maan: u look good in open hairs. Dnt tie dem
She said nothing but lowers her gaze blushing slightly while he just loves her seeing like dat
Maan: m waiting for u outside in car. Cum soon
He said while smiling nd headed outside leaving her alone to compose herself. She touches her hairs slightly nd den smiled.

**************************************************
After getting control on herself, Geet finally came outside towards d car where Maan is waiting for her. She didn't looked at him because she knows if she'll look at him den she'll gets Lost yet again. Therefore she kept her eyes down but yet could feel his intense gaze on her. Maan tried hard to not to look at her but he couldn't able to take his eyes off her. There was an awkward silence between dem. Finally Geet decided to break d silence between dem
Geet: ummm... chale
Maan (coming out from reverie): ha... ya lets go.
He said nd opens d Door of passenger seat for her. Geet gets herself seated at Passenger seat while he takes his place behind d wheels nd started driving.
Whole Drive was silent nd none of dem spoke to each other. Maan was stealing glances of Geet by every now nd den while she was just looking outside d window, but dat doesn't mean she didn't noticed him or his gaze on her. D reason for not looking at him was because she knows she'll lose herself because dere's no doubt in dis dat he's Looking extremely Handsome in d Dress she selected for him; more den she herself imagined nd cherry on top his behaviour towards her. She won't be able to resist herself for long so its better if she control her emotions as much as she can.
Maan was noticing her expressions nd can easily guess wats going in her mind nd y is she avoiding looking at him but he knows dis is not d right tym to ask or do anything. His one wrong move nd everything will get more worse between dem. For one thing he was sure dat Geet is sumwhere loosing herself but Everytym she controls herself because of her fear dat overcomes her emotions Everytym. He dnt knw wat he should do to remove her fear, to assure her dat things will never be go wrong between dem nw, dat he'll never hurt her nw. he wanted to remove all her fears, to cover every distance dat was between dem, to hold her so close to him dat she cant go away from him anywhere, but couldn't able to do so till nw. it seems dat we should left sum things on time
********************************************
After half an hour of Drive dey finally reached d Venue. As soon as dey headed inside Dey found Deeps waiting impatiently for dem. she approaches towards dem as soon as she saw dem
Deeps: Here u both come. I was waiting so eagerly for u both.
Geet: Happy Anniversary Sweetheart! Where's Ashish?
Deeps: he must be wid guests only. Wait let me call him
She was about to call him wen she notices him cuming
Deeps: Dere he's.
Ashish: Hey Geet! Hey Maan! Finally u both came
Geet: Happy Anniversary Ashish
Maan: Happy Anniversary Dude!
Ashish: Thanx guys! Deeps, had u planned to make dem stand at d Door only, let dem cum inside yaar
Deeps: Oh ya! Pls guys cum inside.
She said nd all of dem headed inside. Ashish Excused himself to attend sum guests while Deeps remains wid dem only
Deeps: hhhmmm It seems my Idea works for both of u. see u both have selected perfect things for each other. Geet u r looking so Beautiful today nd Maan even u r looking extremely irresistible. I swear if Ashish would not be in my Lyf na nd Geet is not in urs den definitely Dat Place would be mine (she said while pointing towards Geet)
Both Maan nd Geet couldn't able to help themselves from not smiling on her statement.
Deeps: No seriously Guys! I mean which girl dnt want to be in d place beside Maan nd especially den wen he was looking so irresistible. U r so Lucky Geet.
She was smiling at Deeps words wen suddenly she saw a person standing at d corner of d bar. Her eyes widened due to shock nd an unknown fear runs through her vains. dis cant be possible, she thought. hw can he be here. she felt a sudden dizziness. Unknowingly she tightens her grip on Maan's Arms to get sum strength. Maan feels her hand tightening around his arm nd instantly he looks at Geet who was looking tensed nd den to d direction where she was looking or to d person who has made her so tense. He again looked at Geet nd tries to read her expressions but he failed.
He wanted to ask her dat wats making her so tense but couldn't able to due to presence of Deeps. But he can't see her like dis too. He places his hand on hers which was around his Arm nd Geet instantly looks at him. He assures her by blinking his eyes dat he's wid her, she dnt have to worry. Without speaking to each other dey understand each other's unspoken words. Well I guess dats wat we call Love.
Geet again looks at d direction only to find dat person looking at him wid curiousity. She quickly looks away from him nd started conversing to Deeps but her mind was wandering over dere only. Maan couldn't stop himself anymore nw. he need to ask her wats d matter. He was about to ask her wen her cell phone rings. He curse d tyming of d caller but he can't ignore it too. It's from one of his important client. He excused himself nd goes outside to take d call.
As soon as Maan leaves her, Geet gain looks at dat person. Dis tym Deeps notices her gaze nd looks at d direction where she's looking. She smiles nd looked at Geet.
Deeps: Geet, Dats Rahul Khanna. An industrialist nd Ashish's Business Partner. But y r u looking at him like dis? Do u knw him?
(Ok Before u get all confused let me tell u dat Geet has changed her College after dat Rahul Fiasco derefore none of Geet's Friend know him. I had mentioned it in Part 5)
Geet cant able to stand over dere anymore. She quickly drags Deeps from dere nd goes to another corner only to get a confused expression from Deeps.
Deeps: Geet, wat happen? R u ok?
Geet: ya. I m fine
Deeps: Is it? Den y did u come over here?
Geet: Wo... Music was very loud over dere nd I was not able to concentrate on wat u r saying.
Deeps: o Really? Den y do I feel dat dere's sumthing else bothering u?
Geet: no Deeps it's not like dat. Acha Tell me sumthing where r Preeti nd Pari nw-a-days. I thought I'll meet dem in party
She said while changing d topic, knowing Deeps its easy to divert her attention to sumthing else
Deeps: Pari is in London happily married wid d love of her Life Vridant Oberoi.
Geet: Vridant Oberoi; u mean d famous Fashion Photographer?
Deeps: yup
Geet: but hw cum dey both cross each other paths
Deeps: u knw Pari. She was never interested in Architecture so after college she started doing modeling nd dats wen she met Vridant Oberoi nd rest is history. Dey both got Married 1 year before only. Vridant was having some Assignments datsy dey both couldn't able to come today. But he promised dat dey both will cum as son as Vridant finishes his Project.
Geet: Nd Preeti? Wat about her
Deeps frowned on Preeti's name. She was not sure hw to tell Geet about Preeti. Her expressions didn't get unnoticed by Geet
Geet: Wat happen Deeps? Is everything ok wid her?
Deeps: Geet, Preeti is in Mental Assylum since last 2 years
Geet eyes widened in shock. She can't imagine all dis in her wildest dream nd dat too about Preeti.
Geet: Wat? Assylum? Deeps r u serious? I mean hw nd most importantly Y? nd where is she?
Deeps: Geet, Preeti is in Lonavala only. Me nd Ashish r taking care of her
Geet: But ye sab hua kaise?
Deeps: it's a long story Geet. u remember a guy named Kuldeep Chopra?
Geet: ya d one wid whom Preeti is madly in Love wid.
Deeps: it was all because of him only (she said while clenching her jaw in anger)
Geet: because of him?
Deeps: ya. Geet, Preeti has been ditched by him very badly. All dis happen after u left. U knw hw much Madly she was in Love wid him nd dat Bas***d has taken advantage of it. he had maintained Physical Relationship wid her by Promising her all dose emotional stuffs like they'll marry soon nd all nd Preeti by Blinded by his Love has submitted herself to him completely nd den he left her on d day of their Marriage by leaving a note dat he was never in Love wid her nd he's committed to someone else so its better for her to move on in her lyf. We all tried to Locate him but we failed nd later we cum to know dat he was not wat he claims to be. He has present all his fake details in front of us; his address, his academic records everything. Preeti was completely shattered after all dis nd one day she left without saying anything to anyone. We searched her a lot nd den 2 yrs back we found her in Lonavala at Railway station. We have no clue hw she has came over here but her condition was very bad nd den Ashish nd Vridant has admitted her to Assylum nd since den me nd Ashish r taking care of her.
Geet had tears in her eyes wen she listened to Preeti's cond. She can't even imagine all dis happen to her. She herself shiver wid d thought den hw can Preeti has tolerate all dis.
Geet: I cant even imagine all dis wid Preeti.
Deeps: I understand Geet. Preeti was strongest girl in our Group. Nothing could affect her emotionally but see it did affect nd today she is dere where we can't even imagine her to be.
Geet said nothing but quietly listened to her
Deeps: wat was her mistake Geet? Wat has she dome wrong to deserve dis Lyf? Just because she has loved someone whole-heartedly? Because she has blindly trusted on someone nd dat guy has left her without even saying anything? Its ironic isn't it Geet to lose someone who is so close to your heart, wid whom u r madly in Love wid nd dat Person didn't even care for ur feelings nd moves on in his/her lyf nd expecting other person also to move in his/her Lyf. Was it so easy to Leave like dat. Hw can anyone leave someone who is Truly, Madly nd Deeply in Love wid him/her. Geet anyone can be broken at dis stage wen d love of Ur Lyf walks out from ur Lyf to never cum back, to leave u in ur own condition; den hw can Preeti be an exception. Geet, if u or Maan would be dere in Preeti's place den dis can happen to anyone of u both too.
Suddenly someone called Deeps so she excused herself leaving Geet alone to absorb everything. Geet slowly moves towards Bar to get herself a drink.
****************************************************
She sat at Bar sipping her drink slowly but her mind was continuously wandering over Deeps' Words.
"Its ironic isn't it Geet to lose someone who is so close to your heart, wid whom u r madly in Love wid nd dat Person didn't even care for ur feelings nd moves on in his/her lyf nd expecting other person also to move in his/her Lyf."
"Was it so easy to Leave like dat."
"Hw can anyone leave someone who is Truly, Madly nd Deeply in Love wid him/her."
"Geet anyone can be broken at dis stage wen d love of ur Lyf walks out from ur Lyf to never cum back, to leave u in ur own condition; den hw can Preeti be an exception."
"Geet, if u or Maan would be dere in Preeti's place den dis can happen to anyone of u both too."
"Maan" unknowingly she mumbles d name wid her last thought nd looks around herself to locate him nd saw dat Ashish introducing him to some of his clients. Deeps words were continuously budging in her mind nd she thought of Maan. Wat if something like dis could happen to Maan? D way she left him nd never turned to look back to him; he must be shattered too. Wat if he also ends up being like Preeti? No' Dis can't happen. D thought itself scared her. No dis can't happen to Maan. Wat happened between her nd Maan was different nd wat happened between Preeti nd Kuldeep was different thing. Preeti nd Kuldeep's relationship was not based on true Love. He ditched her. But Maan nd her, dey loved each other madly. Hw can she even compare Maan nd dere Love to theirs. But at d end d situation was same Na. She too had left Maan nd dat too wen he was head over heels in Love wid her, wen he was claiming again nd again dat he truly loves her. Nd as Deeps said anyone can be broken at dis stage, wat if same thing would have happened to Maan too
She was lost in her thoughts wen someone tapped her shoulder. She quickly turned nd unknowingly said "Maan". But wat she saw had tensed her. it was not Maan, it was Rahul who was standing over dere wid his Crooked smile
Rahul: Maan nahi Sweetheart, Rahul. It seems u both r very comfortable wid each other.
Geet gave an angry glare to him. She can't believe dat once she was in Luv wid him. Wait did she just said Luv. No she cant impure word Love by joining his name wid it.
Geet: just shut up nd get away from here
Rahul: oh C'mon Geet dnt be so spoil sport. We met after so many years. Won't u share a drink wid me?
Geet: For Ur kind information Mr. Rahul Khanna I dnt knw u nd d people to whom I dnt knw I dnt share anything wid dem
Rahul: Wooo... Itna gussa? Must say sweetheart Ur anger has just risen up in all dese years.
Geet: mind Ur Language Rahul.
Rahul: oh I m Sorry! Wat to do sweetheart u r looking so beautigul tonight dat m unable to control myself. Waise Darling dnt u think dat u had become more beautiful den before. I regret y did I left u dat tym.
Geet angrily looks at him nd wat she saw in his eyes was Purely Lust nd nothing else. She cursed herself for once being in relationship wid him. she just wanted to slap him rite nw but she cant do dis as she cant spoil her Friend's special day therefore she controlled herself.
Geet: M saying last tym Rahul, get away from here or else...
Rahul: or else wat Geet? U'll call MSK. O god Geet! Pls aisa mat karna. Look m so scared of him (he said while faking getting afraid nd den laughs evily) waise u both looks very close to each other isn't it?is something cooking between u two

Geet: Rahul you...
She couldn't say further as dey both heard an announcement. It was from Deeps who was asking every couple to join d Dance floor. She found it great opportunity to go from dere but he was blocked by Rahul.
Rahul: where u r going alone without me Sweetheart? Didn't u heard she is calling couples to join d Dance floor
Geet: Let me go Rahul. I dnt want to create scene over here
Rahul: not even me Geet. (he said while moving his right hand towards her) so lets go for a Dance.
Geet said nothing nd started leaving from other side wen he again blocks her way
Rahul: C'mon Geet! just one dance, for old tym sake.
Geet was about to say something wen she felt a protective Arm around her shoulders. She dnt have to guess who he was. It was none other den Maan.
Maan: Excuse me! She's wid me. (he turns towards Geet) Chale Geet! Deepika is calling us.
Geet slightly nodded nd moves towards Dance floor wid him giving an angry glare to Rahul.
*******************************************
Maan has seen Geet sitting at bar wen he came back after call. She seems to be lost in some thoughts therefore he decided to go to her nd ask wats bothering her we he was stopped by Ashish. He wants him to meet some of his clients. Maan half-heartedly agrees but he was continuously noticing her. he was talking to one of Ashish's Clients wen he saw Rahul talking wid Geet. Maan dnt know who he was but he knows dat whoever he was, Geet is not comfortable wid him nd he was d same person who makes her tensed.
Nd den he saw him blocking her way nd asking her for Dance. dats it he cant take it anymore. he cant see any person misbehaving wid Geet nd harrasing her. He felt like Punching him right den nd dere but like Geet he too dnt wanna spoil d Party derefore he quickly goes towards Geet nd takes her away from him without creating any scene.
**********************************************
Maan nd Geet both were standing near d Dance floor nd Deeps was standing at Stage wid a mic in her hand.
Deeps: Attention Ladies nd Gentlemen! First of all thanks to all of u for being a part of our special day. On d eve of our 3rd anniversary me nd Ashish has kept a Perfect Couple competition over here. Waise to all d couples r perfect in dere own way but I just want to see which couple is Perfect among all dese.
Ashish takes mic from her nd continues
Ashish: So to see dis me nd Deeps has decided to put Paper Dance over here. All d couple will stand on d paper nd wen Music will start dey have to dance nd if any person from d couple steps out from d paper as d music stops dat couple will be disqualified. Nd at d end whichever couple will left would be our winner. By every turn paper will be folded until it becomes impossible for it to fold. Dis competition is basically to see hw well d partners can balance each other. Because u can balance ur relationship only den wen u both can balance each other. Nd not to forget dis would bring more closeness in ur relationship. So without wasting tym I would like to invite d couples on d Dance floor please.
D Light went dim nd slowly every couple started to move towards d dance floor. Maan slowly held his one hand in front of her while Geet looks at him questioningly.
Maan: Shall we?
Geet nooded in yes unknown to herself nd placed her hand on his. Maan holds her hand softly nd takes her towards d Dance floor.
Dey both place demselves above d Paper a bit away from each other nd waited for music to start.
Deeps: so guys... Let's start d music.
She said nd indicated DJ to start. Dj nodded nd started d first song
(P.S. Guys pls do play d songs while reading dis to get d feel)

Music...
Jism se rooh tak, hai tumhare nishaan
Bann gaye tum meri zindagi
Music...

Jism se rooh tak, hai tumhare nishaan
Bann gaye tum meri zindagi
Jab se tum ho mile, jaan-o-dil hai khile
Tumse waah basta hai, har khushi
Tum ho mera pyar, tumse hai karaar
Tumko hi basaaya maine yaadon mein
Tumse hai nasha, tumse hai khumaar
Tumko hi sajaya maine khwaabon mein
Tum ho mera pyar, tumse hai karaar
Tumko hi basaaya maine yaadon mein
Maan slowly Places his one hand at her waist nd brought her one hand to put on his shoulders nd dey both started moving their body according to d music. Geet was first hesitant but wen she looked into his eyes she forgets everything around her nd just let herself flow in d moment.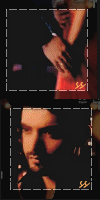 D lyrics matches so perfectly to dem lyk saying Maan's Feelings to her. Geet's stare in his eyes which were filed wid intense fire. Their steps were going acc to d music. Dey could be like dat forever until d music stops nd bringing dem both out from dere thoughts.
One couple was disqualified from d Dance nd Ashish asks everyone to fold d paper once again. Maan makes a fold to d paper nd dey both again places demselves on it dis tym a bit closer. Lights went dim again nd music started
Kahin to.. kahin to.
Hogi woh...
Duniya jahan tu mere saaath hain
Jaha mein Jaha tu
Aur jahan bas tere mere zajbaat hain
Hogi jahan subah teri
Palkon ki kirano mein
Lori jahan chand ki
Sune teri bahon mein...
Jane na kahan woh duniya hai
Jane na woh hai bhi ya nahi
Jahan meri zindagi mujhse
Inti kafa nahi
Jane na kahan woh duniya hai
Jane na woh hai bhi ya nahi
Jahan meri zindagi mujhse
Inti kafa nahi
Maan held Geet close nd twirled her around nd Geet unknowingly encircled her hand around his neck while he grasping her waist. Geet looks into his eyes which were speaking his heart out. D words dat he wanted to say to her was said by his eyes to her.

Music...
Both remembers each nd every moment dey spend wid each other in past. Dere beautiful moments which none of dem can forget ever.
Saasein kho gai hai kiski aahon mein
Mein kho gai hoon jane kiski baahon mein
Manzilon se rahe dhondte chali
Aur kho gai hai manzil kahin rahon mein
Kahin to kahin to hai nasha
Teri meri har mulakat mein
Hoton se hoton ko
Chumti o rehete hai hum har baat pe
Kehti hain fiza jahan Teri zaameen aasman
Jahan hai tu Meri hasi meri khushi Meri jaan...
Geet tried hard not to lose herself but she failed nd all she can do is to get lost in d moment. Maan slowly turns her around so dat her back faces his front. He slowly encircle his hand around her waist bringing her more close to him so dat her back touches his chest.
Lost in d moment Geet rested his head on his shoulders nd closed her eyes to feel d intensity of d dance. Maan just wished to stay like dis forever, wishing d tym to freeze den nd dere where his Love was so close to him.
But Alas! D moment didn't stop for longer as d music stops due to disqualification of two couples. Once again d Paper was folded nd dis tym both Maan nd Geet were standing so close to each other dat dere's only mm of space was between dem
Music...
tu hi haqeeqat khaab tu,
dariya tu hi pyaas tu
tu hi dil ki bekaraari tu sukun tu sukun
jaau main abb jab jis jagah paau main tujhako uss jagah
saath hoke na ho tu hai rubaru rubau
tu hamsafar tum hamkadam tu hamnawa mera
tu hamsafar tum hamkadam tu hamnawa mera
Geet's one hand is in Maan's strong hand while another around his Neck. Both were lost in each others eyes. Maan slowly swirls her around nd places her one arm around his neck while he places his one arm around her waist nd dey both started grooving acc to d music.
Geet was totally oblivious of wat she is doing. It was Maan who Everytym takes d Lead while she just follows. She was too lost in his eyes nd moment to think anything rational.
Maan slowly puts all her weight on his hands nd twirls her around

nd den gently puts her down. She felt his hot breath on her neck while he was droping down her nd strangely she was liking d proximity between dem.
The song stopped again nd once again 3 couples r disqualified. But dat doesn't seems to budge Maan nd Geet as dey were lost in dere own world. Nw only two couples were left on d Dance Floor. Our Maaneet nd another random couple. Once again d paper was folded nd couples have to stand on d paper. D paper has become so small dat it was difficult to even stand on it den forget about Dance. But dats wat d game is. Maan nd Geet were so close to each other dat even a thread has to struggle hard to pass thru dem.
Music...
Tujhe main pyar karu
Aur itna pyar karu
Tujhe main pyar karu
Aur itna pyar karu

Ke jab talak mein jiyu
Sirf tera intezaar karu
Tujhe main pyar karu
Aur itna pyar karu.
Maan places both his hand around her waist nd held her close to him while she places her hand around his neck nd dey both started moving according to d music. He slowly swirls her around nd bends a bit backward while bending her wid him.
It seems like D Song was made for dem as dey both sways acc to Lyrics. Geet Reminds of Deeps Words nd it again sends shiver down her spine. She can't imagine in her widest Dream to see Maan ever in dat state. Drops of tears flown from her eyes nd unknown to herself she hugged him to ensure dat nothing will get wrong wid him. Maan hugged her back. He can feel her tears but couldn't understand wats boithering her so much.
For others it can be just a Dance step but only both of dem knows dat its not just a Dance step. Its much more den dat. Maan slowly Scoops her up in his arms

nd slowly bends her down like a Flower bends her down like a flower.

Geet felt his warm breath on her throat nd sumwhere it was soothing her too. His closeness was reducing her fear of anything getting wrong wid him.
Music...
Hooo... Haayy... Hooo (guys its d Ending music. I edited d Song)
Maan slowly brings her back on d Ground wif his hands still on her waist while her hands resting on his shoulders. She was lost in his arms while he was lost in her eyes which were expressing numerous expessions to him. The song stopped long back but dey stand over dere rooted lost in each other unaware of d sorroundings.

A huge round of applause brings both of dem to their senses nd dis is wen dey realize dat d song has stopped long back nd dey r still standing close to each other. Dey slowly gets parted from each other nd Deeps came to dem almost running wid a smile on her face. Ashish too joins dem. Deeps quickly hugged Geet to share her excitement.
Deeps: OMG Geet! I knew it. only u both can make it up to it. O God! M so happy.
She said nd pulled back only to find a confused expression on her face.
Deeps: Wat? Dnt say dat u didn't realize till nw dat u nd Maan r d Winner.
Geet: Winner?
Deeps: Yes Geet, Winner. D song has stopped long back nd d couple competing u was disqualified also but u two r so lost in each other dat didn't even realize dis.
Ashish: U knw Wat? Deeps to Starting me hi keh rahi thi dat only Maan nd Geet will be d winner nd see it comes true (he turns towards Maan) Really u guys r truly made for each other nd dis has been proved again.
Maan just smiles nd slightly nodded nd looked at Geet. D waiter gives mic to Deeps to announce d winner.
Deeps: So I think Guys, we dnt need to know who is d winner tonight right. its none other den Maan nd Geet.
Whole crowd gives a huge round of applause for dem indicating dere happiness.
Ashish: So without any doubt d title of "Perfect Couple" goes to Maan nd Geet.
He says nd handed over a gift to both of dem. Photographers clicked dere picture together to save dis moment. Everyone is congratulating dem except one person who was burning in jealousy nd unknown rage towards dem. it was Rahul who was not able to bear closeness towards dem. it was not like he was in Love wid Geet. The emotions he had for Geet was purely Lust but someone else touching to her except him, someone else being so close to him except him was unbearable to him. Nd even Geet seems to be so comfortable wid him. he noticed both of dem during whole dance only to find dem lost in each other like dey both belonged to each other. Yes it was true he rejected Geet once but dat Geet was different from dis one nd wen nw he saw dis Geet he cant let her go so easily not atleast after feeling her once. An evil smile crept on his face just by d thought.
He goes towards dem too to congratulate dem but none of Geet nd Maan actually wants his wishes.
Rahul: Congrats Mr. Khurana nd Ms. Geet. It seems dat u both r truly made for each other.
He said sarcastically but Geet didn't liked his way. She just wanted him to get off from here. Maan understands her expressions nd decides to handle it himself.
Maan: Thank u so much. Nd it was a saying dat truth lies in d eyes of person seeing. So if in Ur eyes we r made for each other den ofcourse we r made for each other. So nw if u pls excuse us den can we go.
Rahul: Sure
Maan: thanx. Let's go Geet.
He said nd dey both headed to d direction where Deeps nd Ashish were standing. Rahul just gives a lusty glare to Geet nd den headed towards Bar.
************************************************
Rest of d function went well nd slowly slowly every guests started departing. Maan nd Geet too decided to leave so dey goes towards Deeps nd Ashish to say bye to dem.
Deeps: not fair guys! Anniversary humari thi nd saari limelight tum dono le gaye. But u knw wat, it's ok. M happy for both of u.
Maan: thanx Deeps. But nw I think we should take ur leave. Its getting late nw.
Ashish: Ok we dnt stop u guys. But thanx for taking some hrs for us from ur Precious Tym.
Geet: hey no Thanx between Friends Ashish. U forget our rule.
Ashish: ok baba I take my Thank u back.
Geet: dats better. Chalo Bye guys. It was really nice meeting u after so many years.
Deeps: same here Geet. but nw be in touch ok.
Geet: sure. Bye Deeps
Deeps: bye.
Dey both hugged each other nd Maaneet went outside d hall. Suddenly Geet reminded of sumthing.
Geet: Maan, u wait for me in d parking. I'll be rite back.
Maan: wat happen Geet? any problem?
Geet: no nothing serious. I'll be back soon.
Maan: ok cum soon.
He said nd she headed inside quickly to catch Deeps.
Geet: Deeps!
Deeps: Geet, wat happen?
Geet: I want to meet Preeti
Deeps: but...
Geet: pls Deeps.
Deeps: ok tomorrow m going to see her at 10 am. U also cum wid me.
Geet: ok. I'll meet u outside my hotel.
Deeps: ok. I'll cum dere to pick u up
She said a final goodbye to her nd headed towards outside nd almost bumped into someone nd to her utter disaapointment it was again Rahul.
Rahul: I knw Sweetheart u can't stay away from me but I was not knowing dat u'll cum so soon
Geet: Shut up Rahul!
Rahul: ooo! Attitude ha! I like gals wid Attitude. BTW where's Ur Bodyguard? He's nt wid u rite nw?
Geet: Maan. His name is Maan Singh Khurana nd if he want he can make 100 peoples like u his bodyguard so think before u speak anything like dat for him nd dare u say anything ill about him. I was tolerating ur misbehaviour till nw because I dnt want to ruin my friend's special day but nw if u say any word against him den I wont tolerate it anymore.
Rahul: oh! Itna bura laga tumhe. Waise wat he's to u? Aisa kya rishta hai tumhara uske saath dat u can't listen a word against him. Scene kya hai Geet? (he said naughtily)
Geet: Mere aur Maan k beech me kya hai wo main tumhe ache se samjha sakti hoon but a cheap person like u who doesn't knows d meaning of true Love cant understand it so its better for u to stay away from me nd my lyf. Got it!
She said nd left from dere by giving a last angry glare to him. Rahul looks at her retreating figure nd smiles evily
Rahul: Not so soon Geet. Till nw I was not knowing anything about u but nw as I find u nd dat too more attractive den before den I wont let u go so easily. Sooner or later u had to cum into my arms by hook or by crook I'll make u mine.
He smiles nd leaves towards his car.
Phew! finally done. So do is it guys! Hope u all going to like it dis tym. u knw wat m really nervous for dis part because m a big tym disaster in writing Dance sequences. God knows wat i had written nd hw. so pls let me knw guys hw u all like dis part. i really hope i didnt disappoint u all dis tym. Hit d like button if u all like it nd do leave ur Comment/criticism its necessary
Credit of Pics Goes to:


Shruti Di nd her creation i.e.
Truly Magical Maaneet Land
Do check dis post guys u'll get awesome Maaneet's collections.
ok nd before i forgot here's my B'day cake for all of u. enjoy guys!
Luv Aakriti


Edited by aakritisri1111 - 24 December 2011 at 12:34am