Some this really stinky got in to my nose and I felt suffocated '.it was dam stinky ''.
When I opened my eyes found my self between so many horses , they were tall muscular strong once 'I stud up and looked around to get any sign of human clan '.but didn't found any'.pout
I stud up stretching my muscles which were almost jam with cold'.gosh itne sare horses ka ye log kerte kya honge'
"Maineu ki'hehehehe"'.
He sat on a wooden block and started looking around in boredom. Unknowingly he put a grass stick in his mouth and started chewing it'..
Pov '
Ok toh mai wo book read ker raha tha, fir that book swallowed me, fir I found myself here on this mystery land, fir I was arrested by the so called army of the king, his evil wife was checking me out by her hurngry eyes'ewww
And than I saw her my love my life aur the next moment m here in this yucky place'oh I forgot for what m sended here'..ohhh shiittt'.i have to train a freaking horse omm'(oh yaah it means oh my mommy;) coz god chossed to be rival side of me)
He turned to look the horses with a puppy face'.he sighed loudly which resuled a big gush of air coming out of his mouth vibrating his lips'
Horses who were busy eating their fresh grass showed their big dirty tooth as if laughing on her'.he pouted and gave a confused look, horsed cocked their eyes brows on him'.and he smiled sheepishly 'hehehe
As he realized what he was doing'
"oh I wasn't coping u, I was just sorry'.."'..he gave a foolish grin'.
"itni si der me I had started behaving like them kuch der inke sath aur raha toh mujhe bhi chalne ke liye char pairo ki jarurat hone lagegi'"
Those horses glared on him'to which he turned his face to other side'talking to himself..
Ar ' ab mai kya karu yaar kaise bachau apni jaan'.aur apni jaan..(he thought of ridzz..and smiled dreamly') ko'hayeee
A voice broke his Terrence
V ' koi nachi bacha sakta tujhe, humare king toh ache per unko behkane wale bahut log hai iss mehal me khasker our evil queen'
Armaan turned to see who it is..and again got a bigger shock'.
Ar - attulll tum
The guy made confused face'
Man ' mera naam atull nahi atulio hai'
Armaan was looking at his face with cocking eyes.."shakal toh wahi hai per naam ko remix ker diya'" he said to himself'
Ar ' ok ok atulio mere bhai tum yaha tumne bhi wo story book padhi kya'
He asked with a innocent face'..at this atullio made a confused face..
At ' kaun si book yaha itna kaam para hai aur tumhe kitab ki pari hai'
Armaan made a cute puppy face which melted atullio
At ' chalo jane do ye batao naye ho yaha
Armaan nodded'.
At ' thik hai samhal ke rehna iss kingdom me kuch bhi ho sakta hai
Ar - matlab'
At ' iss kingdom me kabhi her taraf khushali thi, king hum sab se bahut pyar kerte the aur bahut khayal bhi rakhte the, per fir ek din king ne dusari shadi ker li'aur sab badal gaya, suna hai wo ek evil jadugarni hai, haan aur use king per jadu kerke use shadi ki hai ab humari princess ko maar ker iss kingdom ko hassil kerna chahti hai'.
Armaan was shaken from inside just hearing his love to be killed'
Ar ' mai aisa kuch nahi hone dunga'
At ' kyaaa
Ar ' kuch nahi tum kya bata rahe the'
At ' aur ek baat guards yaha rounds lene aa rahe hai toh jaise hi wo aaye toh khare ho jana aur apna ser mat uthna werna wo kaat denge'
Ar ' wttt
He was scared hearing that'
Army men came and he stud with the jerk looking down'."armaan beta yaha toh sab tere ser ke piche hi pade hai'kaise bachayga tu apni princess ko'"
Man ' why r u sitting here go to the ground, macho has been already sent there go and train him or'.
They laughed evilly and left'
Armaan was staring their retreating back with a puzzled expression and then spoke to atullio..
Ar ' tum kyu nahi kare hue unhe dekh ker tumhare relative lagte hai kya
He asked in a sarcastic voice'.
Atullio huffed'
At ' mai baitha hi kab tha jo kara hounga'
Armaan turned to him'he checked him head to toe'on which atullio glared him'
At ' what life me pahle bar dwarf dekh re ho kya'
He was more than shocked to say any thing just diverted his gaze from atullio'."gosh baki ka atull lagta hai wahi reh gaya ye toh adhe se bhi kam hai'.what the'. I swear mai apni life me AISA NAHI HO SAKTA KABHI NAHI KAHUNGA coz in my life kuch bhi ho sakta hai'."
AT ' kya soch rahe ho'..in this kingdom pahle hum sab dwarf bhi normal logo ki tarah khushi khushi rehte the per that evil queen dsnt like us a bit so hume city se door jangle me ja ker rehna perta hai '
He told armaan sadly'.
Ar ' why'.she hates u guys'.bro
At ' coz its saying ki witches ka magic dwarfs per work nahi kerta'.
He said with a deep breath..and left aftr telling armaan the way of the main ground'
It was early ,orning near about 6 am'it was slight chilly weather 'the morning breeze made him shiver, he squeezed him self crossing his arms against his chest'but his lose shirt was no help'
He was walking looking down taking deep breaths '.a cold breeze touched him making his every joint tremble with its power'shivering badly he lifted his face to have a look if there is any sign of sun any where'but his sight glued with the beautiful view in front of him'
There was she standing on a huge window of her palace, wearing a pink gown I think from that far it was looking like one'.he was standing at least 5 meters away from her, she was standing with another girl'he tried to she her face and shoke his head on his faith it was anjali jueess "kahi mai pagal na ho jau'"
"Mmm she is looking like her friend or princess's helper I guess'"
He tried to figure out, the cold was long forgotten by him and he was just busy staring his love who's sight was providing his heart the much needed warmth'
Ajj Din Chadheya
Tere Rang Warga
Ajj Din Chadheya
Tere Rang Warga

Phul Sa Hai Khila Aaj Din
Rabba Mere Din Yeh Na Dhale
Woh Jo Mujhe Khawab Mein Mile
Use Tu Lagede Abb Gale
Tenu Dil Da Vasta

He was smiling dreamily flashing his cute dimples'she saw him...when anji nagged her'firstly she tried to figure out who is he, and why is he ogling on her like this'.she smirked raising her eye brow'..seeing his goofy smile. From that far she wasn't able to understand his features clearly, both were trying to look each other clearly'.
Rabba Aaya Dar De Yaar De
SAra Jahan Chod Chad Ke

Mere Sapne Sawar De
Tennu Dil Da Vasta

Ajj Din Chadheya
Tere Rang Warga

Baksha Gunaho Ko
Sun Ke Duwao Ko
Rabba Pyaar Hai
Tune Sab Ko Hi De Diya

Meri Bhi Aahon Ko
Sun Le Duwao Ko
Mujhko Woh Dila Mene Jisko Hai Dil Diya
And then she smiled seeing him tip toeing to see him'"does he this by tip toeing he can see this far.." the both girls giggled which made armaan frown cutely'.she find this so cute'"aweee"
Aasmaan Pe Aasmaan Uske De Itna Bata
Woh Jo Mujhko Dekh Ke Hase
Pana Chahun Raat Din Jise

Rabba Mere Naam Kar Use
Tenu Dil Da Vasta

Ajj Din Chadheya
Tere Rang Warga

Manga Jo Mera Hai
Jata Kya Tera Hai
Mene Kaun Si
Tujhse Jannat Manga Li

Kaisa Khuda Hai Tu
Bas Naam Ka Hai Tu

Rabba Jo Teri Itni Si Bhi Na Chali

Haaanaaa
A guard came from his behind and tapped his shoulder'she again gained her princess posture, he was busy to understand why she stopped smiling it felt so soo good'.he brushed guard's hand with out turning '.it was very hard for princess to controlee her laughter, guard patted again and he brushed his hand again, it took all her mights not to giggle loud seeing him 'frowning like this.
Manga Jo Mera Hai
Jata Kya Tera Hai
Mene Kaun Si
Tujhse Jannat Manga Li

Kaisa Khuda Hai Tu
Bas Naam Ka Hai Tu

Rabba Jo Teri Itni Si Bhi Na Chali
LyricsMasti.Com

Chahiye Jo Mujhe
Kar De Tu Mujhko Ata

Jeeti Rahi Saltanat Teri
Jeeti Rahe Ashiqui Meri

Dede Mujhe Zindagi Meri
Tenu Dil Da Vasta

Rabba Mere Din Yeh Na Dhale
Woh Jo Mujhe Khawab Mein Mile
Use Tu Lagede Abb Gale
Tenu Dil Da Vasta

This time guard shacked him badly and armaan looked at him horrified..he was big black and scary'..and was glaring him with popping eyes'
Guard.. "here is the horse whom u have to train'do it fast or m ready to cut u in two parts'"
Armaan's eyes widened in horror and he nodded his head'before going he turned to see her , she was standing there with no expression but that naughty glint was not leaving her eyes alash from that far he couldn't observe that.. 'and he pouted cutely'.it was so hard not to smile seeing him pout cutely but some how she controlled her self'but it was so difficult and the he was looking was making it more difficult'..she bit her lower lip in the process to controle her smile'the guard dragged him'
And the second guard dragged him she couldn't controle more the corners of her lips curled automatically and she bust in to fits of giggles '.
Rabba Aaya Dar De Yaar De
SAra Jahan Chod Chad Ke


Mere Sapne Sawar De
Tennu Dil Da Vasta

Ajj Din Chadheya
Tere Rang Warga

Ajj Din Chadheya
Tere Rang Warga

Ajj Din Chadheya
Tere Rang Warga

Din Chadheya

Tere R
Ajj Din Chadheyaang Warga


She was still there to see what he will do'.it was a big white horse..armaan didn't saw a horse like this before'.he was amused seeing this creature'"wow it is so beautiful man'.hemm meri princess ke layak.."
He straightened his collars and folded his sleeves'.one turning to her and giving her m superman look he tried to ride the horse, after few attemts he sat on its back..and trued to look her he grinned brightly on her..and she gave a small smile'
Anji - hye princess ready for the show'
She whispered and ridz nodded smirking ' armaan tried to move the horse by stoking its back'.horse groaned loudly and ran like a wind throwing armaan on floor..
Both the girls laughed whole heartily ''armaan looked at them red with embarrassment'.he stud up cleaning the mud on his back'
Taking a deep breath he went to the horse again'"ab toh kerna hi padega izzat ka sawal hai yaar.."
He looking at the girls who were still giggling '.he went to the horse patting lightly his back and soothing its skin near the neck ..the horse felt so good.
He whispered something in its ears 'the girl get curious what he is doing'
After that he again sat on its back and took a deep breath '.
Their mouths were left open in a shape of O..and were amazed seeing how beautifully he was riding that horse who dsnt let any one sit on his back more than 5 sec'.
He took two rounds of the whole field while others were staring at him shocked'..he stopped below the window where she was standing.
He came down and bow downed for her'she smiled lowering her eyes'
He asked her to come and take a ride in sign language '.she smiled and accepted his gesture'she left the window and came down with anji and some other guard ''
She smiled whole heartily seeing her, she looked down slightly blushing '.
Which make his dimples deep in his checks 'she looked at him '."god he looks so handsome and those dimples I really wana poke them, his perfect body and greek god features were making him more irresistible'
He forwarded his palm to help her ride the horse
When their hand touched they both felt current ran down their whole body which make them shiver'they both were glancing each other by corners of their eyes'
He made her sit comfortably and himself took the hold of horse's belt'
''''''''''''''''''
In an other part of the palace'
In a big room queen was standing in front of a huge mirror '..she murmured something and the mirror became alive '.she asked..
Q .."mirror mirror on the wall who is beautiful above all.."
The face in mirror smirked .."its princess snow white.."
The evil queen burned in anger and was about to broke the mirror when it spoke again'"u will get nothing breaking me, is u wana be the one go and kill her .."
Queen smilled wickedly .."hemmm I will kill her than I will be the most beautiful women in this world.."
And she laughed her evil laugh'..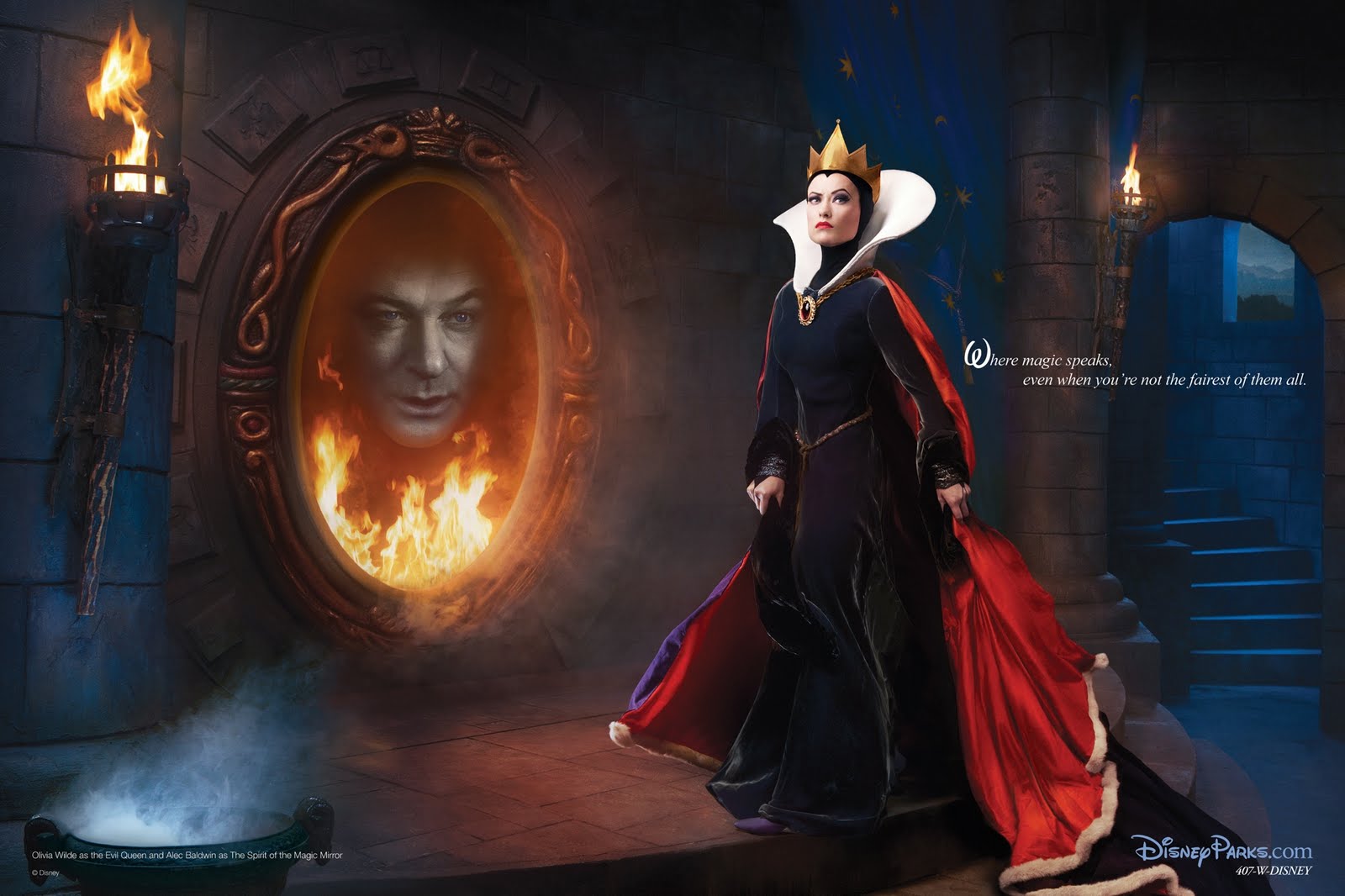 Fewww done do leave ut comments and press the like tab plzz
Hope u enjoy and sorry have exams this week so will update my other ffs after that'
Urs ishka