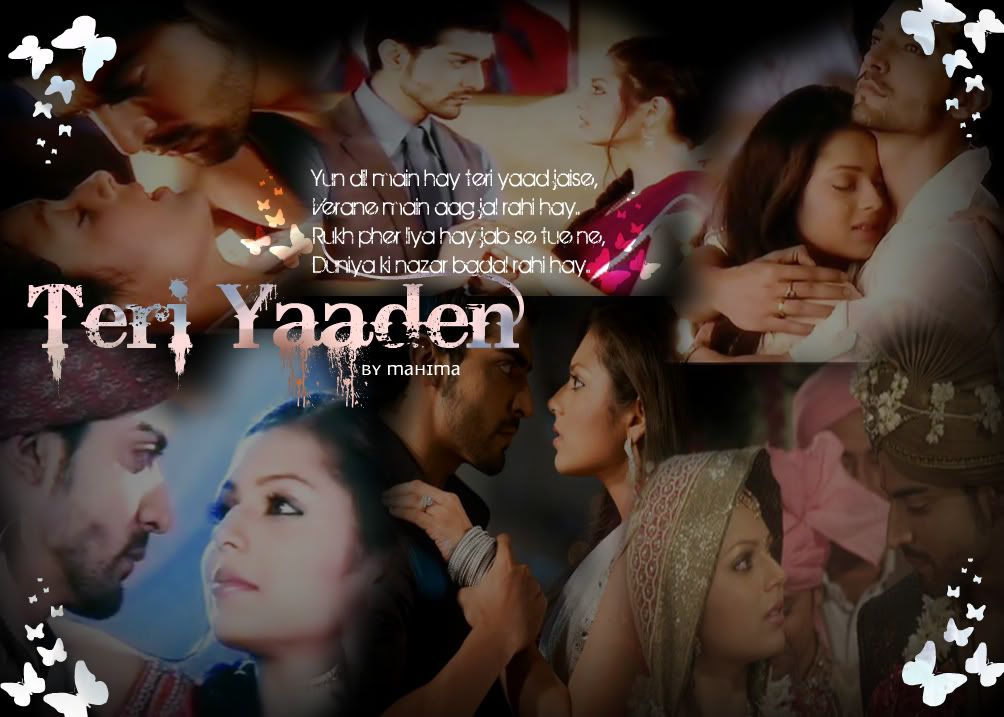 PROLOUGE
She was his sweetheart.. his jaan.. his geet.. his everything. And he was her life.. her dusht danav.. her maan.. her identification. She was if he was was. And he was hers. the man for whom the whole world craved was hers.. only hers. She remember the day when they became one. Ek jism aur do jaan. She remembered how she used to blush when he touched her. How her whole body used to shiver when he kissed her. How he used to make her lost in their own world. How he had made her Geet Maan Khurana. She shied with the bare thought. Her face turned red as a smile touched her lips. She was smiling after so many days. But it seemed ages to her. Dadimaa smiled seeing a smile on her face. But it soon faded away as she got lost in her own world of her thoughts.

I miss ur presence.And its deeper than having ur physical body near me.. I can see u.. but u r so far away from me. My soal yearns for u. I want u around me as u used to be, always taking my care. Its not just that I want to hear u talk to me. I can even be happy in that silence which used to prevail when we were together. Seeing life in u.. feeling u.. feeling ur soal is what I want. Why do I feel as if I have nothing inside. as if my soal.. my heart.. & u.. everyone has left me. I miss my soal.. my heart. I miss u. My soal can't stand this separation anymore. It yearns for u. Its not my soal that is separated from me.. its me who is separated. I have become a living dead body. I'm shattered inside. I remember how I felt whole.. complete with u. But now I feel so empty.. my everything is snatched from me. I had faith on god.. I still have.. but now I have become weak.. fragile.. so vulnerable. I remember I told u "enjoy the longing that is a lovely way to experience our heart connection". But now I truly understand when there is no heart how cud I feel connected to it. It feels as if I'm hollow inside. I am completely shattered. I'm no more a strong geet.. Your geet is no more strong maan.. I'm no more strong. Plz reaturn to me maan.. plz return to me.

She collapsed there. Dadimaa rushed to her. She made her lie on the bed & called the dr. Dr checked her & gave a prescription to dadimaa. Savitridevi ji.. iss halat me geet ka is tarah se rehna bilkul theek nahi hai. I know wat she is going through but still just try to keep her away from stress.
Dadimaa- Ji dr.

Geet gained consciousness after an hour or so to find dadimaa sitting beside holding her hand.
Dadimaa- Geet bete u r ok naa
She tried to sit properly. Ji dadimaa I'm fine.
Dadimaa - Bete aapka is halat me stress lena sahi nahi hai. Plz try to understand.
Dadimaa wo..
dadimaa - Geet ham samajte hain aapki halat ko. Apni nahi tho maan aur apne andar pal rahi is jaan ki fikr kijiye beta. Plz take care of yourself.

After dadimaa left, Geet was taken back to those old days of hers. When she was in the college. When she was so naive. When she didn't knew anything abt this world. When her only world was her mama, her papa, her veerji & her best friends. But everything has changed in her life, the day he came in her life.

She loved college. Studies, friends & her everyday masti with them. She was a topper in her school. And she got admission in this college with the scholarship. In spite of her family being the richest & only royal family hailed from patiala, shifted in Delhi, she was never like others. She was different. A topper yet full time masti doing girl. She had a smile stick on her face whatever the situation be. She believed that if u have this life then why live it in pessimism, instead be happy in whatever u have. And not to miss out all boys used to drool over her. But she was never interested in all this. Yah she did believed in love. But not like this. She knew when she will be in true love, her whole world will change, her life will change. Her mama, her papaji & her veerji.. her life revolved around them. and then Khushi and parul, her best friends. They were an impt part of her life. Actually each person she met was impt for her in some or the other way. She was the fvt of her teachers. And since her childhood she had something in her, who so ever saw her just couldn't stop admiring her.

And then he saw her. He felt like an angel has descended straight from heaven to earth just for him. Love at first sight. But he didn't knew it then that how different was this love of theirs. And how will it grow and bear fruits for them in future. Actually he didn't even knew how to plant this sapling. How to nurture it. How to make it deeper & deeper. But destiny always plays its role. He didn't even got to know & she became her life.

He was the heart of his family. After his father died in a car accident, the whole Khurana Empire was left for him. Until he completed his studies dadimaa did all the business. He was the only son in the Khurana Khandan. He and his dadimaa were his only family. But then she came, and changed everything. Changed him from her dusht danav to her jaanu!!

But life wasn't smooth for them. As soon as they completed their college, all the difficulties came altogether. They were married due to media making a hype of the matter. It was not that they were not ready for it but they just needed some time, which they never got. But they loved each other & that was all that mattered. The day she got to know that she was bearing a little one inside her, she was so happy. But then everything turned upside down. She was nowhere the geet she used to be. Not strong anymore. She was completely shattered.
First a fall thanks a lot guys for all ur love and support in my first FF. I just completed 50 parts n I just can't believe it! Its all because of ur love and support. Thanku so so so much. i'm really grateful to u all.
And now that I started my new FF, the credit again goes to u all. And now I wish to receive the same love n support from u all that I received in my first FF. Love u guys.
PRESS LIKE BUTTON AND COMMENT


Edited by mahimak - 28 November 2011 at 10:34am