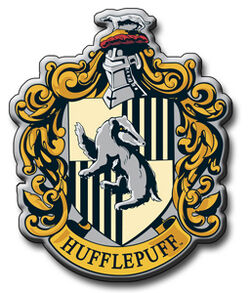 *Welcome to Hufflepuff Common Room*
"You might belong in Hufflepuff,
Where they are just and loyal,
Those patient Hufflepuffs are true,
And unafraid of toil"
---The Sorting Hat
Hufflepuff one of the four houses of Hogwarts School of Witchcraft and Wizardry. Hufflepuff values hard work, tolerance, loyalty, and fair play. The house mascot is the badger, and canary yellow and midnight black are its colours. The Head of this house is the Herbology teacher Pomona Sprout, and the house ghost is The Fat Friar.The founder of this house is Helga Hufflepuff.
The Hufflepuff dormitories and common room are located somewhere in the basement. The entrance is found behind a still life painting somewhere near the kitchens, a password is required for entry. The Hufflepuff common room is filled with yellow hangings and fat armchairs and it has little underground tunnels leading to the dormitories, all of which have perfectly round doors, like barrel tops (much like a badger sett.).
So before getting started ...lets sing along!!!


Edited by coolpratz - 01 August 2011 at 11:26am