Preeto comes to holy city
Tribune News Service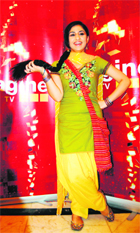 Amritsar, July 15
"In our society, families still long to have a son, however educated or advance it may be. I myself have observed in my family that my parents always regretted not having a son. My serial revolves around the same plot," said Ankita Sharma, the lead actor of "Sawaare Sabke Sapne - Preeto", being aired on Imagine channel.
During a promotional tour of the serial in the city today, Ankita said her character Preeto traces the journey of one such daughter who is an obedient and a caring sister, a trustworthy friend and a confidante. Surpassing all this, she takes up the onus of fulfilling the dreams of her family upon her slender shoulders like the son of the house.
"Sawaare Sabke Sapne - Preeto" is a story of a Sodi family, set against the backdrop of Punjab. At the head of the family is a retired schoolmaster Gangandeep Sodi, who lives with his wife Kanwal and have not one or two, but five charming grownup daughters.
The eldest daughter is Meeta, followed by Ishmeet, Manpreet fondly known as Preeto, Bani and the youngest being Sonu. With the father struggling to make both ends meet and with no son in the family to depend on, the show traces the journey of Preeto, the third daughter, who shoulders the responsibilities like the son of the family. She happily puts her own dreams on hold in order to realise the dreams of her sisters.
From taking charge of her elder sisters' marriages to the younger ones' studies, Preeto is the veritable son of the house, who does not see these responsibilities as a burden upon herself. She gracefully faces all obstacles and strives forward with her undying positive attitude and continues to shine.
An excited Ankita Sharma said, "At the risk of sounding cliche I have to admit that this is a dream role. The very fact that my character is so simple yet complex at the same time is what made me fall in love with it. It is a very challenging role and I have put in a lot of efforts to bring Preeto to life. There is a bit of Preeto in every girl and I am sure that audiences will love her. I am delighted to be here in Amritsar and am extremely thankful to the people for their love and support."
Produced by Creative Eye Limited, the serial has Ankita Sharma as the spirited Preeto along with a lineup of noted actors like Susheel Parashar, Nitika Anand, Divya Bhatnagar, Ira Soni, Devoleena Bhattacharjee and Mahima Makwana playing her loving family members.
Announcing the launch of the show, Saurabh Tewari, Head, Programming (Fiction), Imagine TV, said, "Preeto is a story for everyone. The story brings forth to the viewers several facets of a woman, who not only supports her family financially, but also be the emotional anchor for everyone. It is a powerful story of self reliance, determination and family values told in a simplistic, real and light-hearted manner. We are optimistic that with this show we will get the entire family together in front of the television, every evening."
Source:http://www.tribuneindia.com/2011/20110716/aplus.htm#9