3 blasts reported from Dadar west , Colaba n Zaveri bazaar...When will this stop and why are there no strict measures against the culprits ...people like afzal guru ...kasab are still having a good time



Three blasts in Mumbai, 10 dead, 100 injured
NDTV Correspondent, Updated: July 13, 2011 21:00 IST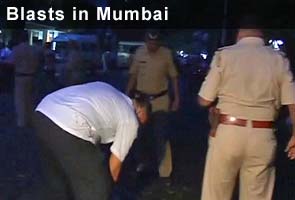 Mumbai:
In a seemingly coordinated attack, three explosions took place in Mumbai on Wednesday between 6.30 and 7 in the evening - two in South Mumbai at Opera House and in Zaveri Bazar and one at Kabutar khana Dadar West, in central Mumbai. The Home Ministry has confirmed a terrorist attack and Mumbai has been sealed and is on high alert.
Union Home Minister P Chidambaram said ten people had been killed and at least 54 injured.
Mumbai Police sources say the Indian Mujahideen (IM) is suspected to be behind the attack. In Delhi, Home Ministry sources too say that the hand of the IM working closely with the Lashkar-e-Taiba is suspected.
Two members of the IM were arrested in Maharashtra yesterday by the Maharashtra Anti-Terror Squad. However, sources confirm there was no intelligence alert or input that warned of today's terror attack.
(Read)
Police said the blast at Zaveri Bazaar was of the highest intensity and 25-30 people had been injured there. The blast took place in an umbrella kept at the crowded
Kahu Gali
, a street of eateries.
(Watch: Eyewitness accounts of the blast in Zaveri Bazaar)
All blasts took place during rush hour and in crowded places. The Dadar West explosion took place in a car . A police officer said the Zaveri Bazaar blast may have been triggered in a meter box. The Opera House blast took place at Prasad Chamber.
Dadar, a middle class area also houses the Shiv Sena Bhawan and the famous Shivaji Park. The Home Ministry has said that Improvised Explosive Devices (IEDs) were used.
(Read: Find out who is behind the blasts, Shiv Sena tells Govt)
There were also unconfirmed reports of an unexploded bomb being found in Dadar and a bomb hoax in Santacruz.
Early reports said a police control room had received a call claiming that there were serial blasts in Mumbai.
A National Investigation Agency (NIA) Team has rushed to Mumbai from Delhi to investigate. A National Security Guards (NSG) team and forensic experts have also been airlifted on a BSF plane and are bound for Mumbai. The police have appealed for calm.
Zaveri Bazaar has been hit before - over 50 people were killed in twin blasts in 2002.
Malls, markets and other crowded places in Delhi, Chennai and Bangalore are on high alert


Edited by rdfan - 13 July 2011 at 9:36am