B
ollywoodhungama.com

By Joginder Tuteja, July 29, 2011 - 10:18 IST
EXPECTATIONS
It's the wave factor. When the going is good, everything starts seeming great. And when the packaging is right, you expect the end product to be excellent. You want things to work. Period. And this is where the core strength of 'Bodyguard' lies. With
Ready
,
Dabangg
and
Wanted
behind him, Salman is having everything going his way. So when he ropes in Himesh Reshammiya to compose music for the film and has Kareena Kapoor for company, you brace yourself to listen to a chartbuster soundtrack. Add to that Katrina Kaif's presence for an item number and you know that this album will certainly get a 'huge opening'!
MUSIC
It is a Rajnikanth beginning for the album with the title song '
Bodyguard
' composed, written and sung in the same way as the Superstar is introduced in his movies down South (save a
Robot
which didn't start on a characteristic note). Nevertheless, this Shabbir Ahmed written track has chartbuster written all over it with the kind of lyrics that amalgamate on and off screen image of Salman to perfection. So while he is referred to as 'bhaijaan' and a 'true Indian', even Salman makes a brief appearance with his trademark dialoguebaazi. 'Band of Power' gives further voice to the song which surprisingly doesn't have a female voice even though Katrina would be gyrating to the thumping beats that take this Himesh Reshammiya composition further. As is the case with every track in the album, this one too has a 'remix' to boast of.
There is a twist in the tale soon after with guest composer Pritam bringing on a softer tune with '
I Love You
'. Now this is the kind of a romantic melodious number that takes one back to mushy old days of Salman when he had quite a few such numbers to his credit in films like
Kahi Pyaar Na Ho Jaaye, Har Dil Jo Pyaar Karega
and
Chori Chori Chupke Chupke
. However there is a nice Pritam touch to it as well as he adds his own bit to remind audience of the kind of sound that they expect from an Emraan Hashmi track. Hear the middle of the 'antara' portions and you would find the reference points. It is also good to see Pritam experiment with relatively new singers like Ash King and Clinton Cerejo who do quite well to make this Neelesh Misra grow after a couple of hearing. The song is further repeated in a 'remix version' with the same pair of singers though for the unplugged version it is Shaan who takes the centre-stage.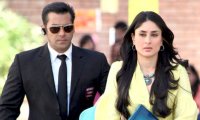 The way '
Desi Beat
' begins, it all sounds like a quintessential Punjabi dance number to begin with. In fact for the first couple of listening, this Himesh Reshammiya track seems like a regular number that doesn't quite break any new grounds in its structuring, lyrics or singing. However once you have heard it again in the 'remix' as well as 'Punjabi hip hop mix' versions, it starts coming on it's own as one settles down to the mood and rhythm of the song. Expectedly both Mika Singh and Amrita Kak are pretty energetic behind the mike for this song that also has a brief trumpet portion that gives homage to '
Tum Kya Jano, Mohabbat Kya Hai
' from
Hum Kisise Kum Naheen
. This is one of those songs that are elevated further due to star power and with Salman at the helm of affairs, one can be rest assured that he would make it further special.
The best is reserved for the end though with '
Teri Meri
' being not just the best of the enterprise but also one of the top songs to have been released this year. This is the kind of song that one terms as 'lambi race ka ghoda' as it it has in it to be heard for months at stretch. A love song with a tinge of sadness to it, Shabbir Ahmed written '
Teri Meri
' is sung by Rahat Fateh Ali Khan and Shreya Ghoshal with their heart as they bring in the kind of pain that the protagonists must be feeling on screen. In fact with this number Himesh Reshammiya makes one all the more miss him as a composer as a few more songs like this would definitely made Bollywood musical scene much better than what it is today. The very fact that the song appears again in a 'reprise', 'remix' and a 'Theme-Instrumental' version is all the more reason to feel truly satiated.
OVERALL
The music of
Bodyguard
has in it to be hugely popular amongst audience as it has everything for everything. For the lovers of conventional music there is '
Desi Beats
' while for Salman's fans there is the title track '
Bodyguard
'. And then for those who are hunting for melody which boasts of a much longer shelf life, there is '
Teri Meri
' and '
I Love You
' (by Pritam) which are all set to rule the charts in days to come. For all these years if composer Himesh Reshammiya was indeed waiting for the right album to make a comeback then well, this is it!
OUR PICK(S)
Bodyguard, I Love You, Desi Beat , Teri Meri
[Play Songs]
Sukanya Verma feels Bodyguard's music is very average, as it tries in vain
Salman Khan is
Ready
again. This time as
Bodyguard
.
Indeed, a remake of yet another South Indian, Malayalam to be specific, hit film of the same name. Only it's not Ayesha Takia [
Images
] or Asin [
Images
] but Kareena Kapoor [
Images
] he's sworn to protect in this unabashedly of/by/for Sal-Man vehicle.
Oddly, there's not much time for song 'n' dance in this Siddique-directed romance masala with only four tracks and numerous remix versions scored by Salman's ertstwhile regular, Himesh Reshammiya [
Images
] to Shabbir Ahmed [
Images
] and Neelesh Mishra's lyrics.
The soundtrack opens with
Bodyguard
to bellow out the merits of the self-proclaimed saviour against Reshammiya's
dhinchak
overload. The attempt to recreate another
Dhinka chika
is so explicitly obvious; it's almost pathetic to see the ploy fail.
Perhaps it's the absence of a saucy Amrita Kak and Mika or the presence of Salman recycling the familiar formulaic pattern, verbal swagger et al, Mujhpe ek ehsaan karna, ke mujhpe koi ehsaan mat karna. Most Wanted, anyone? The remixed edition doesn't do anything more dramatic with this already heaving racket of a track.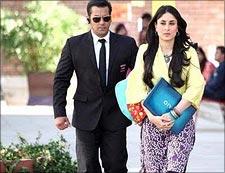 Putting a stop to the blaring tempo of the title ditty is composer Pritam [ Images ] to the rescue. No wonder, I love you makes such an affable impression in comparison. A smooth play of harmonica blends seamlessly against the upbeat vocals of Ash King and Clinton Cerejo even as the laid-back I love you works its magic that deserves a sweet if not spectacular rating.
A remix follows, doing the usual -- playing up the arrangement in a concurrent rhythmic mold, that's, truth be told, plain unnecessary. Shaan [ Images ] offers a pleasant surprise with his unplugged rendition of the same, which is quite easily the winner of the lot.
Dhinka chika duo Mika Singh and Amrita Kak are not so AWOL after all. The flamboyant singer team collaborates on Desi beat, lending their brand of verve to whip up one vibrant bhangra cocktail. The comical 'tyaon tyaon' chorus chunks and high-strung energy of this Reshammiya concoction sits favourably in its leading man's predilection for playing to the gallery. Other than the mandatory remix, there's still another interpretation with Mika making way for Alam Gir Khan bringing in further rusticity and zing to The Beat.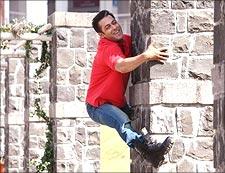 Finally, there's Rahat Fateh Ali Khan [ Images ] and Shreya Ghosal [ Images ] contributing the so far romantic soundtrack its share of melancholy with the high-pitched despair and lamentation of Teri meri. It takes Khan and Ghosal's collective credibility, skill and input to make a song out of Reshammiya's otherwise standard, banal tune. Oh yes, remix and unplugged avatars of this one are available too.

Giving Salman Khan's [ Images ] clout at the moment, Bodyguard could well benefit just as well.
Box office possibilities aside, the soundtrack is not write-off material but nothing to write home too with only awful, average and alright on its menu.


Director :
Music :

Lyrics :

Starring :
Siddique
Pritam and Himesh Reshammiya
Shabbir Ahmed and Neelesh Misra
Salman Khan, Kareena Kapoor, Mahesh Manjrekar, Shatrughan Sinha, Aditya Pancholi, Hazel Keech, Rajat Rawail, Asrani, Katrina Kaif, Raj Babbar, Mohan Kapoor, Himani Shivpuri

---
The music album of
BODYGUARD
does carry huge expectations as it is the comeback for the once numero uno composer-singer Himesh Reshammiya, who has delivered some chartbusting as well memorable love songs for
Salman Khan
in films like PYAAR KIYA TO DARNA KYA, TERE NAAM and KYON KI. While Himesh has been absent from the music scene for quite a while as had quit composing for other actors (except himself) and it was quite a waste of a musical talent like Himesh and so it's good news to see him back to composing for other actors as well and especially to Salman Khan who had given him his first big hit. With Salman Khan ruling box-office after hits like WANTED, DABANGG and READY, we are sure that this album will provide Himesh with the perfect comeback vehicle. And also with the numero uno composer Pritam coming in for a guest track one can indeed look forward to a great album, so let's move on!
The first song, "Bodygaurd", introduces the lead protagonist and can be labeled as the title song which is rendered by Salman Khan and the Band of Power. However, without doubt the title track is a disappointment as the net result is a pedestrian effort with a 'khichdi' tune that appears to be very heavily inspired by "Ringa Ringa". What one expected was heavy duty stuff like the DABANGG title track or even a la
SINGHAM
. The song has an unusual or as one might add a novel start with an announcement that a film called BODYGAURD is releasing this Eid, and it has a very good title track and then comes the Salman Khan monologue,
"Mujh par ek ehsaan karna ke mujh par koi ehsaan na karna"
. It's mainly a chorus song that will naturally be used as a background score, especially during the action sequences where the heroics of the bodyguard is shown as he is required to save the damsel in distress. The lyrics by Shabbir Ahmed too are slightly kiddish but they do manage to do the needful; that is to convey the theme of the movie and list out the character of the main lead and relies more on Salman's on-screen persona. Will be
appreciated by those countless Salman Khan fans!
The remix version called the "Title Track Remix" is a tad better than the original and the arranger needs a pat on the back for making it spicier and more peppier.
If you have missed Salman and his sugary sweet romantic side during his latest hits- WANTED, DABANGG and
READY
, he is back and how! And helping him in this endeavour is the guest composer, melody king, Pritam, who delivers an ace in the form of "I Love You", rendered effortlessly and beautifully by Ash King along with Clinton Crejo. While Pritam's detractors might call it a rehash of his previous memorable love ditties but this is not the typical trademark Pritam style composition (except of course in the 'antara') as melody reigns supreme here and the very gentle soft tune comes as a whiff of fresh air that is bound to conquer the hearts of the die-hard romantics as well as those who have an ear for good music. Lyrics by Neelesh Mishra are very good and light on the ears as well.
"I Love You" remix version was not needed, but who minds listening to an absolute gem of a song in a more racier tune with lovely background crooning.
Shaan is absolutely delightful in the "I Love You" unplugged version, and the composer deserves kudos for making this a totally new enchanting fare as much effort has been put in to make the arrangements different. More of electronic flute, guitar and harmonica dominate proceedings.
ApunkaChoice.Com
Bodyguard songs lack punch
By Usha Lakra
Thu, Aug 04, 2011 13:51:01 GMT

His Dhinka Chika is still hot on the charts and the radio stations continue to pipe in Character Dheela in loop. So one expects the songs of another Salman Khan starrer to capture people's fancy. Obviously, if the tracks are really good then there's no stopping them.
That's right.
Bodyguard
is Salman's next release, and till now we were fed only with the song
I Love You
, which is created by Pritam, and the rest of the tracks (with
Himesh Reshammiya
in charge) too try to pack in that punch that masses gleefully lap up, an example in case being
Desi Beats
. Himesh is the main composer of the album and is back with Salman after a hiatus. So, does the
Bodyguard
album have what it takes to bust the charts?
It will be revealed to you shortly. The first offering is the title track
Bodyguard
, which can easily remind you of
Dhinka Chika
. We don't want to say the word, but it sounds
pathetic
in all aspects, right from its tune, to music, to beats, because it blatantly tries to be a hit like
Dhinka Chika
and turns out to be a mere bland version of it. It's not always profitable to cash the same cheque over and again.
The remix version of the song starts with Salman's punchy dialogues, and amazingly it sounds a little better than the original. But isn't that impressive.
Music composer Pritam welcomes you with soft number
I Love You
. And it's such a relief to hear the number after the eardrum splitting title track. Ash King and Clinton Cerejo wield the microphones to sing this romantic ballad which soothes you instantly with its cheerful melody and romantic tone.
Next is the special promotional song which was shot in the end. It seems Salman wanted to have a blast, and thus
Desi Beats
happened. A perfect song for Sallu bhai's fans with a nice rhythm and groovy beats. Starting off like a disco track, the song changes its mood and turns into a full-on Punjabi pop number.
Mika
delivers like dynamite in an inferno, while Amrita Kak chips in between with her sensuous voice.
Desi Beats
also has a hip-hop remix and the fun rallies forth in the album. Then there is a passionate track
Teri Meri Prem Kahani
in the voice of
Rahat Fateh Ali Khan
and
Shreya Ghosal
. We wonder what kept composer
Himesh Reshammiya
from singing this song. Anyway this is the only song worth mentioning in the album. It touches you with its simple rendition, lesser use of heavy instrumentation, and loads of emotion infused in its tune. The song clicks and is likeable.
The rest of the album is laden with remixes and unplugged versions of the four originals. There is nothing mindblowing about the compilation. It's just a matter of fact that
Bodyguard
is a Salman film; otherwise there wouldn't have been enough buzz surrounding the songs.
Gone are the days when we used to hear melodious tracks in a Salman Khan film. After his films like
Wanted
,
Dabangg
and
Ready
, the music of a Salman film sounds similar. What a disappointment! With Salman and Kareena Kapoor it could have been way better.
Rating - 2 stars out of 5
Bollyspice.Com
Bodyguard Music Review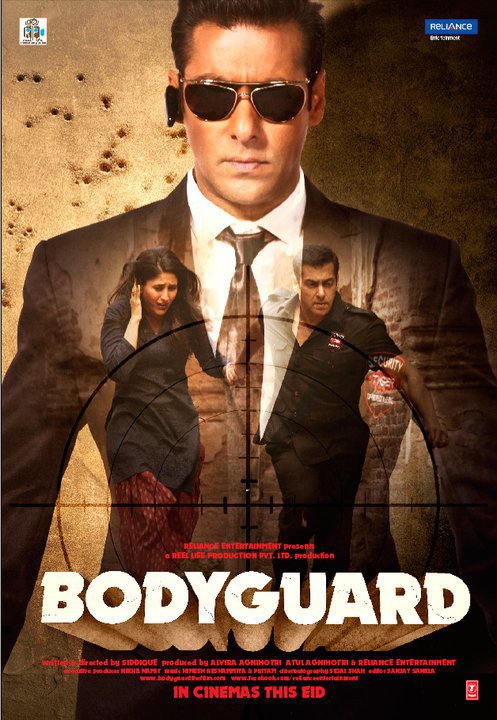 After the box-office smashing results of Wanted, Dabangg and Ready, Salman Khan is back again with Bodyguard. Bodyguard is a remake of the Malayalam hit of the same name which starred Dileep and Nayantara. BodyguardBodyguard has been directed by Siddique, who directed the original as well as the Tamil and Telugu remakes of the film. has already been remade in Tamil and a Telugu remake is in the works, so it's only fitting that Hindi cinema tries its luck as well.
Bodyguard features compositions by Himesh Reshammiya, whose musical career has been rather silent. Lyrics have been penned by Shabbir Ahmed and Neelesh Misra, however the soundtrack covers do not stipulate as to whether the songs are collaboration between the two or if they wrote different tracks. Bodyguard features the vocal talents of Rahet Fateh Ali Khan ('Tere Mast Mast Do Nain' ' Dabangg), Shreya Ghosal ('Bahara' ' I Hate Luv Storys), Mika Singh ('Dhinka Chika' ' Ready), Ash King ('Te Amo' ' Dum Maro Dum) and Shaan ('Chand Sifarish' ' Faana) amongst others.
The film also stars Kareena Kapoor and will hit cinemas 31 August 2011.
The soundtrack commences with the Title Track by Salman Khan and group of singers called the Band of Power. While the track is not very imaginative, it cannot be accused of being ineffective. It's effective in the fact that the music is quite catchy, a typical symptom of Himesh songs. Lyrics are strictly okay and some lines do put a smile on your face. My favourite is 'sabse hot sabse hard'aa gaya hai dekho bodyguard.' The track is repeated later on in the soundtrack as a remix. The remix is not too different from the original. It simply has a bit of an alternative beginning and the tempo is a tad bit faster. In short the track is a loose amalgamation of Tees Maar Khan's 'Bade Dilwala', Ready's 'Dhinka Chika' and Wanted's title track.
The soundtrack takes a softer turn with I Love You. This track is a composition by guest composer Pritam. It is sung by Ash King with supporting vocals from Clinton Cerejo, and has a nice melodious tune with equally nice lyrics. Ash renders the number in the charming fashion audiences have come to love in 'Dil Gira Dafatan' (Delhi 6) and 'Te Amo' (Dum Maro Dum). It is an all round sweet song and if you liked 'Te Amo' you will like this number too. The remix of I Love You is unremarkable in more ways than one. Ash's vocals are lost in the ill-arranged music, which neither has character, nor charm. The unplugged version of I Love You on the other hand is divine. It is sung by Shaan and surpasses Ash's version by light years. Shaan's vocals just have that magical romantic quality that emphasizes the lyrics just that tad bit more.
Next up is Mika Singh and Amrita Kak with Desi Beats, a rather unimpressive number that is simply myriad of loud and senseless music with a weak attempt by Himesh at inserting key music from 'Tum Kya Jaano Mohabbat Kya Hai' from R D Burman's Hum Kisise Kum Nahin. Only consolation is Mika's energetic vocals which Amrita does not match by a long short. The remix of Desi Beats is yet another unremarkable track while its hip hop version by Alam Gir Khan neither adds nor subtracts to the mediocrity of the number.
Teri Meri gets off to a horrible start with what sounds like something from a cheap keyboard. Even seasoned singers like Rahet Fateh Ali Khan and Shreya Ghosal cannot save the track. If that was not enough, the lyrics are very run-of-the-mill and at times cringe-worthy. The reprise of Teri Meri has a tad bit more emotion but other than that it is as unimpressive as the first. Same goes for its remix.
The soundtrack closes with an instrumental, that is the film's theme music which is basically an instrumental of Teri Meri with a higher tempo and Rahet's vocals interwoven through it.
Bodyguard, plainly put, is unremarkable and unimpressive. Salman Khan's winning streak of films, that is Dabangg, Wanted and Ready had great music but Bodyguard is a drastic disappointment. The soundtrack's saving grace is Shaan's I Love You and to a lesser extent the title track.
There was a reason behind the lack of new Himesh soundtracks on the market and this should have served as a cautionary tale to the makers of Bodyguard. They would have better of getting Ousephachan, the national award winning music director of the Malayalam original or Vidyarsagar (Hulchul and Mere Baap Pehle Aap) who composed for the Tamil remake Kaavalan.
In short, do not rush to your nearest music outlet for Bodyguard's OST. Just listen to it at the movies so that Salman Khan and Kareena Kapoor lessen the pain it will inflict on your ears.
NDTV
Indo-Asian News Service
Sunday, July 31, 2011 (New Delhi)

Pritam Chakroborty
Lyricists: Shabbir Ahmed and Neelesh Misra
Singers: Salman Khan, Ash King, Clinton Cerejo, Mika Singh, Amrita Kak, Rahat Fateh Ali Khan, Shreya Ghoshal, Alam Gir Khan and Shaan

After his brief acting spree, music director Himesh Reshammiya returns to composing with Salman Khan-starrer Bodyguard. The composer, who has collaborated with Salman after six years, has churned out all the songs for the album except one that has been composed by Pritam Chakroborty. The album is out and out commercial, but its 12 songs offer nothing extraordinary or unique.

The first song of the album is the title number - crooned by Salman himself. What starts with a few dialogues soon begins to sound too much like Dhinka Chika from Ready, again starring Salman. Nonetheless, this one too is catchy and is a blend of Indian and western beats. Not a bad start to the album. It also has a remixed version.

Then comes in the Pritam number. The mushy outing I love you, sung by Ash King and Clinton Cerejo, is a typical Pritam love song, which is actually his forte. It is light, simple and easy on the ears. There is nothing new or different that the song offers. It's just a decent hear.

This too has different versions, including a remix and an unplugged version where Shaan replaces Ash King. Shaan's apt and effective vocals make it more appealing and likeable.

Desi beat, crooned by Mika Singh and Amrita Kak, brings the Punjabi flavour to the album. High on energy, strong orchestration and loud beats describe the song. It's a total dance number.

This too comes with versions. One is a remix and the other a Punjabi hip-hop mix where Alam Gir Khan takes Mika's place.

Next is Teri meri, a poignant love song by Rahat Fateh Ali Khan and Shreya Ghoshal. High on Sufi touch, the song scores on vocals but offers nothing new or fresh as a composition. It is moderately paced and is quite average.

This too has a reprise and remix version.

Finally, the album ends with an instrumental theme song, which is the music of the song Teri meri, but with psychedelic beats.

On the whole, the album is quite average. Though none of the songs is very bad, there isn't any that really stands out and grabs attention.