Hey guys...I just found this out...Navya's story was borrowed from a world famous book...wanna know which??? ...
THE JUNGLE BOOK by Rudyard Kipling!!!
I'm not joking...the plots of these two are almost the same - A
human boy
is adopted & brought up by a
group of animals.
In jungle book, the boy's name is Mowgli & he is brought up by some wolves. In Navya, the boy's name is Anant & he is brought up by
animals of all sorts (Bajpayee family).
And you know what??...some characters in these two plots have exactly the same nature...The following descriptions of the jungle book characters are taken from wikipedia...you can check if you want to...
Raksha, Mowgli's wolf mother, is very kind, motherly & caring - same as Anant's mother...
Shanti, Mowgli's girlfriend, is beautiful, serious, practical & kind - same as Navya, Anant's girlfriend...
And,
, when I saw the descriptions of the following characters, I was convinced beyond the shadow of a doubt that Navya is indeed based on JUNGLE BOOK.
.
Kaa
is a python who serves as an antagonist in
The Jungle book
, who is described as sneaky, suave, sly, crafty, tricky, cowardly - I don't think I need to mention this character's counterpart in Navya - Rema!!!!...& I also managed to get an image of this character.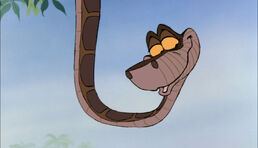 going on...
Shere Khan
was the main antagonist of The Jungle book.A powerful, suave tiger, Shere Khan had nothing but disdain for his victims.
His reputation was such that he needed only to show himself to intimidate the inhabitants of the jungle
. He was suave, gentlemanly, mysterious, aggressive, powerful, deadly, stubborn, polite, sophisticated, physically sturdy, graceful, greedy, spoiled.
His trademark dialogue was "I make my own rules"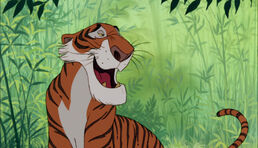 Did anybody get the feeling that I was describing oodi-baba???
Tabaqui is a golden Jackal who is the side-kick of Shere-Khan & follows his order without question.
None other than Anant's dad who behaves like oodi-baba's slave...
Well, I hope all of you are convinced that Navya is actually nothing but JUNGLE BOOK 2...Some minor changes have been made (animals wearing clothes, living in houses)...But some characters remain the same like oodi-baba, who still speaks jingaala-bulu bulu - the official animal language
...I think the production company ought to show the message - "Based on THE JUNGLE BOOK - by Rudyard Kipling" before beginning the show...Don't you think so???
----------------------------------------------------------------------------------------------
Hit the
button if you liked the post...


Edited by Darrenpieu - 04 July 2011 at 11:01pm