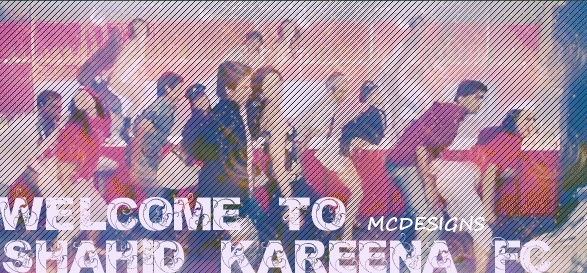 Hi everyone my name is shivani and welcome to the shareena fc. i am one of the huge fans of the shareena m ofcourse aishaji aka senorita as well. In this fc you can talk about them and their movies. plz don't bash either of them because of their break-up since it's personal lives n their buissness. there are not many fans of the jodi but i still made this fc for ppl like me who admired them.. You can talk about their movies and much more. Come in & Join
NOTE- if anyone has or know about shahid-kareena siggies or avi or would like me to post it on the first pg then pls pm me the siggies with the name of the siggy or avi maker so i can give them credit.
Some info on the couple
While filming
Fida
(2004), Kapoor began dating
Kareena Kapoor
. They dated for three years and then separated during the filming of
Jab We Met
(2007). According to him, they remained on good terms, with him saying, "I wish her all the happiness in the world. I have great respect for her. She is a wonderful girl."Both of them are happy and have moved on with their lives. whatever happened it was their buisness but as a fan i will always adore the couple so made this fc dedicated to both of them.
Fida-2006
ChupChupke-2006
36Chinatown-2006
Jab we met- 2007
Milenge Milenge-2010
Miss.Colorfull(shivani)
Aisha-1992(Senorita)
Katalicious
ZoobiDoobi
Beboholic (Lensa)

Roopalgupta
mariasrk
-Zeenat-
_Mariam_
-Fatima-

*Promotional Siggies*
Feel free to use


Edited by Miss.Colorfull - 07 December 2011 at 9:13am