PART-15

Durdhara's all concentration was to complete the round of temple without interruption and her mind was occupied with the devotional feelings for lord Vishnu and she was praying for her brother with all her hearts and closed eyes...so when the collision occurred..at first she failed to understand why she got interrupted...she took some moments to regain her consciousness and when she opened her eyes she found herself sitting on the land...though the heavy plate of stone is still on her lap and her hands were holding it tightly but all the flowers and other ingredients were scattered in the land..and then she looked forward to discover the source of such obstacle..in her way..though it was the time of dust and darkness was taking everything in its grasp but still Durdhara didn't take a second to recognize that innocent dusky face and those shining black eyes...that ill-mannered stranger boy of the morning...
...Chandragupta's mind was occupied with the message from acharya...the information about the movement of Greeks which acharya got to know through the spies was really a matter of great problem...so he was thinking about future..what will happen if the news written by acharya will come true...and while he was lost in such thoughts..suddenly something happened..before he could understand anything he felt some heavy thing hit on his chest...a feeling of pain for a moment or two occupied his consciousness...and he closed his eyes..and with closed eyes he felt her face has been covered with flowers the beautiful smell of flowers lightened his pain ...he removed flowers from his face and then suddenly became thrilled by getting another sweet smell...the smell which is completely unknown but still familiar to him...with a feeling of thrill he opened his eyes and discovered the source of the smell..and understood why the smell was familiar to him...the same fiery eyes on the same indescribable face with the colour of moonlight...in this evolving darkness of the evening light is being spread from whose complexion...the same mad girl of the palace...
'tum ????'... a screaming question comes out from both voices...
Dhara : tum??tum yahan???
Chandu : tum?? yahan bhi chale aye??

Dhara : uddand vanvasi tumhara itna bada duhsahas k tum hamare marg mein badhayein utpanna kar rahe ho???
Chandu : tum to wahi unmad kanya ho na??yahan bhi pohuch gaye mere jivan mein vighna utpann karne k lie?
Dhara : tumhara itna bada duhsahas ke tum hamein unmad keh rahe ho??jante ho hum kaun hai???
Chandu : ismein na janne wale kaunse bat hai..tum raj prasad ke unmad dasi ho jo kisike lie bhi ghatak sidha ho sakti hai...
Dhara : tumhare uddandta kshama k ayogya hai...parantu hum ye janna chahte hai k tum uddand hone k sath sath netrahin bhi ho ya nhi??tumne humein tumhare disha mein ate hue nhi dekha??
Chandu : netrahin hum hai ya tum??itni badi badi ankhein kya sirf shobha badhane k lie hai??tum bhi to hamein dekh sakti thi??jante ho tumhare ye prastar patra k ghat se kisike pran bhi ja skte hai??
Dhara : humein tumse kuch bhi janne k avashyakta nahi hai...hum to mandir ko pradakshin kar rahe the..parantu tumne humare puja mein badha dalke baht bada apradh kia..aur tumhe iske dand avasya milenge...tum bandi banke karagriha mein bheje jaoge...
Chandu : humein bandi banana itna sahaj nhi hai...parantu bandi humein nhi tumhein hona chahiye karan aise mansik rup se aswasth kanya ko vaid griha mein hona chahiye na ke lokalaya mein...tum kisi ke lie bhi vipta k karan ban sakti ho...
Dhara : humein aise apmaan karke tumne apne vinash ko amantran dia hai...hum abhi sainiko ko bulate hai tumhe bandi banane ke lie..
..and then Dhara opened her mouth to shout..but suddenly Chandu put his hand on Dhara's mouth by rounding her neck and closed her mouth so that she won't be able to make noise.but as being a small boy he had no idea how to deal with a girl as they are much softer so he closed her mouth as tightly as he does with his enemies..by touching her it seemed high voltage current passed through his body...he started shivering..but still he couldn't remove his hand as he couldn't reveal himself to others because he came here to read a secret letter ..Dhara tried her best with all her strength to get rid of Chandu's hand but Chandu's grip was more firm and strong she tried to shout but only a sound of whimpering comes from her voice...her eyes becomes full of tears out of pain...
Chandu (whispeing in Dhara's ears) : khabardar jo koi shabd nikali to...dekho hum yahan tumhare puja bhang karne ke lie nhi aye the usse kai gun adhik avashyak karya hetu hum yahan aye the..parantu hamare lie aur tumhare rajya ke hit ke lie abhi gopniyata rakhna avashyak hai...isliye tum abhi hamare bare mein kisiko kuch bhi nhi kahogi...hamare yakin karo hum tumhare rajya aur rajkumar k shubhchintak hai...parantu yabtak tum hamare baat swikar nhi karogei hum tumhe nhi chhor sakte...bolo k tum kisise kuch nhi kahogi...nhi kahogi na??
Dhara's breath seemed to be stopped her tears started rolled down her chicks and made Chandu's hand wet...Chandu felt embarrassed her hand becomes loose but still he held her hands tight an becomes thrilled again...because she still was trying to shout..
Chandu : tum hum pr viswas q nhi kar rahi ho??hum iswar k shapath leke keh rahe hai hum koi shatru nhi mitra hai abhisar rajya ke..aur yadi phir bhi tumhe visvas na ho to hum bhi aksham hai...hum tumhare mukh pr se hath nhi hata sakte...
and then suddenly a female voice with full of tension comes closer...'Dhara...Dhara'...Subhadra became tensed watching Durdhara's late..and whenever she got tensed about Dhara she calls her name instead of calling her 'Rajkumari'...
watching someone to come Chandu becomes tensed and then he felt the girl became tired by constantly resisting him...and she is not any more trying to shout..Chandu removed his hand from her face and in a second disappeared in the darkness by leaving Dhara lying almost senseless on the land...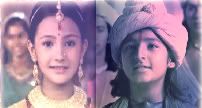 in the temple Digvijay was taking blessing from lord visnu..when royal priest comes infron of him..Digvijay took his blessing
Digvijay : ashirvad de rajpurohit ji...take hum dharm ke marg mein rehke apne kartavya ke palan kar sake
Rajpurohit : avashya rajkumar hamara ashirvad to sada tumhara sath rahega..bhagwan Visnu k kripa se tum ek mahan raja banoge..tumhare hriday mein praja k prati jo prem k bhawna hai ye ek prajapalak raja k nishani hai...
the younger priest comes there

kanistha purohit : badhai ho rajkumar ..apko ye dugni khushi mubarak ho...satya mein abhisar rajya k lie ye baht hi khushi ka samay hai
Digvijay : dhanyavad purohitji parantu ap kis dugni khushi ki baat kar rahe hai??
Kanistha Purohit : kyun rajkumar ek taraf apke rajyabhishek aur dusri taraf rajkumari k bagdaan...
Digvijay : kya kaha rajkumari ka baagdaan..apke arth rajkumari Durdhara ka baagdaan??humein kuch samajh mein nhi a raha ke aap kya keh rahe hai...(turning towards Rajpurohit)...Rajpurohitji hamein kripaya samjhaye kanistha purohitji kya keh rahe hai???
Rajpurohit : shant ho jaiye rajkumar...Kanistha purohit satya keh rahe hai...apke rajyabhishek ke baad hi rajkumari Durdhara ki bagdaan kr dia jayega...
Digvijay (with mixed feelings of shock,anger,surprise and tension) : parantu humein to is vishay mein kuch bhi gyat nhi hai...koi humein kuch kaha kyu nahi??
Rajpurohit : ab us samay yahan nhi the rajkumar...aur hum sab apke abhishek k subh absar k pratiksha kar rahe the...kal hi maharaj is bagdaan ka anusthanik ghosna karenge
Digvijay : parantu ye to kahiye rajguru k Durdhara ki bagdaan kiske sath tayar kia gaya hai???
Rajpurohit : wahi jo rajkumari ke liye is samay sarbadhik yogya hai...gandhar naresh Ambhik Kumar
the sky seemed broke down upon Digvijay's head..if there was a thunderstorm in the temple Digvijay won't be such shocked...



Edited by jhum_86 - 07 January 2012 at 8:47am