Today is the birthday of our very dear viewbie Visrom !!!
So let's all get together and celebrate it !!

Happy Birthday Visrom !!!!

Now ... time for the gifts and surprises !!! Some sweet messages to for our dearest Vis
Nandini
Where did you meet Vis ??- Well I used to like what she wrote even before I became a member. I interacted with her for the first time on 9th Jan. (I didn't remember the date, I did some search)
There were two interactions before we became friends.
One sweet, one not so sweet (Though now I find that one sweet too)
First the sweet one-
Well 9th Jan was a time when AKA was at its peak and Vis was feeling depressed because Abhijeet has been kept out of investigation. We started discussing it on the erstwhile chat thread. We discussed our first CID episode and our liking for the duo. At the end of it Vis was feeling less depressed and said" I have been able to change her mood" that was out first interaction
The second one and well not so sweet one is well known to all of you. It led to the Chat thread being renamed. That incident increased my popularity I think for having a fight with Vis.. That incident also laid the foundation of our friendship. So I now remember that incident with happiness.
So these were two times I met her in IF.



Why do you like Vis ???
'
I like her because she is sweet, friendly and does not hesitate in speaking her mind. When she is wrong she does not hesitate in saying it. She takes care of the forum well. She is sensitive. Well I like her because, she is a likable personAny Special Message for her
??.
You are an integral part of this forum as a viewbie and as a member who writes beautifully. May this day bring with it lots of happiness and laughter.Here are some special Gifts by Nanda for you
Astonish
A small sweet message from her Vis
A Very Very Happy Birthday to you Vis. I wish that this year bring loads of love, happiness and success in your life.
Vis, We haven't met each other and this is the first time I am writing something to someone whom I have never seen. I generally don't write testimonials even for people I meet everyday, but somehow I myself donno what encouraged me to write something for you on your birthday or may be I know it... Yeah, Its the addiction that has got created in me for IF and I can confidently say that you are 80% responsible for this addiction
. CID has been special for me, but it wasn't that special that I get addicted to some website so blindly that the first thing I do as soon as I switch on the system in the morning is to open IF and also discuss anything here without a second though that I am actually talking to a stranger.
You have made this CID forum a place where one can proudly say that "I am a member of this forum and I love talking to all the people here". There may be many people who care or advice people or friends whom they know are around them, But that's not a big thing to do. The Big thing is to take time out for a person whom you have never seen or you don't even know if the person is telling truth to you(wait... I was telling the truth all the time
) But the point here is not about me, its about you, a few words from a stranger with love and affection are much more effective than anything else. Well, I sometimes wonder if is it right to call you a stranger
Doesn't matter what we call this friendship, but I am sure about something... If it wasn't you there on IF, maybe ... IF would be just a passing cloud for me. I hope we will see you here always as a friend...
as a totally nut case when coming to adi sir and daya sir (just like most of us here)
and like as a teacher managing the class..oops CID forum
(just kidding).
Have a wonderful Day and wish you a very very Happy Birthday Again
And now a surprise gift from Astonish ... it's quite interesting !!!
Abhijeet: Daya, Kahaan ho tum... ???
Daya: Abhijeet mai ek case ke silsile mein bureau se baahar aaya hoon...kyon kya hua...???
Abhijeet: Bhool gaye na tum... !!!!
Daya:
Kya abhijeet... Kya bhool gaya mai???
Abhijeet: Daya... Aaj visrom ka Birthday hai.. tum aise kaise bhool sakthe ho..???? Chalo jaldi pahooncho yahaan pe... mai gift khareendne aaya hoon..
Daya:
Ohh No... Aise kaise visrom ka Birthday bhool gaya mai...jaldi jaana padega
Abhijeet and Daya at the store
Abhijeet: Kuch samajh nahi aara yaar...kya gift denge???
Daya: Mujhe toh pata nahi boss... tum hi kuch socho... ek kaam karthe hai...is store waale ko poochthe hai...
Abhijeet: arey suno bhai... mujhe... ek gift lena hai.. ek ladki ke liye... uska birthday hai...
Store guy:
Saab...Girlfriend ka birthday hai??
Abhijeet:
arey...nahi nahi...
woh humaari bahut badi fan hai..uska birthday hai
Store guy: Fan hai... toh aap use ek bada sa teddy bear de dijiye..
Daya: Haan abhijeet teddy bear accha idea hai...
Store guy: Kitna bada chahiye saab?
Abhijeet: Itna bada... ??
Daya: kya yaar,.. itna chota... thoda aur bada waala lete hai
Abhijeet: Theek hai...Chalo jaldi..maine freddy ko already bata diya hai... Visrom ko bureau leke aane ke liye
Visrom Enters the Bureau
Abhijeet and Daya:
Happy Birthday to you... Happy Birthday to you.. Happy Birthday dear Visrom..happy Birthday to you
Visrom:
Thank you sir.. aap ko yaad tha mera birthday
Abhijeet: Haan mujhe toh yaad tha.. lekin daya ko...
Daya: Nahi nahi..mujhe yaad tha.. balki maine hi abhijeet ko yaad dilaya tha... kyon abhijeet...
Abhijeet: haan haan..tumne hi yaad dilaaya...Chalo ab fatafat cake kaato...
Visrom: Sir itna bada cake???
Abhijeet:
Hum hai na khaane ke liye
Abhijeet: Aur yeh tumhaare liye...
Visrom:
Yahooo...Yipeee...!!!!!!!!!
Visrom:
Twinkle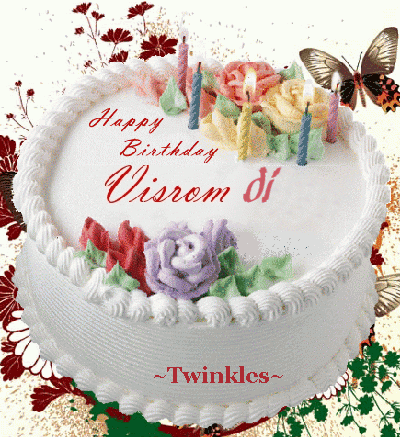 1. Where did you meet Vis ??
when i was a newbie here, then you was a IF Dazzler ... then i didn't knew the meaning of ur IF status and i used to think u to be someone like FW unit member because of ur knowledge of the show and characters
2.Why do you like Vis
???
I recognized u as visrom with your wonderful projected stories
and i continue to respect u as person because of ur genuine personality ... Your a dear friend one could have in their life ... I love you for what you are ...

3. and Any Special Message for her ??
wish you many more happy returns of the day ... hope all your dreams and desires to come true in the Blessed year ahead ... I Pray for u on this birthday to be an awesomest gift in your life as you are in our lives
And here go Twinkles gifts !!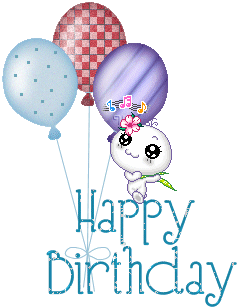 Demonstar
Where did you meet Vis ??
Here on I-F, back in late 2009 when she had joined. I wasn't really very active back then, but she was one of the few who criticized all the nonsense being shown in CID and I was really glad to see someone who shared my opinions on the matter.
Why do you like Vis
???
I'll start with the fact that it's extremely remarkable how she's so practical and rational, and at the same time cheerful and jovial with a wonderful, witty sense of humour that I love to read in her stories and parody scenes.
She's assertive and honest in her opinions and doesn't hesitate to criticize when needed, and yet is careful not to hurt anyone's feelings. She's really sharp and observational and can make out major details even from small and subtle facts - a true CIDian. She knows the wonderful characters of our show extremely well and whenever I am in a doubt regarding the characterization in my stories, I look up to her views on the topic with full faith and confidence. Last but not the least, her efforts to maintain a healthy, organized and enjoyable atmosphere in our forum everyday are nothing short of absolutely outstanding.
and Any Special MEssage for her ??
Vis, thank you so much for making our I-F CIDian family a warm and friendly one. You are one of the nicest people I've met online. May all your wishes come true, God bless you with a long, happy and prosperous life!
My gifts -
Brand new Harry Potter book set -
Darkknight
Where did you meet Vis ??
I was walking on the paths of India Forums when I suddenly met A beautiful gorgeous fairy -------- Visrom.
Why do you like Vis
???
Because she is the best Viewbie, & simultaneously ------ a very good mentor & friend.
Any Spcl Message
Visromdi... U are the best! Keep Rocking! May U get success in every step of ur life.
Now... A few gifts...
Visromdi,

Happy Birthday


Thank You For Being A Very Nice Friend
Thank You For Being The Best Viewbie


Above All,


Thank You For Being Visromdi.
Deepika
Where did you meet Vis ??
well there is a tale behind that one. I was well aware of her as soon as i became active on IF around the time of AC series but she came to know of me after i posted a rather too vehemently contemptuous post regarding Hrishikesh Pandey's "overwhelming" presence in the bhai duj special case
..she subtly reprimanded me and also gave me the sobriquet "queen's english"
Why do you like Vis
???
like her posts and as a viewbie she does a good job

and Any Special MEssage for her ??
keep up the good work madam viewbie..Happy Birthday to you.may this birthday and all your upcoming birthdays make all your wishes come true
a gift from me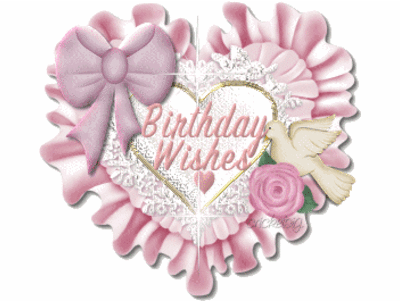 Sunny

Where did you meet Vis
??
On IF. Actually me and Vis joined back to back on IF and I was more silent here than her but I always loved her posts and funny stories. Fan of her dialogues.
Would love to meet her in real life. I won't be that surprised but she will definitely will be. I will take handicam with me to record her reaction. Just kidding.
Why do you like Vis
???

It was just coincidence or what but I still say Vis changed my approach towards my life. I have lareday told her if she remembers. Whenever something happened in my life, Vis usually post something which used to cheer me up. Unknowingly timing was perfect something happens with me and I open If to see some funny post by Vis.
She handles every situation perfectly and forgive people esp. She speaks whatever she has in her mind. I learned alt from you although you never knew you were actually teaching someone but from late 2009 till now I learned alot from you but first 4-5 months I learned alot and happy that my approach towards life changed because of you.
I want to say alot lekin zada ho jayega.
How much complex story I write she will understand because she is used to my writing.
. Just kidding.
and Any Special Message for her
??
Just be happy and keep on enjoying you life and above all don't forget me. Wishing you a very very Happy Birthday.
Chinnu
here is my gift
Why do you like Vis
???
Really I don't

and Any Special MEssage for her ??
Do use my siggy !!!
Rashida
Where did you meet Vis ?? On IF itself...
Why do you like Vis
??? Can't reallt express why I like her... but there something really special about her...
and Any Special MEssage for her ?? Just stay the way you're...
along with that do you have any special gift for her ?? It can be anything like a siggy,a pic of any gift or any other pic. ...
Saadrita
Where did you meet Vis ??- in this forum only...She was one of the first few people to like my posts..The first post of mine which she liked was nothing extraordianry or interesting...But yet she liked it... I was amused to find such a famous memeber of IF hitting like to something as simple as this..posted by a newbie..something that was not related with CID actually
Why do you like Vis
???
she is sweet, funny at times... But a bit sensitive...
although she was a bit silent when i joined the forum, but was supportive & encouraging.. Would always point out the funny parts of my poems & posts...
but we have had differences of opinmions for sure... but always liked providing "proofs" for my statements...& she on her part saying... " see..this is not something that & this"...etc etc
I specially like her liberal attitude towards Sachin... the way she points out that Sachin's entry is not the reason for CID's downfall..It's really intertesting...
and Any Special Message for her ??
stop blaming yourself & taking responsibility of others decisions on your own shoulders...& Be as you are...
Dayakhtar
I met VISROM on
On CID Forum
I like VISROM bcz
She is Str84wrd (doesn't let anyone go out of the bounds of the forum)
My special message 4 VISROM is
HAPPY BIRTHDAY 2 U
HAPPY BIRTHDAY 2 U
MAY U HAVE MANY MORE
MAY U HAVE MANY MORE
HAPPY BIRTHDAY 2 U
DEAR VISROM
HAPPY BIRTHDAY TO U
My Gift 4 VISROM
may u b bonafied with all happiness n joy...


MallikaBalu
I met Visrom here at IF.
I like visrom because she is vivacious.
Be your self and enjoy this year with all the dreamy stuff you had always wanted to do but never got the time for.
Here goes Mallika's gift !!!

"wishing a very happy birthday
...Hope she hav a wonderful, happy & successful year & life ahead "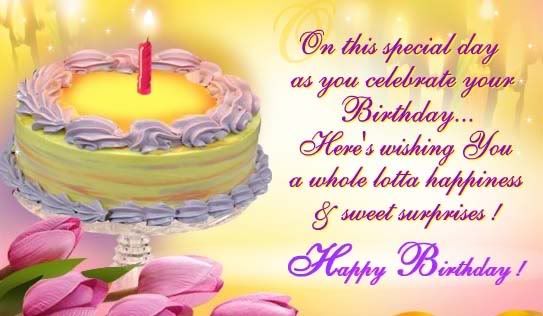 "wishing a very happy birthday
...Hope she hav a wonderful, happy & successful year & life ahead "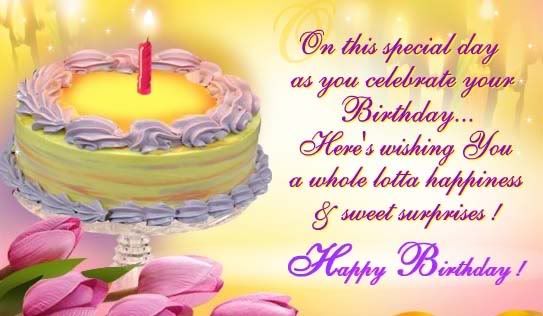 Purnima


Edited by Bhavanab - 05 June 2011 at 1:04pm