a haapy go lucky guy, luvs spending his dad's money n loves his mom a lot.
According to his dad-Maan is the lazyest person ever found on earth n who just wants to njoy his life with working hard for it n in short he is a DHARTHI PE BHOJ.
According to his mom-Maan is the best gift she has ever got n her son is the best son in d whole world.Always supports him whn there is a father-son fight.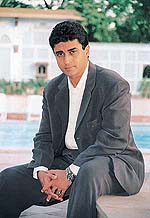 A multimillionaire of Bangalore n Maan's dad, always behind him to join the office n curse himself tht such a son is born to him bt luvs Maan's mom alot n even Maan bt never expresses it.
According to his wife-The world's best husband,bt hates him when he starts cribbing abt her darling son.
According to maan-The world's most uncool dad has objection for everything he doesn the world's biggest KANJOOS bt he also luvs his dad bt never expresses it.
Wife of a multimillionaire n Maan's mom,loves both her husband n maan vry much. Her life revovles around the two.And always the BAALI KA BHAKRA in d father-son fight.
According to her husband-A really lovely mother n wife a person could get n the same lady who proposed him in a temple.
According to Maan- The best gift god has given him n the best mom in the whole world.For him mom's words r the final ones.
A bubbly always happy girl whose life revovles only around her parents n friends n has very fasinating weird dreams to fulfill.
According to her dad-Geet is his princess n seeing her smile his heart rest at peace n cnt see a sindle tear in Geet's eyes.
According to her mom-Geet is thd best gift of god bt is a bit spoilt bcoz of her dad's love.
A retired army officer,very brave n luvs his wife n daughter to no end n owner of large coffee n tea estates in Madikeri.
According to his wife- The best husband n dad in this world,at times drinks too much bt love of her life.
According to Geet-The bestesttt dad in the whole world, wants to fulfill all her dad's dreams n thinks wtever her dad decide's for her is the best.
Geet's mom n Capt.Rajeev's wife, her world revovles around them n her best frnd who lives in Bangalore n can do anything to keep her husband's reputation intact.
According to her husband-The girl with whom i ran away frm the train n got married n she has given me the best gift of my life our daughter.
According to Geet- The best moom bt smtimes annoying n sticrt mom bt luvs me a lot.
A young army officer,junior of Capt.Rajeev Handa for a mission n fiance of Geet Handa n he luvs Geet alot, for him it was First sight love.
According to Capt.Rajeev Handa- A really well matured n settled guy who i know will love n keep my daughter more happier than me.
According to Naina Handa- A carnation of god who saved her husband in the war field, and luvs him as much as she luvs Geet.
According to Geet Handa- A person with whom i m going to spend rest of my life n even may start loving him.


Edited by rsroopali - 11 August 2012 at 11:10am