rediffmail.com


Ankur Pathak reviews Ragini MMS. Post YOUR reviews here!
Films that are conventionally shot but claim to use real-life footages tend to have an eerie aura around them.
With Balaji's latest roll-out,
Ragini MMS
-- a sex-induced paranormal thriller -- the industry's unrelenting hunger to seek inspiration from the West continues. American indie film
Paranormal Activity
, which rose to shockingly unexpected heights and raked in multi-folded returns on a miniscule investment, is the fundamental motivation of the makers behind this clandestinely filmed horror caper. That, and a slice of
The Blair Witch Project
-- which is where the filmmaking technique originally, and quite successfully, penetrated mainstream cinema.
Uday (Raj Kumar Yadav) and Ragini (
Kainaz Motivala
) decide to set on a naughty weekend at a friend's farmhouse. On reaching there, the magic between the sheets isn't the same as anticipated, as creepy instances become a nasty nuisance.
Uday, much to his horror (and also to the diminution of his self-assuring macho demeanour), witnesses a paranormal presence. Through him, it says lines like, 'Me chudail nahi aahey', pulls his hair with such robust force, his skull bleeds, and in a highly volatile fashion, ruptures the prized bed.
Ragini is eye-poppingly intimidated and more so because she's snarled to the bed with a pair of handcuffs as part of a 'naughty' experiment earlier. Helpless, fearful, and sensing a sleazy MMS racket -- Raginis' attempts in freeing herself from an obnoxious white-lady, who's trying to prove her innocence of not being a 'chudail', and of not being guilty of her children's murder form the significant half of the film.
The film centres on the cliched haunted house. The makers don't bother to divulge any solid background as to the history of the house. Instead, with a Bigg Boss [ Images ] like setup, they serve us with chunks of spooky instances the concealed cameras.
Much of the film isn't made to immediately jerk you off your seat. It heavily (also intentionally) relies in conjuring the anxiety of anticipation. So the girl, like you'd expect, wouldn't be screeching her lungs out for more than half of the film. Nor would be the guy treated to severe bangs and bashes by the bhoot.
Instead, the makers succeed in creating a fear-provoking atmosphere by fractionally giving cues of the abnormality of the bungalow. This works. Even when there is just casual banter, flowing beer and blooming romance, you constantly expect an abrupt catastrophe.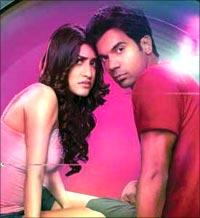 Uday isn't here just for his physical indulgence. A much larger sex-racket is at play. His quest of a breakthrough in the glam circle as an actor is the luring exchange.
Uday's character is sharly designed. He is clearly insensitive, and impulsively unconcerned. His apathetic nature is apparent from his routine conduct. He kicks his girl on the face to wake her up, abuses mercilessly when she leaks the details of their love-nest. His general banter is that of a city cheapster, the ones who juggle hot girlfriends.
The abuses are countless, but arising out of necessity. Uday's frustration is best conveyed by a cuss. And so is his freaky avatar post his discovery of the ghostly presence. Raj Kumar Yadav's Uday is terrifically convincing. He might be all stormy and street-smart but that's genuinely converted to sheer fright when the rival you are dealing with is out of the natural.
Ragini emits brilliance in equal measure. Her shrieks don't sound contrived. Her ruthless madness -- which comes out due to the frustration and scare of being knotted in an unnervingly crazy house with your boyfriend's bleeding corpse for company -- is conveyed plausibly by the inhibited body language, and dreadful, perplexed expressions.
If the film's first half is a sensibly written built-up, the latter half consequentially explodes with utter horror. It is again chronicled through a static-infused videotape, and the punches here hit hard, and shock more. The dialogues are so situational and conversational -- they add to the authenticity, along with infusing humour.
Pawan Kripalani's direction and screenplay (alongside Vaspar Dandiwala) is stylishly sleek, honest and free of manipulation. It cleverly leads us into believing the entire awfulness as a disturbing real-life occurrence.
And therein lies Ragini's rub. It doesn't really throw you off by the current happenings nor does it want you too. It's not conventional horror; it is the chance possibility of such paranoia that is psychologically disturbing.
The imperfections of the film lie in the overpowering background tone, which tries to over dramatize the horror. It reflects fluctuating buoyancy on part of the makers, as if the white-lady has a complex of not being able to solely evoke fear. Also, conspicuous is the need for a close-fitting editing.
That overlooked, Ekta Kapoor's [ Images ] new film is terrifyingly real, and immensely watchable for the cold fright it inspires. She must be lauded for relying on young actors, and believing in the risky attempt of largely untouched storytelling.
Rediff Rating:

--------------------------------------------------------
entertainment.oneindia.com
Ragini MMS Review: spine-chilling date
Movie Rating:
After all hindrances like pulling down the hoardings, blackening the faces of the lead pair on the posters, Censor board chopping off a few explicit scenes from the main footage, Ragini MMS has emerged as a winner by turning any publicity into a good publicity. What matters at the end is a strong concept in the film which lures the audience and entertains them.
Story

The shown couple, Ragini (Kainaz Motivala) and Uday (Raj Kumar Yadav), set out for a planned dirty weekend at a friend's farmhouse on the outskirts of Mumbai. The much-in-love and passionate weekend in no time changes to the most horrible experience ever. They find that the entire house is rigged with cameras, just in the Bigg Boss style.
The cameras were meant to capture the love-making scenes between them. The couple learn something that is beyond the limitations of human understanding, something metaphysical, paranormal. The couple Ragini and Uday are now at the mercy of that paranormal force. The sundown is approaching and the couple do not find a way out, What will they do?
Plus Points

Ragini MMS is a great example of a high-concept film made in a skeletal budget, which works big time. First it was
Love Sex Aur Dhokha
and now it is
Ragini MMS
, Ekta Kapoor has set new trends of making a film successful, in a low budget, without any A-lister in it.
Ragini MMS, shows the horror genre in a way, which has never been explored earlier in India. Director Pavan Kirpalani chooses a real-life scandal and adds up sex and horror to it. This makes Ragini MMS work for both kind of viewers, who have an appetite for horror and even who like to watch love with a little bit of skin show.
Camera work in both
Love Sex Aur Dhokha
and
Ragini MMS
is like they have been shot in real time. The unconventional way of camera makes it look realistic like watching the footage on a handycam. This real experience of love, sex and of course the third force make you jump off your seat. The timing between each movement of each frame and the usage of silence is spine-chilling. Cinematography is general and in sync.
Though the film works on the lines of Paranormal Activity, Ragini MMS has a totally different concept. The old elements of a hindi horror film like white saree, song etc, are done away with. Ragini MMS has a very western approach with a desi touch.
The emotions like love, sex, passion, fear have been used very appropriately. There is no scope for songs in the film, however the back ground scores by Faizan Agnel is mind blowing. He has gone beyond the usage of throbbing music, digitized screams and high-pitched shrieks to give the horror feeling.
Performances

Both the actors Raj Kumar Yadav (who was also seen in
Love Sex Aur Dhokha
) and Kainaz Motivala are truly outstanding. Leaving behind all hesitations the actors deliver striking performances. The love making scenes between them looks real and adds up to the mood of Ragini MMS.
Loop holes

The film stagnates for a few minutes, post-interval, but bucks up soon and maintains the pace till the very climax. Though the film is short (approx 100 minutes), one still feels that there were certain things that could've snappy towards the middle of the second half. Even, the card at the end that shares some vital info on the characters and the conclusion, could've had a longer hold, so that it registers well.
However, these minor flaws don't really take away much from the impact that the rest of the film creates on the viewers.
Over All

On the whole, RAGINI MMS is a fine amalgamation of horror, paranormal activity and sex. In simple words it is a creepy, spine-chilling date movie, that imparts a story which is daunting, imaginative and unconventional. It is an innovative form of sex and horror, which will impress the Gen X. Have a panicky weekend with Ragini MMS.
---------------------------------------------------------
cinebasti.com
Critics: (4 out of 5)
I strongly feel that if you do not have a colossal budget on hand, then you need to make up for that with an even better concept. Let's not forget, big ideas work big time. In fact, hi-concept films made in skeletal budgets is the new mantra in Bollywood. The next time budgetary constraints prevent you from working with an A-list star, don't sweat. Formulate hi-concept films instead!
Take an interesting concept. Make it within a stipulated budget, not exceeding Rs 2 cr/Rs 3 cr. Spend a good amount on its marketing. Create ample awareness. Chances are you might find the pot of gold at the end of the rainbow. Ekta Kapoor has been doing this successfully. Recall LOVE SEX AUR DHOKHA. Now RAGINI MMS, which has been made at a shoestring budget of Rs 1 cr [or slightly more] in two versions - Hindi and Telugu.
Ekta's new offering is making noise for the right and wrong reasons... The stand-off between the real Ragini and Ekta, angry locals pulling down hoardings of this film, even blackening the faces of the lead pair on its posters, usage of a popular song from JEWEL THIEF, censors finding a few scenes very explicit, the threesome party hosted by Ekta a few days ago... RAGINI MMS is the most discussed film of recent times.
The horror genre hasn't been tapped to the fullest in India. Most horror films made in Bollywood are just not petrifying enough to make you break into a cold sweat. What works in favor of RAGINI MMS is the fact that first-time director Pavan Kirpalani chooses a scandalous, real-life story and garnishes it with sex and horror. It can't get more lethal than that. It works with those with an appetite for horror films and also with those who love titillation and skin show.
Like LOVE SEX AUR DHOKHA, RAGINI MMS has been shot as if in real time, in an unconventional way. The film is voyeuristic in nature. It's like watching the footage on a handycam and getting those thrills. But, of course, not all of RAGINI MMS is sex and scandal. There's a 'third person' watching the act as well, plus there's a story behind this haunted mansion. However, it's terrifying enough to make you jump on your seat. Let me call it a creepy, spine-chilling date movie!
The movie teases the viewers at different points as the sequence of events unravel. Scenes remain silent and still; not for long though, but long enough to make you fret. There are ample blood curdling moments and also sequences that spice up the proceedings. It's a voyeuristic experience for the viewer. It's like the guy in the movie bugging the place and showing you his personal encounters.
On the flipside, the film stagnates for a few minutes in the post-interval portions, but perks up again and maintains the pace till the very conclusion. Though the film is short in duration, with a running time of approx 100 minutes, you still feel that things could've been spruced up towards the middle of the second half. Also, the card at the end, which shares vital info on the characters and the conclusion, could've had a longer stay for it to register well. Yet, all said and done, these are minor blemishes that don't really take away much from the efforts of the rest of the film.
The quintessential couple, Ragini [Kainaz Motivala] and Uday [Raj Kumar Yadav], set out to have a dirty weekend at a friend's farmhouse on the outskirts of Mumbai. The weekend getaway quickly changes gears as they find themselves in a house that has been rigged with cameras in Bigg Boss style. The cameras that were meant to capture love-making are witness to something that is beyond the realm of human understanding... something metaphysical...
Within the confines of this house, Ragini and Uday are now at the mercy of an unexplainable paranormal force. With sundown approaching, what will the new entrants of the house do?
RAGINI MMS is one more film that signifies the altering face of Hindi cinema. A fry cry from the horror films churned out till a few years ago, this one borrows inspiration from the talked-about PARANORMAL ACTIVITY [the technique of shooting both films is same] and gives it the desi feel. Actually, a film like RAGINI MMS is not for those looking for conventional horror films, with women in white saris singing songs and disappearing in the night. This one has a very western approach, yet is very desi at heart.
Along with the horror genre, there is a certain emotional aspect in the story as well, which shows how the guy lures the girl under the pretext of love in order to take a video clip of her and sell it. The director as well as the DoP [Tribhuvan Babu] ensures that the hand-held camera footage as also the cinematography in general are in sync. There's no scope for songs in the film and portions of the songs, inserted at places, are well juxtaposed in the sequences. However, I'd like to make a special mention of the background score [Faizan-Agnel]. It's more than just throbbing music, digitized screams and high-pitched shrieks.
Both Raj Kumar Yadav [seen in LOVE SEX AUR DHOKHA] and Kainaz Motivala are truly wonderful. Shedding all inhibitions aside, the actors deliver striking performances. The steamy scenes between them look realistic and those explicitly intimate moments only add to the realistic mood of the film.
On the whole, RAGINI MMS amalgamates components of horror, paranormal and sex seamlessly. It titillates, it petrifies, but most importantly, it tells you a story which is daunting, imaginative and unconventional. The lethal combo of sex and horror should entice not just the average moviegoer, but also Gen X and the more evolved audience that values and embraces innovative themes and new genres of cinema.



Edited by .sb. - 13 May 2011 at 3:52am